Photo today:
We committed and paid good money to run the inaugural
Rock 'N' Roll Seattle Half Marathon
on June 27th. Gulp. I've been a race commitment-phobe for two months now, because I've been just running for fun and I didn't want to jinx being injured. You know that's what always happens when you commit yourself and your money to a big race. You immediately get injured! But I decided to commit to a half marathon first. If my training goes well, then I'll run the
Rock 'N' Roll San Diego Marathon
on May 31st. I hope I can run the RnR San Diego. I feel like it's a rite of passage since I live here! But wahoo, Seattle here we come! Tonight was
WCRR
Night at Road Runner Sports. The RnR marathons were giving us a discount for signing up tonight, AND a free t-shirt! Who could resist a free t-shirt that says "Rock Seattle"? And because it was WCRR Night, we got 25% discount off the whole store, so I got some new running shoes. Well, they're exactly the same as my current running shoes, but I need two pairs to rotate around so that I can have a dirty pair and a cleaner pair to run inside on the treadmill. And now I won't have to buy a new pair to run my half marathon. Did you know each pair of running shoes only last 300 miles? So if I run 25 miles/week, they only last 12 weeks. :: stare :: I used to think it was something made up by the shoe companies to get us to buy new shoes more often. Until I noticed that when I run with old shoes my knees, shins, heels, everything hurts. So now I'm sold. And I write the date of my first wearing of a new pair of shoes right on the bottom of the shoe with permanent marker, so I know approximately when to switch. After Road Runner Sports, we stopped at
Jasmine
for dinner.

We had Ginger & Scallion Beef, Harbor Cod Filet, and Salt & Pepper Tofu. We kinda didn't know that two out of the three dishes were deep fried. Yikes. Pretty yummy though, and we got leftovers for lunch tomorrow. The highlight of the dinner was when they brought out a dessert of red bean soup, unexpectedly. Todd loves this stuff and can eat like 5 bowls. He's been asking at every Chinese restaurant if they have it and he's been disappointed for a while now. Until tonight, when they brought it out. You should have seen his face, he was super-excited! LOL, it's these little delights that make my happy memories. Sigh.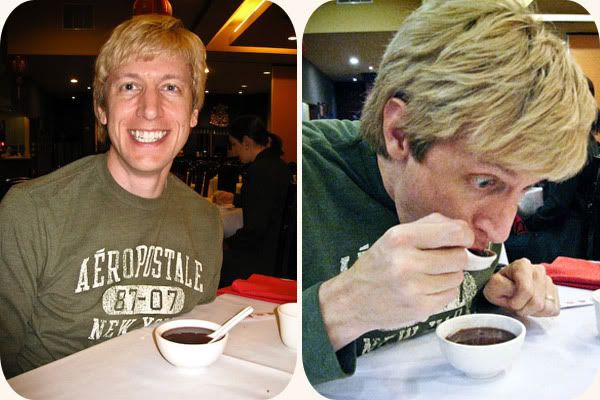 Ok, enough rambling about running and shoes and red bean soup. This week's
Digi Dare
is up and it's due by Thursday night at 11:59 PM Eastern Time! We are scrapping our "right now". Come join in the fun for a chance to win some awesome prizes!
Here's my layout for it: (ha ha I just noticed it's about running - I didn't plan this to be in the same post, it's a coincidence)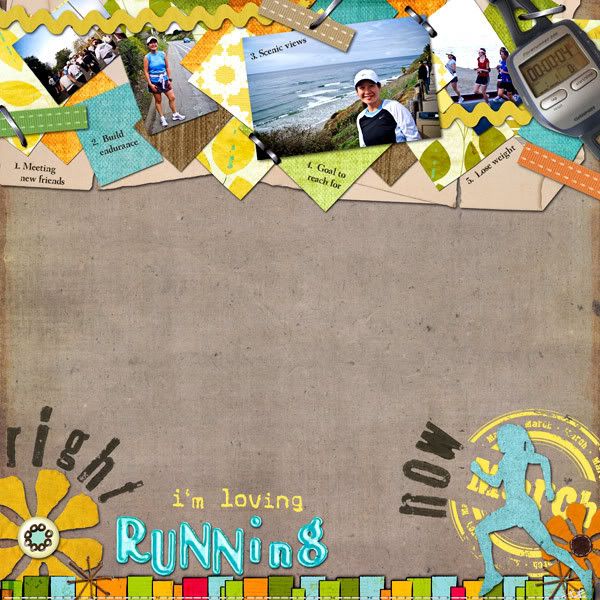 Full credits
here
.