Until I saw it on the news last night, I didn't realize that so many people came to San Diego for spring break. What?? People come HERE for vacation? I guess many college students are coming here for spring break this year, since some of them are heeding the warning about the violence in Mexico. So Todd and I decided to join in today and play tourist in
La Jolla
. First I should tell you, for those wondering... we didn't do the 10 mile run today with West Coast Road Runners. My shoulder/upper back injury is more severe this time and I can't move my arm very much before it hurt, so running wasn't an option today. Todd took today off too, because of his calf injury. We hope to be back running next weekend, after a week of rest. So I got a good nine hours of sleep and woke up at 8:45 AM this morning! What a luxury! :) The first order of business was lunch. We walked around the street of La Jolla, looking at restaurant after restaurant. Nothing seemed to hit the spot, until Todd spotted
Burger Lounge
down the street. Well, we hadn't had Burger Lounge yet this month, so I guess it was about time!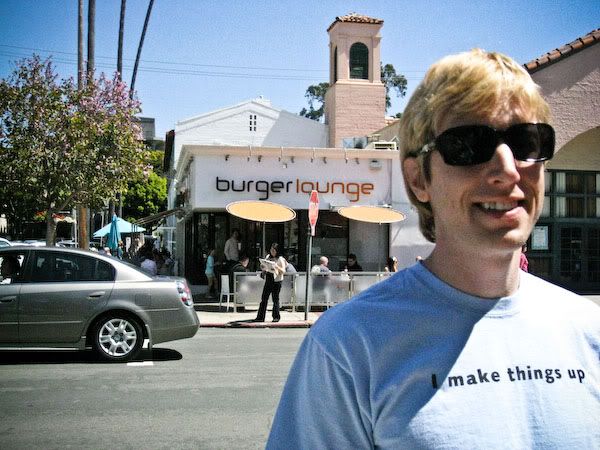 We decided to be a little less gluttonous this time and share a burger, salad, and fries. The place was packed! (Note the red velvet cupcakes in the background that we DIDN'T try out...)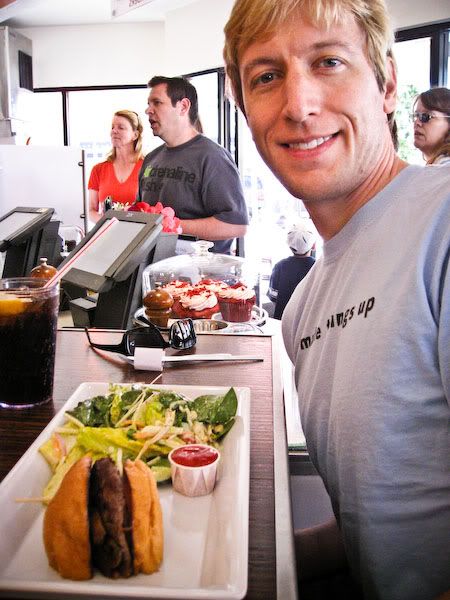 Walking around La Jolla, we noticed these cows EVERYWHERE, all painted differently.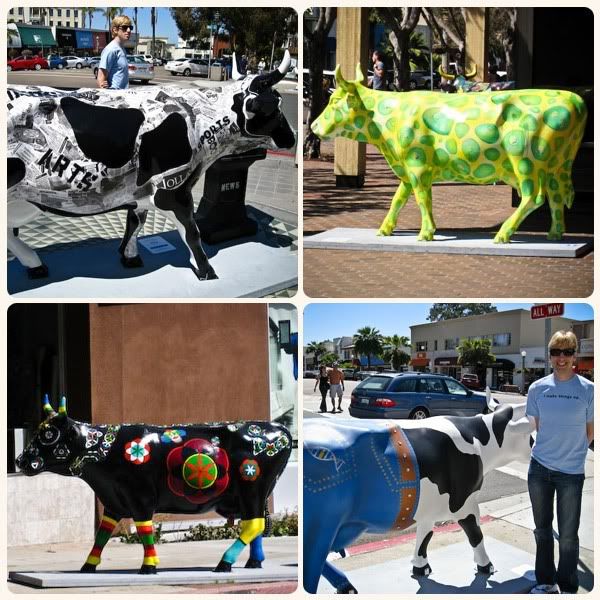 I came home and did some research and found out it's called
Cow Parade La Jolla
, the world's largest public art event. They have 50 of these art cows spread around in La Jolla from March until June. At their website they have a map of where the cows are placed throughout the city, so that might make a fun event to get together with some friends and attempt to find and take photos of all 50 cows! I know if it were hippos, my friend
Peppermint
would fly here just to find them all. The day was SO gorgeous that there was no way to take bad photos. Here is Todd with La Jolla Cove in the background, flanked by palm trees.
La Valencia
Hotel:
Walking along the cove, it was gorgeousness everywhere I look. I love that I got some people in the photos so you can get a perspective of the cliffs.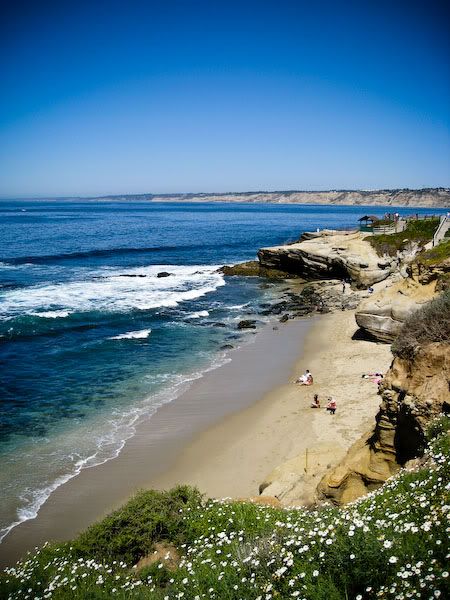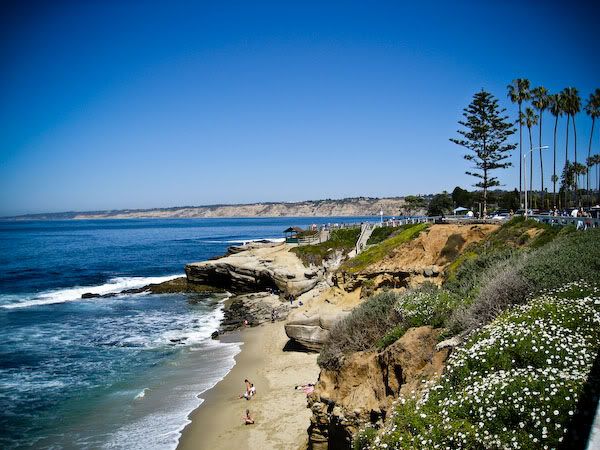 There were lots of tourists everywhere, so for once I didn't feel out of place with my camera glued to my hand, LOL. Here are some wild harbor seals. They took residence here and the beach is no longer accessible by people, since these seals are federally protected.
These are basically some of my favorite colors- blue, turquoise, and green. Can you spot the seals on the rocks?
We walked over to the sea wall and got a closer-up view of the harbor seals: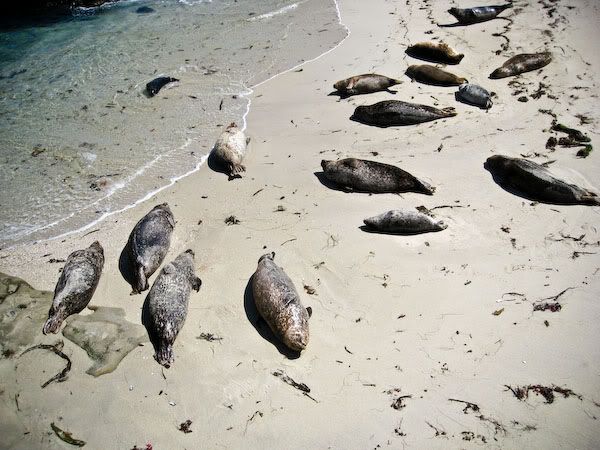 More of them along the rocks: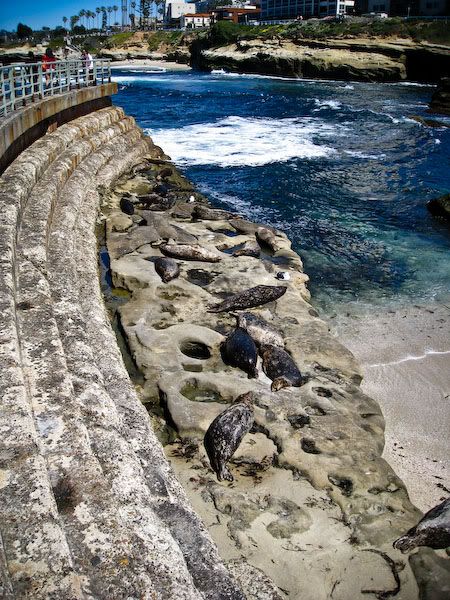 What a perfect view!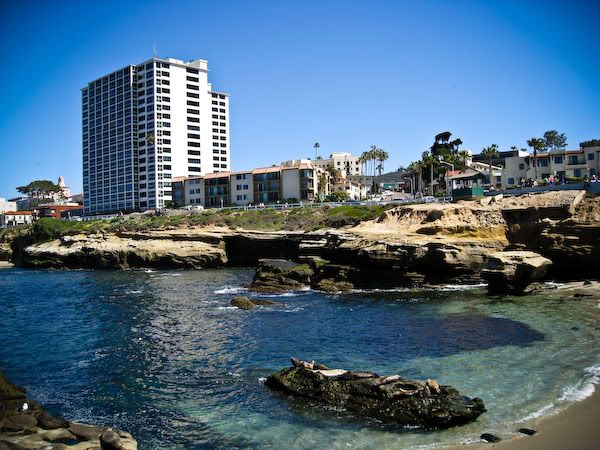 Humans bite too?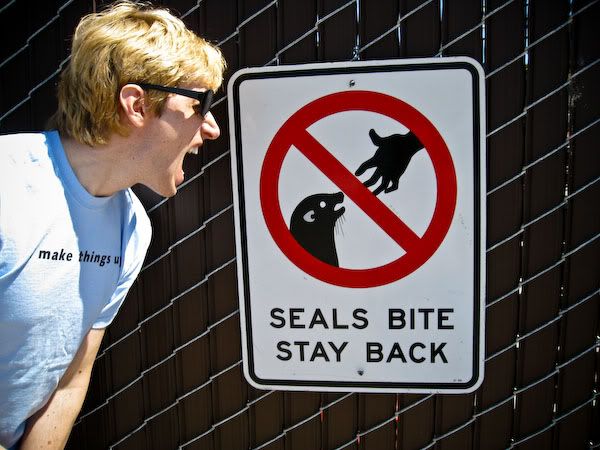 A view of Windansea Beach:
We witnessed something hilarious. We saw these two at Burger Lounge earlier and they got their food to go. They were leisurely laying out in the sun when this clever seagull decided that he wanted some Burger Lounge too!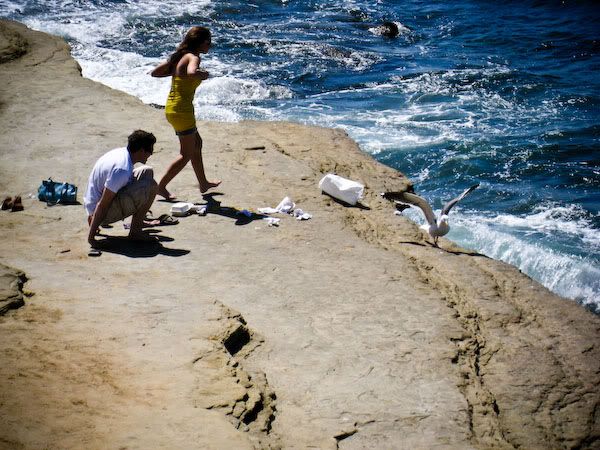 He tried to take their bag of food the first time and they chased him down and took it back. Then they put it BETWEEN them to deter the seagull from doing it again. The seagull wasn't deterred. He was determined to get a taste of the Burger Lounge goodness, so he kept hovering around the couple and eventually went for the bag between them again! But can you blame the seagull? After all, it was Burger Lounge food! We ended our tour with a self-portrait at Windansea Beach.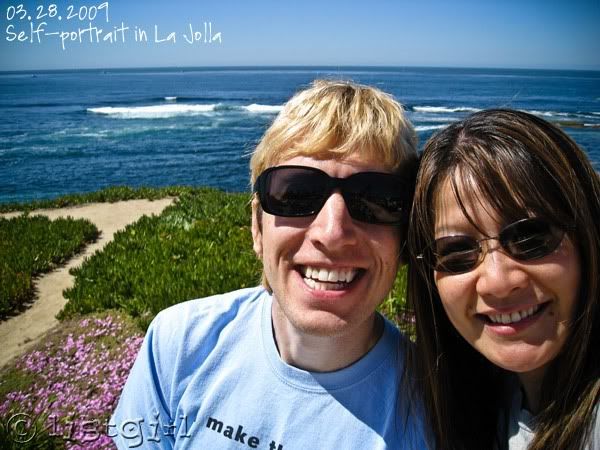 What a beautiful day in San Diego. I'm glad we got to go out and walk around and relax a little bit. Now I'm going to go and start doing our taxes.