First day back to work after a vacation is always the hardest!
When I pulled into the parking lot, there were a ton of empty spaces.
I guess a lot of people are off this week. I don't have the luxury of taking days off at year-end, because I work in accounting/finance. Since I started working out of college 16 years ago, I've only had one year where I took the days between Christmas and New Years off. And that was only because I transferred jobs and moved from Dayton, Ohio to San Diego, CA during that time. So I was "in between jobs".
Upon logging into my work computer, I got a ton of emails. And a last minute conference call at lunchtime, from noon to 1:30pm. I didn't bring my lunch today, so what should I do? Hmm... I ended up going to Costco between 11:00 and 12:00, so that I can pick up our photo cards, some spinach, and some lunch. About the photo cards... of course I felt a little guilty not digi-scrapping our card this year. But desperate times call for desperate measures. I just didn't have the time to make them. Costco to the rescue. I uploaded the photo to Costco.com last night and picked a design. Did the text and whole thing in five minutes. Then just picked a time and my Costco location for pickup. Duuuuuude... it was so reasonably priced! 50 cards + 50 envelopes for only $15. Really can't beat that. And my rationalization was... only my digi-scrapping friends would know the difference between a pre-designed Costco card and something I custom-designed myself. Everyone else couldn't tell the difference anyways. :p
Tonight Todd cooked a sausage and bean burrito for dinner. It only took 25 minutes, which was imperative since he had to grocery shop after work. It was yummy and it felt so good to eat a homecooked meal after a whole week of vacation and eating out.
Todd also put up lights up our staircase. We've had the garland and lights strung since after Thanksgiving, but we had to find some extension cords for the lights. So pretty!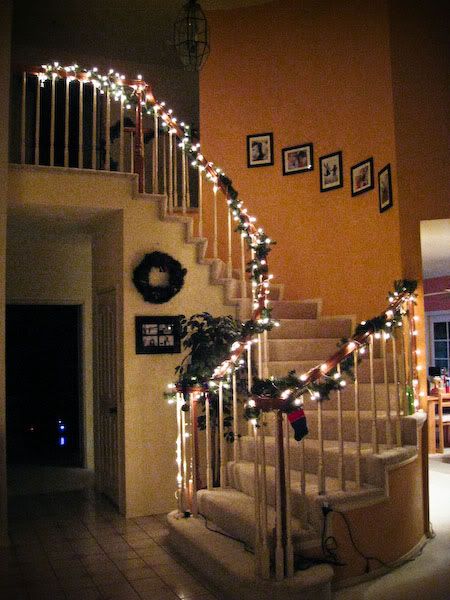 It is 12:44am and I'm still not done with all the holiday tasks that I had planned. Some things will have to wait until tomorrow. I'm so tired. But I'll show you a sneak peek of something cute I made with my Silhouette digital cutter tonight. Full photos of project later this week.