Got up and finished off our box of cereal. I guess the box was only good for six servings!
After showering, we headed off to a
chocolate farm tour
. We had called to reserve our spot yesterday and were told, "uh, let me call you back. I'm not sure if we're having tours tomorrow." OK. An hour later, we got the callback and were told the tour was on and we would be the only ones on the tour.
We drove off to the boonies of Kauai (which is saying something) and met up with the owner of
Garden Island Chocolate
,
Koa Kahili
. Also assisting him on the tour were his brother Jessie and his friend Govinda. It was then we learned that we were doing more than looking at a couple of cacao trees and eating a couple of chocolate bars. Ein Rogel Farms is also an orchard with a ton of fruit trees.
We got a tour of a large segment of the farm where we we ate several in-season fruits (mostly citrus). It is fantastic to taste fresh fruit just picked off the tree a minute beforehand! The citrus tasted so tender and juicy. Here, Koa cut up some pomelo and tangeloes for us to taste.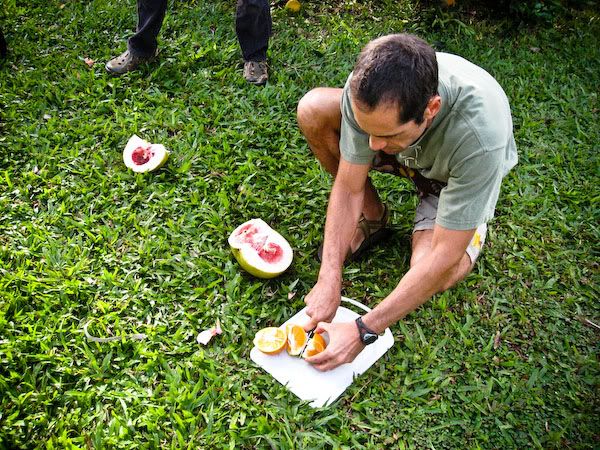 Todd eating a fresh blood orange.
This furry fruit we picked off the tree is called
rambutan
. You bite off the soft spiney shell and there's a white fleshy fruit inside, with a seed, similar to a lychee but a little more tart.
A grapefruit tree with lots of fruits.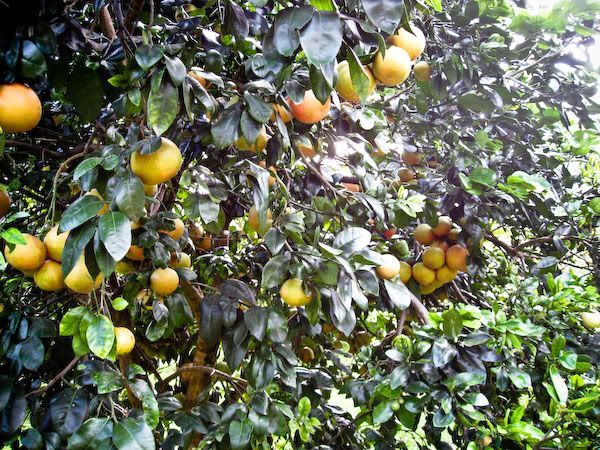 They also cut down some coconuts from a tree, and cut it open so we could drink the fresh coconut juice. These are young coconuts.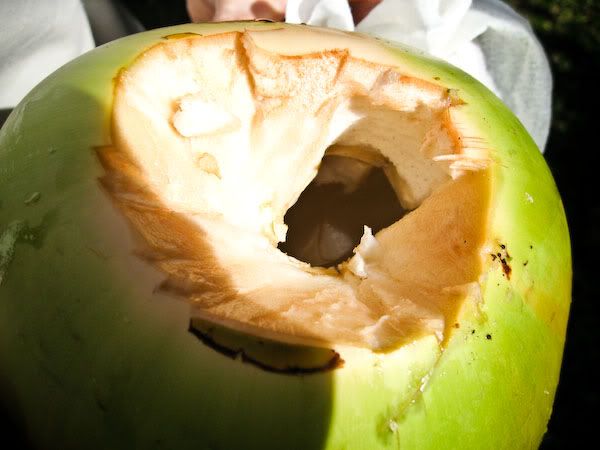 We sampled so many fresh fruits it was hard to remember them all: grapefruit, navel orange, tangelo, blood orange, pomelo, rambutans, star fruit, figs, some kind of Brazilian cherry, etc.
Koa gave us an education about how a sustainable farm runs. Towards the end the tour focused on the cacao plant varieties and what it takes to make them grow. Here are two varieties of the cacao plant.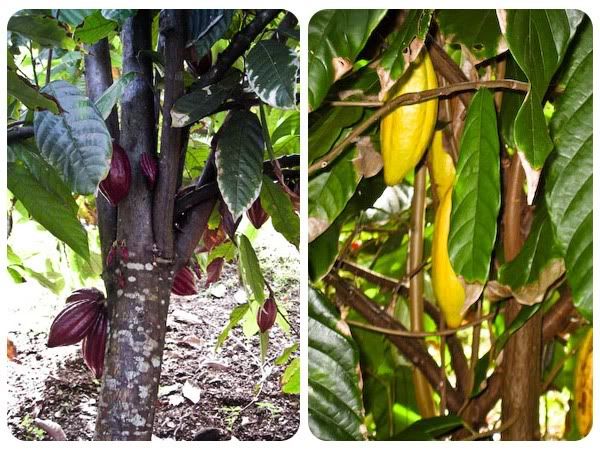 The farm itself was beautiful. The property had a waterfall and a stream that runs through it.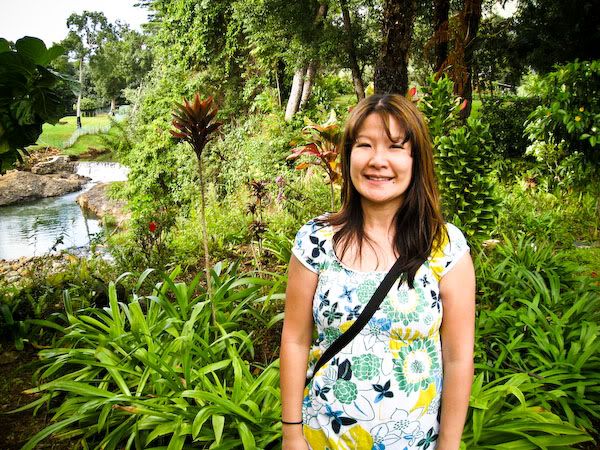 For the last hour, it was chocolate tasting time! We were taught the vocabulary of chocolate tasting and the proper way to enjoy fine chocolate. Connoisseurs believe that the flavors and varieties of chocolate rival that of wine. First we got to taste fresh cacao pulp and beans.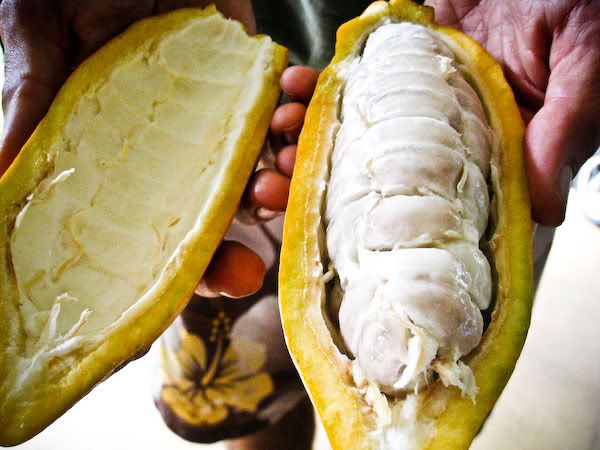 Here's a bowl of cacao beans that has been fermented and dried.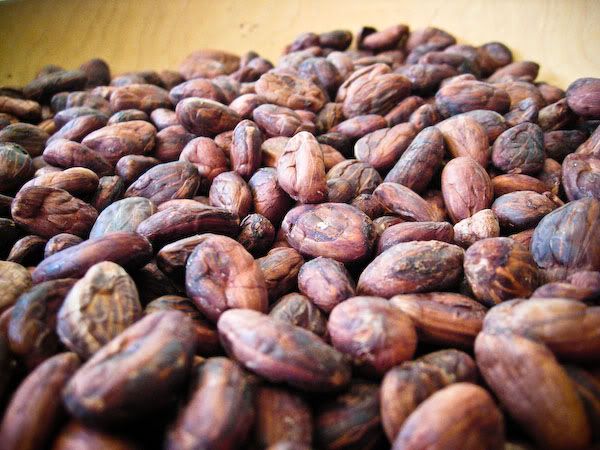 They make the chocolate by hand. After fermenting and drying the beans, and getting rid of the shells, they ground up the "nibs" into a powder and chocolate from that. We sampled a chocolate drink which also has chile peppers infused in it! Spicy, nutty, chocolatey, and sweet!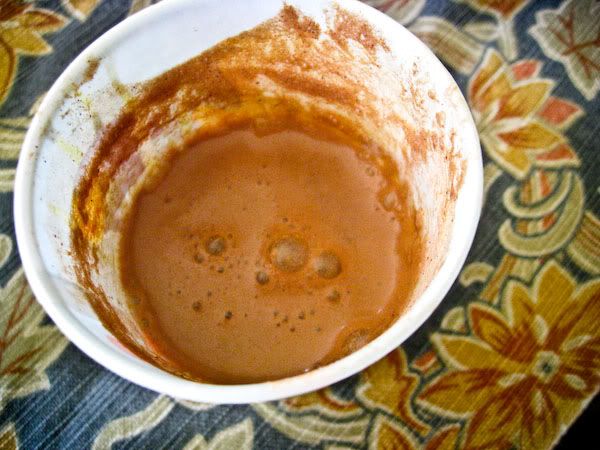 Here are all the different types of chocolate that we got to sample.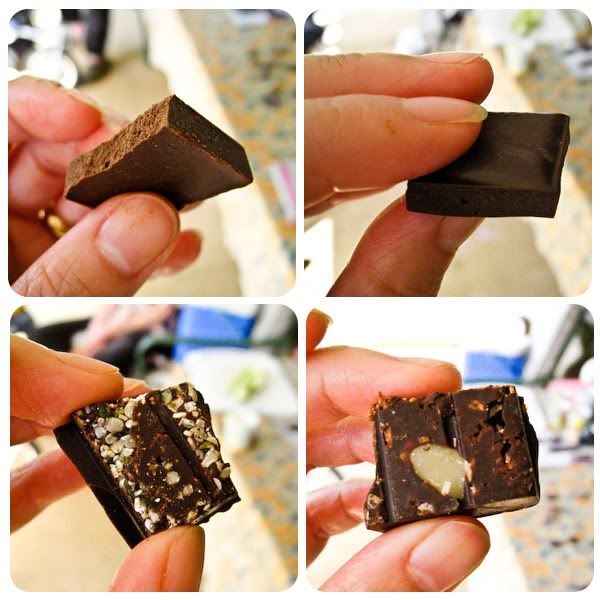 There was plain chocolate, coconut milk chocolate, mint and hemp seed chocolate, and coconut and macadamia nut chocolate. We can say that we had the finest chocolates we've ever tasted!
These fresh 80% cacao handmade local chocolates were simply beautiful.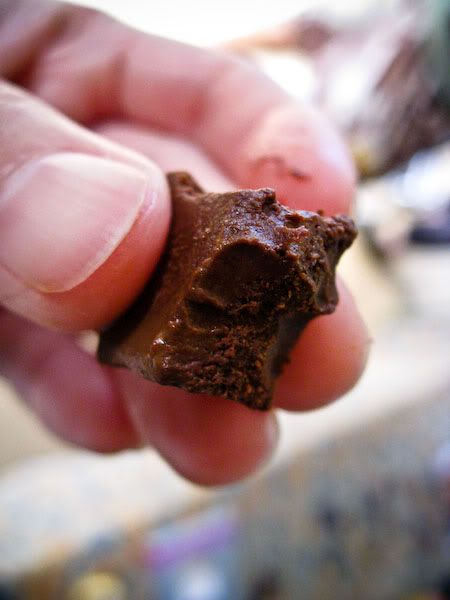 Another highlight was trying the "
miracle berries
" after the chocolate tasting. These little berries originate in West Africa and grow on trees like this.
We bit the berries in our mouth, then rolled the juice around for about a minute. Then, we tried the more tart oranges, more bitter grapefruits, and even some lime. The "miracle berry" changes your taste bud for about an hour, during which time everything sour and bitter tastes sweet! We didn't believe it until we stuck the green limes in our mouths... the limes tasted really sweet!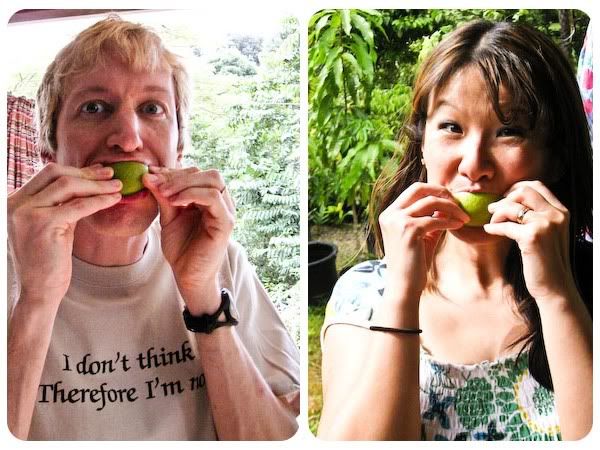 It was truly one of the most amazing taste-altering experiences we've ever had! If you want to read more about this miracle berry,
here
is an LA Times article about it.
Just before we left we learned that this was only the second tour that has ever been given of the farm. They are still developing the tour and deciding how to promote and package it. We told them we loved it and it gave us a great opportunity to learn something about the local life which we love to do when we travel.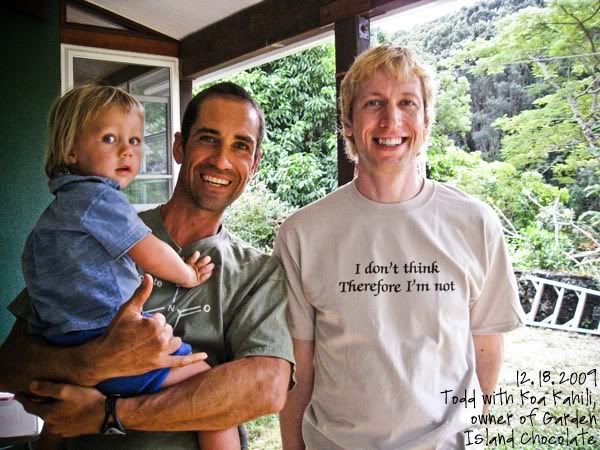 After the tour, we had a relaxing rest of the day. There's not really too much to do on Kauai unless you are a serious hiker. We didn't prepare to make those kind of excursions on this trip so we are basically out of things to do here. But relaxing is fun too.
We went back to Brick Oven Pizza to repeat the culinary awesomeness of Sunday and watched the Cleveland Cavs beat the Milwaukee Bucks while we enjoyed the pizza.
The rest of the day involved packing up, reading, watching Elf (again!) and grabbing a light dinner at Papaya Natural Food Store Cafe.
I also ate one of our reserved miracle berries that Koa Kahili send home with us, and ate some more tangerines and grapefruits from the farm. So sweet! Then I tried a beer (Green Lakes Organic Ale) because it supposedly makes it taste sweet too. That didn't work out for me, the beer was gross. After two sips I tossed it. We bought one bar of each kind of chocolate from Garden Island Chocolate so we can experience it again when we get home.
The chocolate farm tour was one of the most special and unique experiences we've ever had!