On the first day of vacation, we usually like to relax and plan the rest of our vacation. When I woke up too early to the sounds of roosters crowing, I was a little mad. Kauai has a lot of wild chickens and feral cats running around. Roosters were everywhere around our resort. I was excited to run to our window in the living room, because I knew last night when we checked in that we had an ocean front view. But I couldn't see anything at night, it was too dark.
The view from our balcony (lana'i).
Our resort faces east, so we'll be able to see the sun rise over the ocean.
We drove down the street to look for some breakfast. Kapaa is a small town and you can see its quaintness when you drive into town. We found a local coffee shop called Java Kai, so we parked (right there on the street!).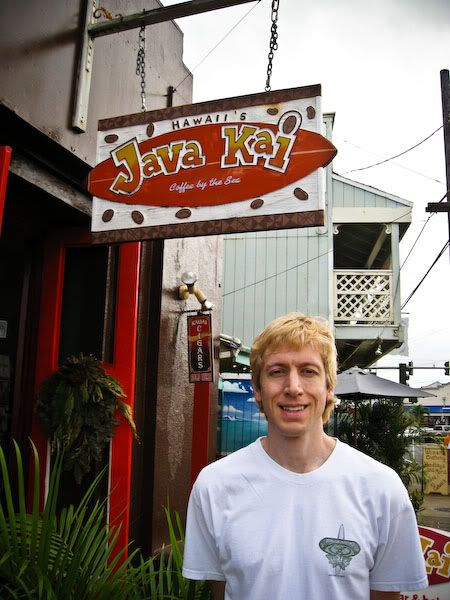 Breakfast was awesome! I had local Hawaiian Kona coffee and a bagel with hummus and tomatoes. Todd had a freshly baked cinnamon roll and a smoothie.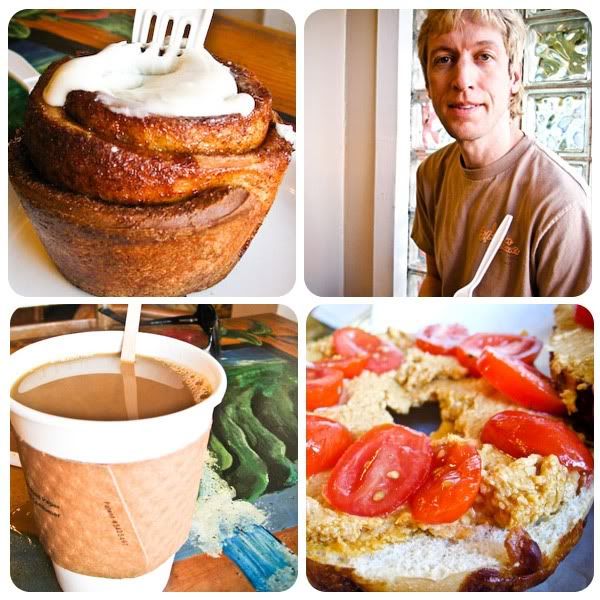 What I really loved about the place is that they use locally sourced food whenever possible, and sustainable food too. Eating local is something that we really love t do on vacation. We don't like to go to any national chain restaurants with their pre-prepared food. When we find a local place that the locals actually like to eat at, we get very excited.
The interior of Java Kai.
After breakfast, we went to get some groceries so that we can eat some breakfasts at our condo, and have some snacks on hand.
Then we headed back to the condo to watch some football and got on the internet. It cost some money to get the internet for the whole week, but at least it's cable internet and pretty fast. Todd surfed while watching football.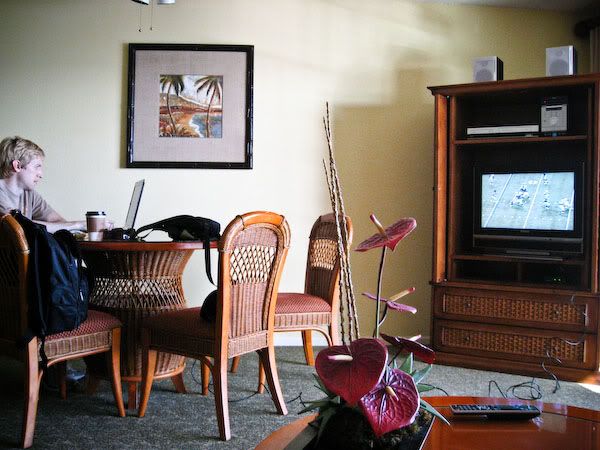 And this view from our living room.
Our condo is a one bedroom with a living room and a full kitchen.

Then we took a walk on a paved trail by our resort, around the ocean. On the way out of the resort, we saw the mountains with clouds in the distance. Such a pretty scene.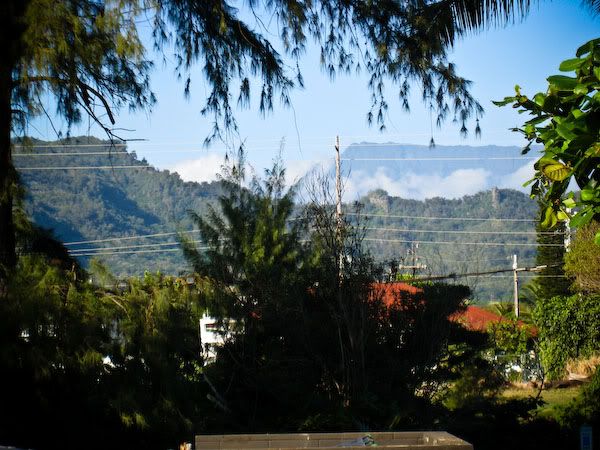 And we saw lots of chickens running around. This was one of them.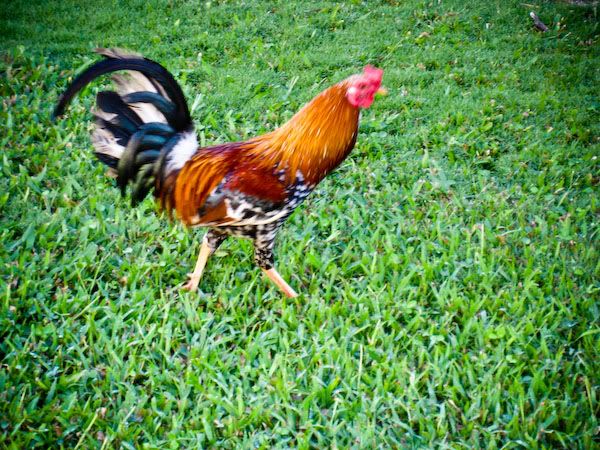 The walkway behind the resort was awesome. I think we can run here on some mornings.
Todd read several sources that said the best pizza on the island is Brick Oven Pizza, so of course we had to try it out for lunch.

We got it to go so we could watch the Charger game from our condo. We got homemade Italian sausage, pepperoni, and garlic. They brush garlic butter on the edge of the crust too. Yum! The pizza did not disappoint!
In the afternoon we rested and Todd planned our meals and our itinerary for the rest of our trip. We took a break to walk to get some Hawaiian shave ice.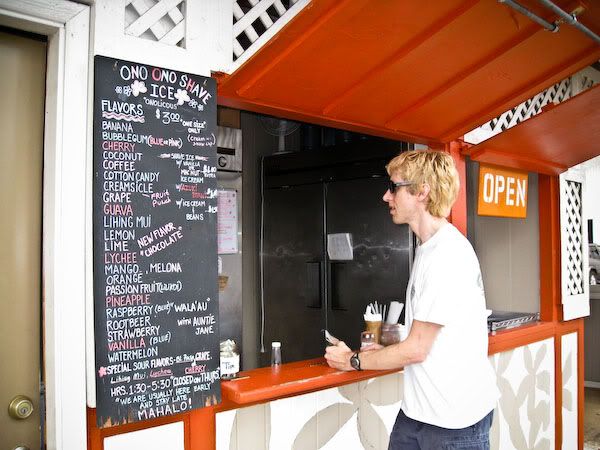 We got the sour lychee flavor, with macadamia nut ice cream on the bottom.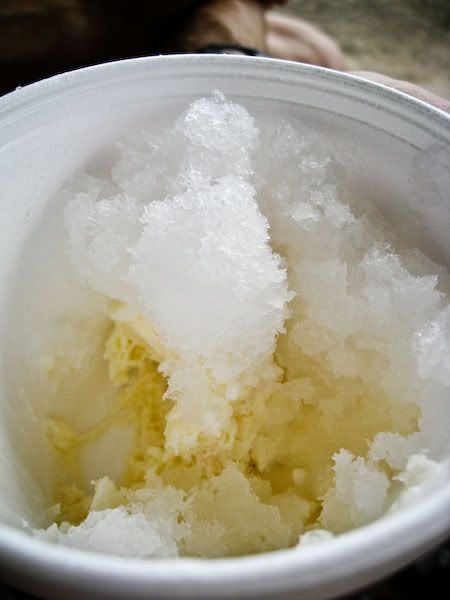 When we got back to the resort, we bought some fish food and fed the Koi pond.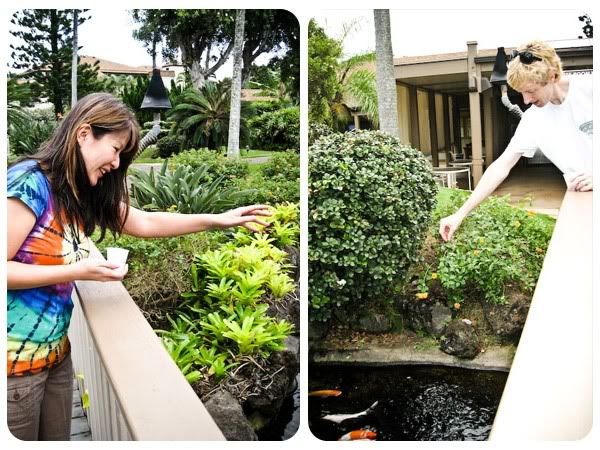 All the koi fish got really excited and swam to us!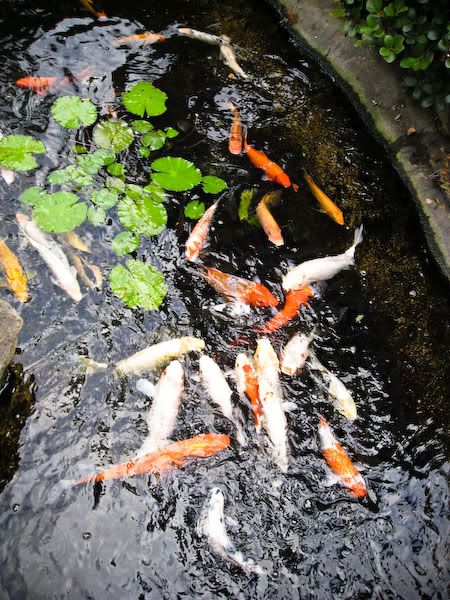 We went to the Hukilau Lanai for dinner.
Todd had the Opah fish with a Wally salad, while I had an arugula salad and fried calamaris. I love fried calamari, and when I saw on the menu that they were breaded with panko, I knew I had to give it a try. We didn't have dessert because we already had the shaved ice earlier in the day.
In the evening, we watched some TV and finished planning our daily activities here. I processed photos and blogged. Kauai doesn't really have night life, plus the roads are pretty dark and not well-lit after dark, so we expect to be at the condo on most nights after dinner. Now it's time for bed again!