We got up and had breakfast together.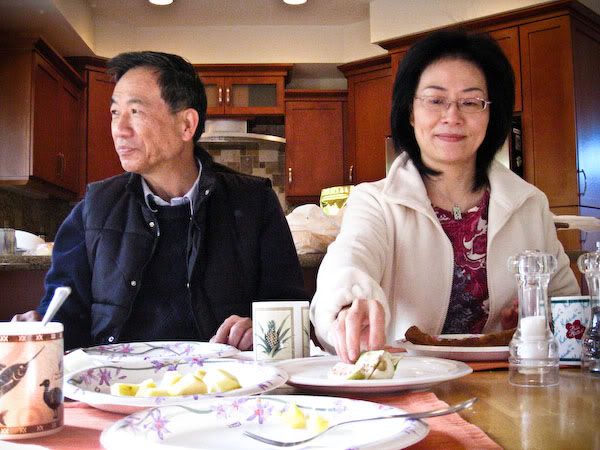 Then it was time for the opening of gifts! We gathered around the tree and took turns opening presents.
First up was Dad.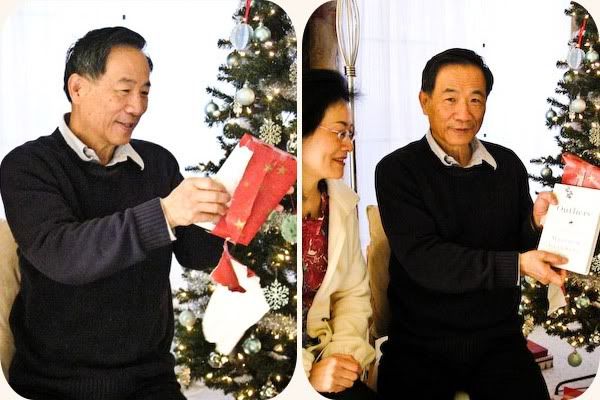 Todd and I gave him the book "
Outliers
" by Malcolm Gladwell. Todd had read it on the Amazon Kindle while on a business trip earlier this year, and we thought that my dad would really like it. I don't wanna gripe on Christmas, but I had to purchase this last-minute from Borders due to unforeseen circumstances, and I paid almost 3x more than what Amazon sells it for. I don't know how Borders can justify selling it for that kind of price! (Alright, rant over.)
Then it was Todd's turn.
Santa (or is it I?) gave Todd an Ohio State Buckeyes license plate holder.
Then it was Shelly's turn to open a gift.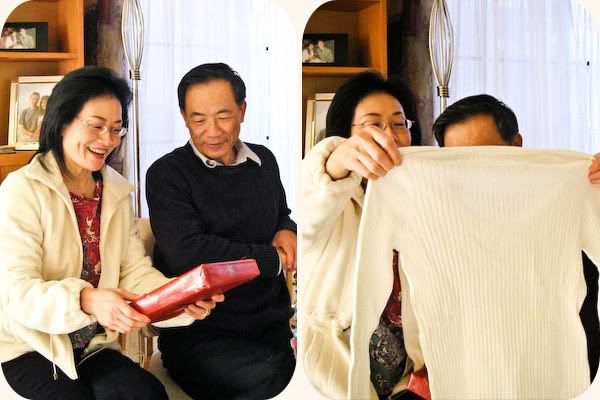 Todd and I got Shelly a sweater.
Todd got me a
Julius the Monkey
sweatshirt with ears on the hood!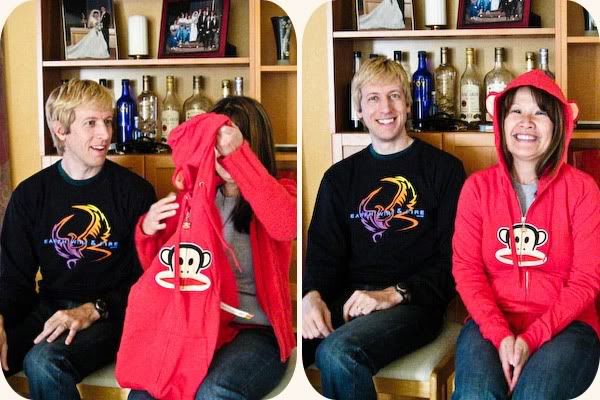 He claims that he had been eyeing it for years and finally bought it for me.
Todd and I got my dad a sweater. He put it on right way. :)
Dad and Shelly got Todd a cast-iron skillet, which he had been wanting.
Of course, we all had to hold the iron skillet, because it was incredibly heavy!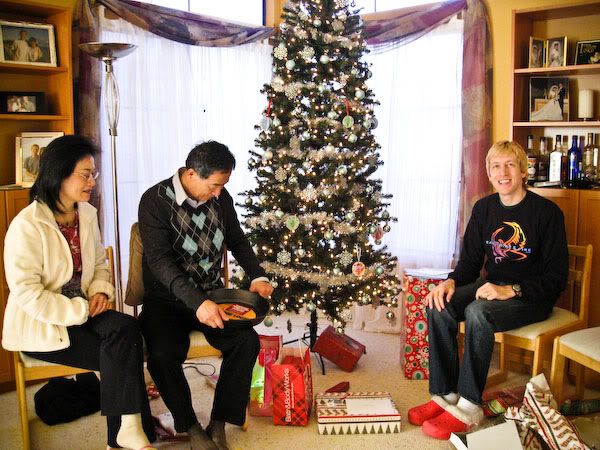 Todd and I also got Shelly a Williams-Sonoma garlic slicer/crusher combo.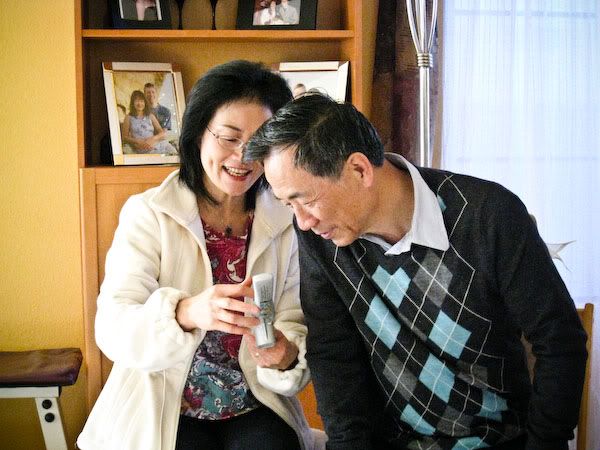 We had noticed on our visits to my dad's house that they chopped and sliced garlic by hand. So I thought I would get them a garlic slicer/crusher, since they like to use garlic in cooking.
Then I opened Todd's gift to me.
I couldn't believe it! He got me a
Sony Pocket Reader
. Now I can carry up to 350 books around in my purse and read whenever and wherever! I love it so much and I was SO excited! Turns out, my good friend Peppermint had weaseled the info out of Todd earlier in the week, so she gave me some books to read on it! I started reading the first Sookie Stackhouse book and I love it!
Todd and I gave my dad and Shelly a digital frame. Shelly wanted one to display their wedding photos and photos from their trips to other countries.
I got Todd a new electric shaver. His started not working so well on our trip to Hawaii earlier this month...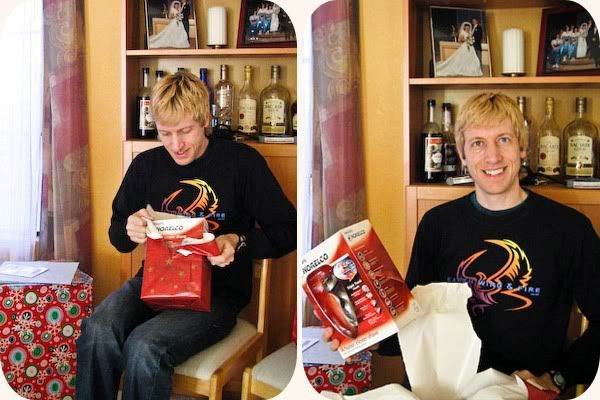 I also got Todd a Malcolm Gladwell book, "
What the Dog Saw
", which is his new one.
Todd had liked "Outliers" so much, I thought this new book would be fun for him.
Shelly and my dad gave me some shower cream and body lotion from Bath & Body Works. It smelled really good!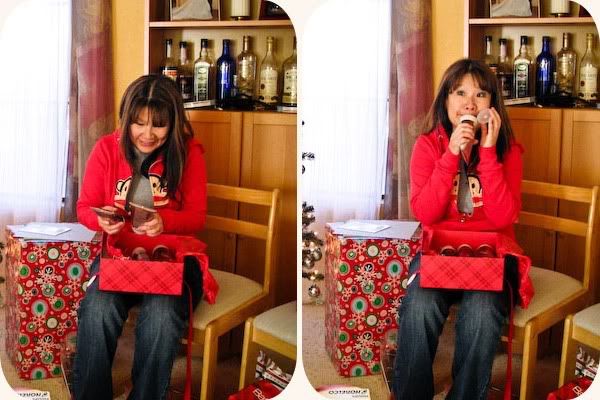 I got Todd a cupcake baking pan in the shape of the Ohio State "Block O".
Shelly got me a little purse, great for traveling.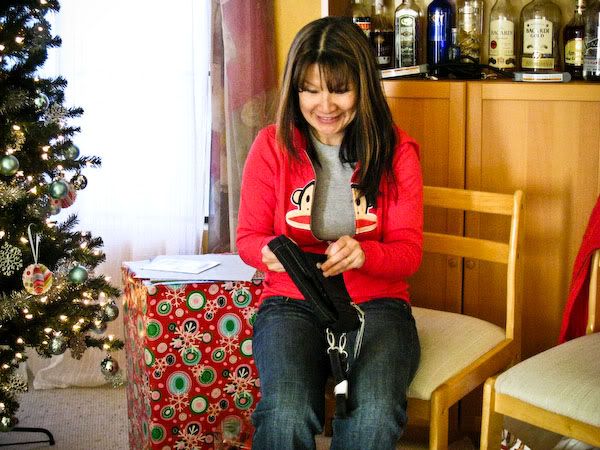 Then we went to lunch at China Max. They are always open on Christmas Day. We went there for lunch last year on Christmas as well. We had some dim sum selections, as well as ordered a green bean dish and a pan fried noodle dish.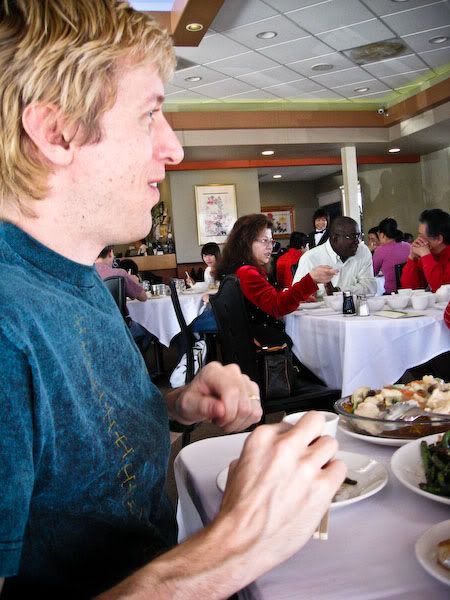 After lunch, we drove to La Jolla to enjoy our "10th Annual Christmas at the Beach". Ever since we moved to San Diego at the end of 1999, we have tried to spend every Christmas at the beach. The only year we missed was 2006, when my mom was really ill. Today was a gorgeous day! Sunny and 70 degrees, with blue skies.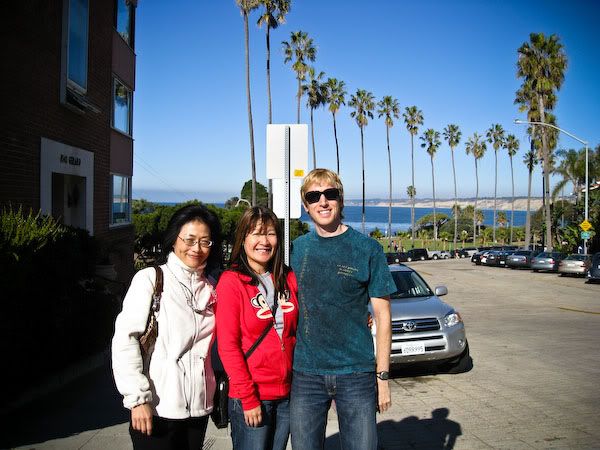 We parked on Girard. Todd managed to find a bakery open on Christmas Day. They had a whole nativity scene made with cookies.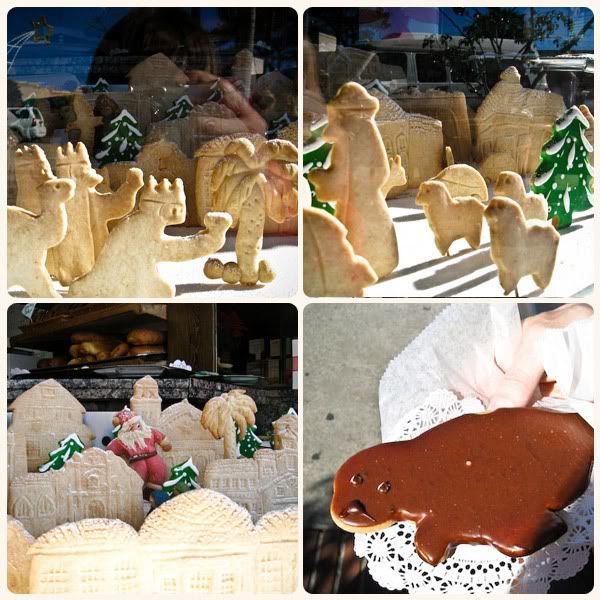 Todd bought the seal cookie and promptly ate his tail. :-|
We walked over to where the seals are.
A closer view of them.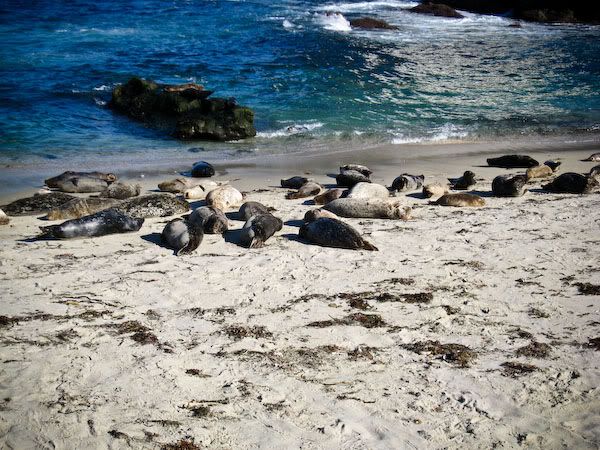 It was really crowded there due to it being Christmas, and it being such a nice day out. We got some great photos.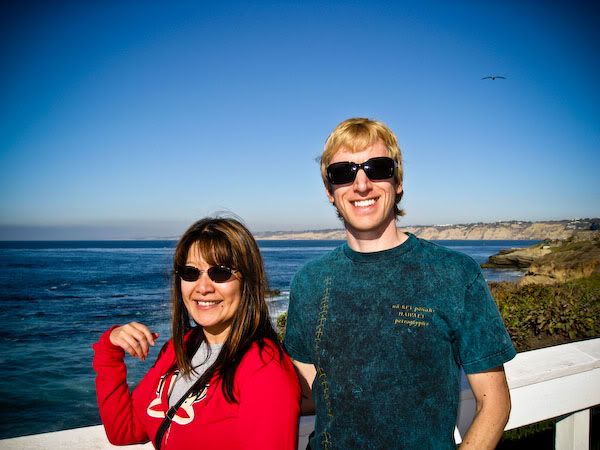 After we came home, Shelly and my dad took a nap. I was too excited to start loading books onto my Reader. :) We watched some football. Todd cooked a wonderful dish for dinner (
Spicy Peanut Chicken Over Rice
), plus we had some leftovers. I forgot to take photos during dinner.
After dinner, we helped dad and Shelly put their photos into the digital frame. We also helped them set-up their new netbook. Then we all headed to bed relatively early, around 10:30pm. We were tired from all the excitement of the day! Although, I'll freely admit that I brought my Reader to bed and read for a while. :)