Look who I found on the couch with my new eReader today...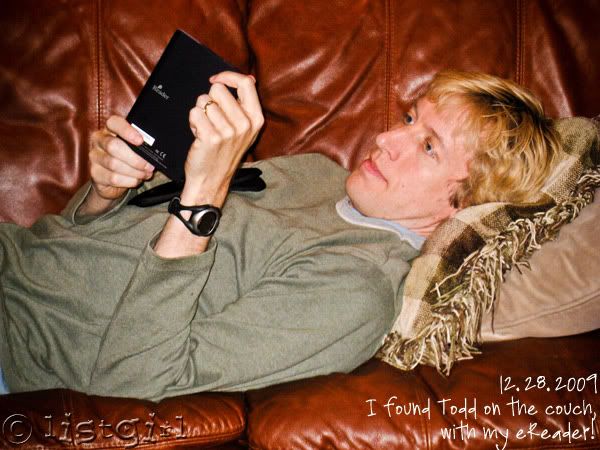 You know, with the Christmas gift that HE gave to ME? :p
I found two lists today that I really liked, each with five things in them.
First is
5 Ways to Fight Procrastination
by Lain Ehmann. She's the co-owner of Ella Publishing. Being a procrastinator, I could use the tips!
Next is my friend Anne's
5 Considerations for 2010 Running Goals
. I loved reading it, but don't think I could implement it due to the fact that I AM one of those people who would run long-distance races and say "I only want to finish" and not set a time goal. I'm just not that goal-oriented about running. It's a win that I'm out there running at all, LOL! I think I could do #1: Pick a central theme, for your running and your life. My theme in 2010 is, Goallessness. I could also do #5: Run as if there's nowhere to hide. I did join
West Coast Road Runners
again for January - June, so I'll be accountable to run with people on Saturday mornings, and also to my running blog readers. All five of them! :D