After running for 12 years now, I guess I can classify myself as a "runner". But when I compare myself to "real" runners like my friend
Anne
, I feel like I'm not much of a runner after all. She has stories of running in sub-freezing temperatures in Massachusetts, with her wet hair frozen to her face. See, I don't love running THAT much. In my mind, "real" runners really love running. They love it for the sport itself. They do it regardless of the weather and the sacrifices they have to make to get their run in. I am a weenie runner. I don't do cold/wet weather running. In fact, right before most of my runs, I don't even want to go.
Today was such a day. Todd and I had planned to go run five miles at Miramar Lake. But I was not enthusiastic about it. Even when we got to the parking lot, I sat in the car and didn't want to come out. Even when Todd took off running, I just stood there and stared at his fading backside. I was not in a running mood. I took one small step forward, then another, then another. Even as I'm a few hundred yards down the path, I was thinking to myself, "I can quit and head back now and sit in the car if I want."
I don't know if anyone ever told you this about running. The first mile is the hardest. You are fighting the fact that you're out there running when you could possibly be doing something else. You are fighting the weather, whether it's too sunny, too cold, too windy, too hot, etc. You're fighting your body, which doesn't feel quite in tune yet, because it hasn't warmed up yet.
But I'll tell you another secret. After the first mile, you are glad you made the choice to be out there, running outside on a cold Saturday morning. The wind that didn't suit you in the first mile suddenly becomes "fresh air" in the subsequent miles. Your body has warmed up and it isn't fighting with you as much. You hit your stride and you feel like nobody and nothing can stop you now. Then you remember... this is why I make the choice to be out here, over and over again. And nothing beats the feeling when you're done with your run. You did it. You did it despite fighting with yourself to get out there. Today, the victory is just showing up.
Distance: 5.01 miles
Time: 56:30
Avg pace: 11:17/mile
Calories burned: 500
View during my second mile.
While I was at Michaels yesterday, I bought two bags of buttons and a styrofoam cone. So I could make this.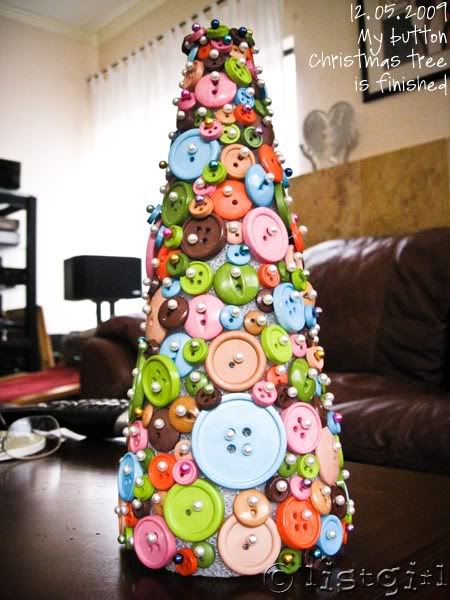 I had seen it before somewhere. Then my friend
Christina
talked about doing it on her blog, so it spurred me to do it too. I got the pins at Wal-Mart a while ago. If you're thinking of doing this, just remember that it takes more buttons, more pins, and more time than you think it does! This guy is around 8 inches tall and it took me a couple of hours to make him.
Speaking of running, I finally got around to doing a layout about the Rock N Roll Seattle half marathon that I ran in June.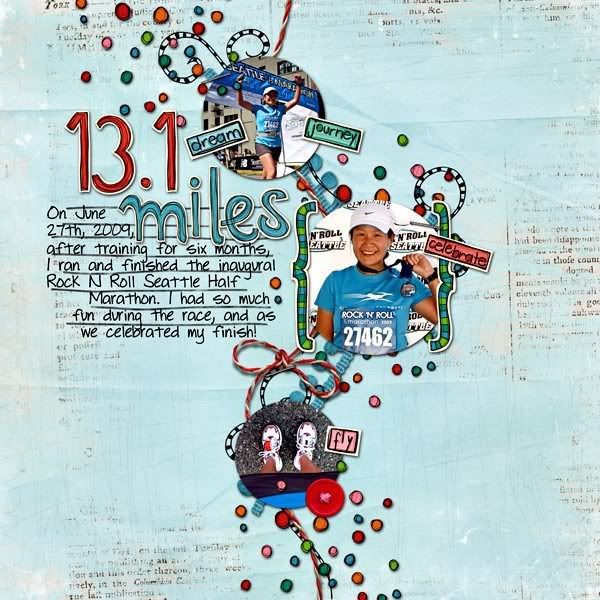 I used all new stuff from Lili @ The Lilypad:
Fly Away
Elements,
Hand-Drawn Alphas
, and
Random Words 2
. These items are on sale at The Lilypad for 20% off through Sunday! And the background paper is from the kit
Believe
.