After waking up around 7:30am, we packed up the last of our luggage, including toiletry. Even that last bit of packing took a while. Around 11:15am, we left for the airport. It was rainy again today! It's the third hard rainy day this week, which is quite unusual for San Diego.
We stopped at Bread and Cie to grab a couple of Turkey Pesto Panini sandwiches (yum!) and Todd's favorite brownie. It was rainy and there were no parking spaces available, so we had to park on the street a few blocks away and walk. Bread and Cie was PACKED! We waited a while for our food to come out, then ate it on the way to the airport. Since the first leg of our flight was just to LA, we checked in at the commuter terminal. There was only a short line at check-in, and no line at the security gate. We settled in at our gate, waiting for our plane. Unfortunately, our plane was delayed for half an hour. Thank goodness we scheduled a two hour layover in LA! The flight to LA was very fast. I think we spent more time taking off and landing than actually cruising in the air.
Los Angeles from the air.
LAX from the ground, right after we landed.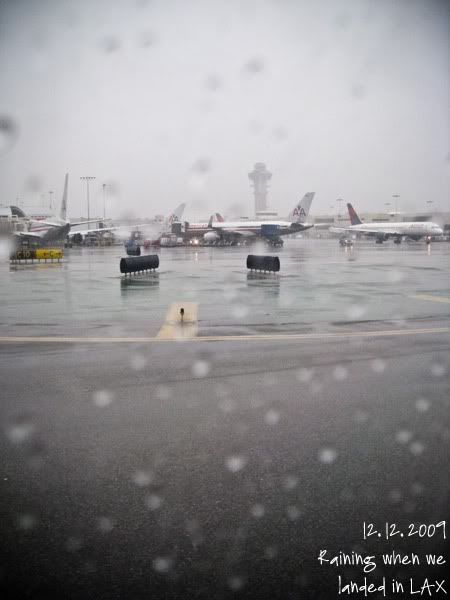 We had quite a ways to walk to get to our connection gate. We rested a while when we finally arrived at the connecting gate. Then we decided to get something to eat before our long flight, because we weren't sure how good the food available for purchase on the airplane would be. We walked around LAX for a while, and nothing looked appetizing to us. We did find the "UM Center" though!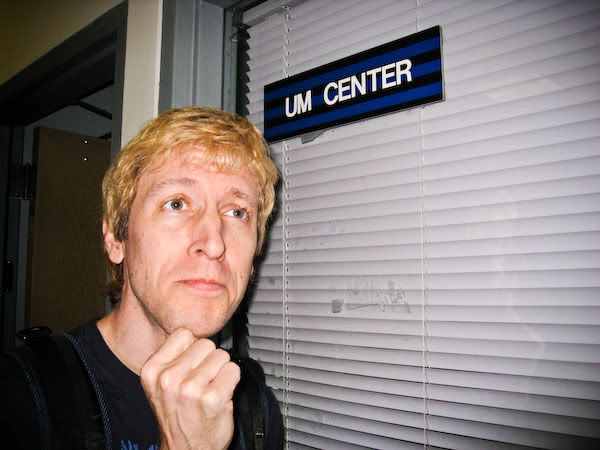 And the space-age looking structure under renovation.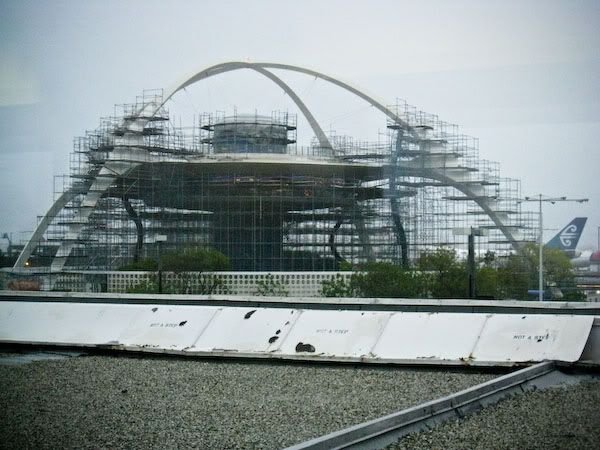 We finally decided on a sausage sandwich place. Todd was more hungry than me, he got a chicken andouille sausage sandwich with fries. I took a couple of bites of his food, and ate most of his fries, LOL. As we walked back to our gate and stopped by the restrooms, Todd heard them page us to go on the plane. I guess everyone else had boarded the plane already and they were waiting for us! We hurried and made it onto the plane. I guess we lost track of time. How embarrassing.
The flight to Kauai was slightly over six hours. In other words, a LONG flight. I watched a beautiful sunset at 30,000 feet above the clouds.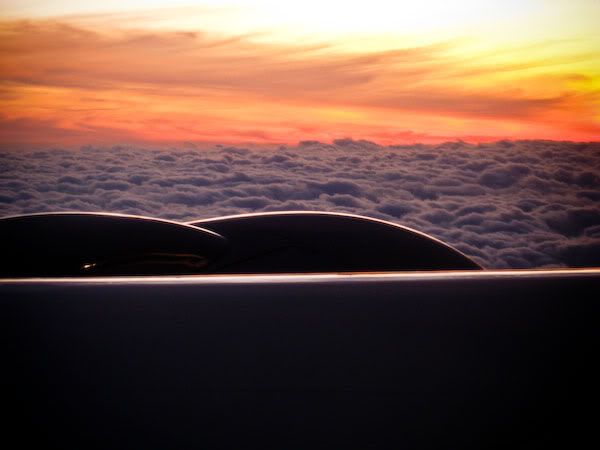 They showed the movie "Elf" on the plane... one of my favorite holiday movies! I had a roast beef sandwich and chips for dinner. I tried to sleep but only dozed off on and off. The flight felt like it took forever. Finally, around 11:00pm Pacific time, 9:00pm Hawaii time, we landed in Kauai. Ahhhh... even at night it was around 80 degrees and nicely humid. It took us a while to get our luggage from baggage claim. Then we could't find the car rental shack for the longest time. After we finally found it, there was a line. Then when we got up there, they told us their computers were down, so they had to hand-write everything for us. We took a shuttle bus to the lot to pick up our car. It look forever to get though the line at the gate, but after about 20 minutes we finally were on the road to our resort.
We found a local island radio station playing Hawaiian Christmas tunes. This is my third ever Christmas season in the Hawaiian islands and I just love the Mele Kalikimaka spirit here! To me, this is how Christmas should be, LOL. Warm, sunny, and wearing shorts. However, some bittersweet memories flooded back and I felt a little sad. The last time we were in Hawaii (Maui) during Christmas season was December 2006. I had planned the trip because my mom was done with chemo, and I thought it would be a time to celebrate her being on the road to recovery. We arranged the trip and went with my mom and dad. It was during that trip that I realized that she wasn't getting better, but was actually getting sicker. I was worried about her the whole week. Now all I remember from that trip were anxious feelings, and none of the details. Even though these memories came back, I tried to put them behind me and tried to enjoy the now. We're going to be in Hawaii for a week together and I was excited to relax. The lack of speed in getting out of the car rental place made me mad though. Todd said, "You need to get on 'Island Time'. Just relax." I knew he was right. But it usually takes me one or two days to start to relax while on vacation. Kauai pretty much moves at a really slow speed though. The speed limit on most roads is 35mph at the most.
Just like last year when we arrived on the Big Island, we got lost on the way to our resort, AGAIN. This wasn't too fun when it was getting really late and we just wanted to get into our condo and go to sleep. Eventually we had to call our resort and ask for directions. We were overjoyed when we finally found the entrance to our resort! It was after 1:00am Pacific time, after 11:00pm Hawaii time, when we finally got into our condo. We were exhausted and went straight to bed.