We got up at 7:30 this morning which meant 9 hours of sleep! The most Listgirl has slept in some time. I, on the other hand, manage to immobilize for 9 hours at least every other weekend. We decided to go back to
Java Kai
for breakfast. This time, we shared a macadamia nut waffle. Listgirl got the Kona coffee again and I had a soy chai latte. Is there a more effeminate drink that I could have ordered? Eh, I'm secure in who I am. And then, the highlight of the decade, the reason for living, the best of all possible worlds... I went waterskiing!! It's been over 20 years since I last did this and I was so excited when I realized I could hire a boat and a driver and go do it here. I'm not quite sure why it's been so long since I made this happen.
Getting ready in front of Kauai Water Ski & Surf
Getting in the water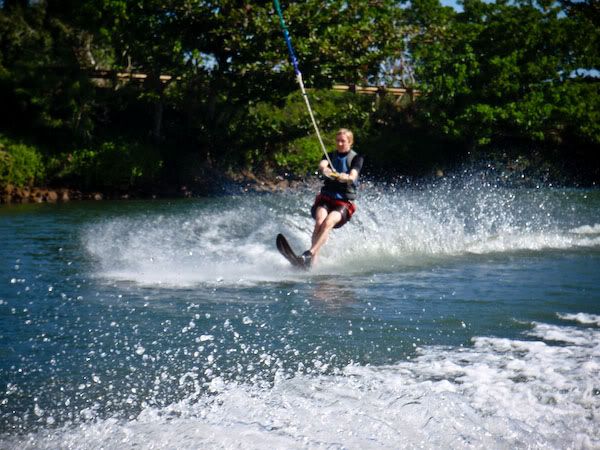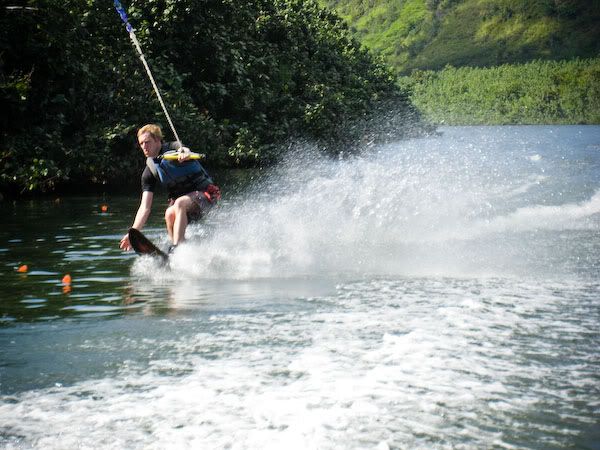 Reaching for flower - I missed.
With our driver, Kenny After thoroughly tiring myself out on the ski, I had to replenish with some lunch.
Scotty's Beachside BBQ
had caught my eye the last couple of runs up the trail. So we gave it a try. The view was fantastic and the sun was out today. But the food was merely ok.
Brett's
is still the BBQ king! But I was filled and that was the goal.
View from restaurant
Chowing down Fed and happy, it was time to go back in the water. We grabbed our rented snorkel gear and headed south to Poipu to the acclaimed
Poipu State Beach
. Luckily it lived up to its billing because I was all ready to poo-poo Poipu. Our waterproof camera really paid off as we took lots of tropical fish photos.
Looking ridiculous
Still managing to look cute. From there, we headed over to a blowhole and watched the water shoot up and listened to the groaning sounds. Local legend holds that a giant lizard was trapped in there and the noises are its moans. Primitive beliefs are so cute!
Finally, it was back to our area...
As always, the views while driving are great. ...and dinner at
Caffe Coco
. On the upside, this spot has an ever changing menu that's hand-written white board. Also live music - but all we heard was the sound check. On the other hand, the seating was all outside and thus the mosquitos were a bit of a problemo. I think Listgirl added 9 new bites to her vacation collection. Boo on that! The food was very good though. We decided to balance our all-meat lunch with a meatless dinner. We had tofu Pacific rim platter, a vegetable samosa, and obviously banana spice cake.
The most important food group! Back home to clean up and blog and call it a day!