I woke up after getting over eight hours of sleep. Hurray! We really liked the condo we stayed at in Kauai, but the bed was really uncomfortable. Sleeping in my own bed was luxurious!
Todd went back to eating popcorn for breakfast again. I had a couple of Eggo waffles. We unpacked and did laundry, and organized some Christmas gifts. After watching some football, it was time for lunch again. I pushed the external temperature button on the car and it said 71 degrees. On December 20th. I told Todd that even though we're not in Hawaii anymore, I have nothing to complain about! :) After all, I wore a tshirt and flip-flops today. San Diego is an awesome place to live.
We wanted to get some Japanese food, so we went to Shien of Osaka. What?? They were closed for lunch on Sundays! Doh! We decided to drive to Little Tokyo in Carmel Mountain instead. I will get my Japanese food! We hadn't been to Little Tokyo in a long time, maybe over a year. They have renovated the place, and it looked like new ownership and new menu. Todd ordered a two-item lunch combo with teriyaki chicken and fried tofu. I had tempura udon noodle soup. Both were lunch specials.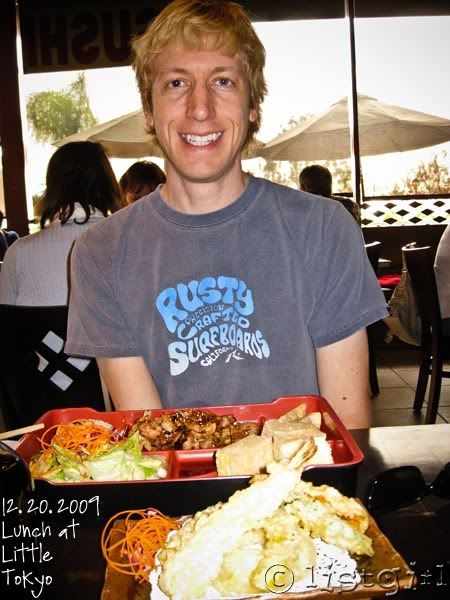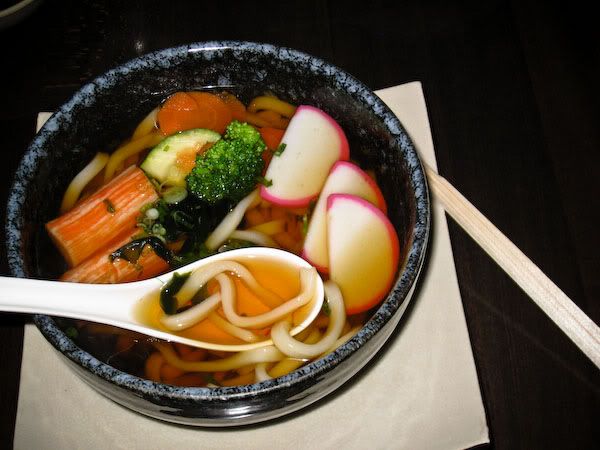 All our food was delicious, and because they were lunch specials, they were very reasonably priced. Little Tokyo wasn't my favorite before, but now I really dig the food and the lunch prices. We will be back!
In the afternoon, we watched the Chargers beat the Bengals with a field goal with only 3 seconds left in the game. The Chargers clinched the AFC West title for the third year in a row! Very exciting end of the game indeed.
We sorted our week's worth of mail. Got lots of Christmas cards from friends and family. If you've sent us a card, just know that your card will be a little late due to our Hawaii vacation, but it's coming!