Most of you read here that Listgirl and I took a trip last week. Vacationing in early-mid December is an interesting experience. We've done it a few times now. It forces us to get any holiday gift shopping done before everyone else. Well, I suppose we could have waited until this week but we don't want that kind of stress. So we had the different kind of stress of getting it all done early. Now that Christmas week has arrived, we're seeing the fruits of all our labors. As
Listgirl said yesterday
, we can't show the gifts we've started to give out (to coworkers and such) quite yet. But they were very pleasing I have to say. The giving is so fun but receiving isn't so bad either. I got the popcorn pictured from my coworker and blog reader, Julie. She knows me so well, LOL. The low-tech wrapping job was humorously her.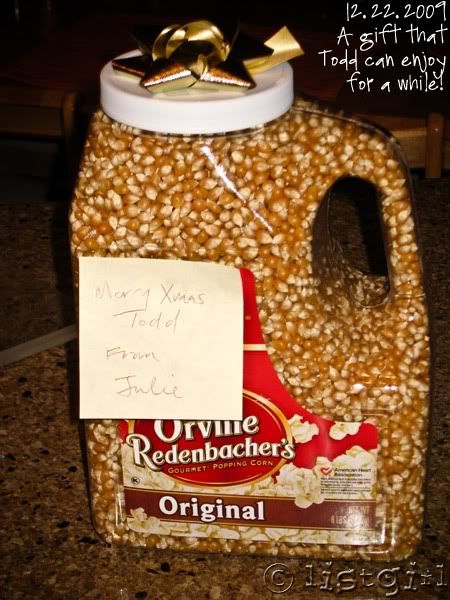 Like Listgirl, my parking lot is very empty and my bosses are all out of the office. It makes for peaceful days - especially knowing all my shopping is done. Of course, family will be arriving soon so that will break the routines a bit but we are ready for it. I spoke one more time at Toastmasters today - finishing up my Advanced Communicator - Silver manuals. I managed 11 speeches this year. (I still have to give two more speeches to achieve that level but not from my manuals). The speech was on the fascinating mideaval alchemist and physician Paracelsus.
Read up on him
if you like. Most of the material for my speech came from
this great book
by Joe Schwarcz.