Today is not 1/1/2010 and project 365 is not over. But today is the last Tuesday of the year and thus the last "Tuesdays with Todd." Of course it's possible I'll jump in as a guest at some point next year. Never count a spry blonde out!
But for now, we're going our separate ways...in the blogosphere at least. I've toyed with starting my own blog in the past and this guest stint on listgirl.com has pushed me over the edge. So in 2010, you can read my particular flavor of crazy at
Finding Fun
. Set your RSS readers to stun.
I was reading eweek the other day - I'm sure none of you miss an issue - and I almost choked when I read this bit in the "Stupid Tech Tricks" article.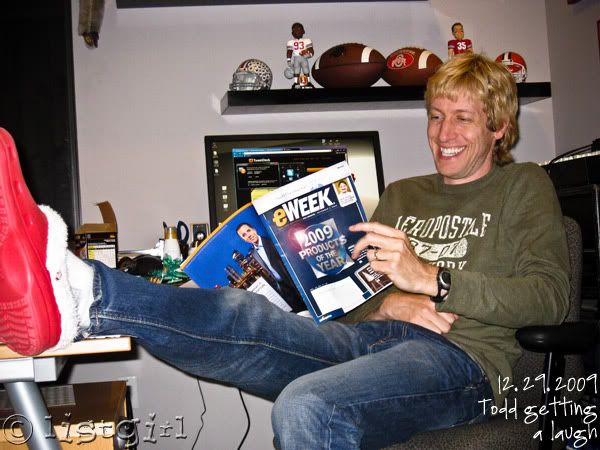 ...I wanted to post a Facebook status update while attending this year's Cal versus Stanford game...I punched in the note on my iPhone then waited several minutes to confirm what I suspected would happen - the connection failed.
I had the exact same experience. I had to wait until after the game to
upload my post
. (Must be my FB friend for that link to work.)
We'll finish out this post with a few odds and ends.
---
Do you ever wonder what happens when geeks in Japan decide to get creative with their food?
Wonder no more
.
---
If you hate cute things, don't
click this link
.
---
A
set of satellite photos
like you've never seen.
---
If you like wacky stuff like the above, that's the kind of things I'll have on my blog...along with some philosophy, religion, and the latest on my efforts in songwriting and Toastmaster-ing. Have a great 2010!