We didn't really have anything planned for today, so we just winged it.
For breakfast, we walked to the
Kountry Kitchen
, because we had heard good things about it. The coffee there was rather awesome. They have an extensive breakfast menu with a ton of different omelets. Which would be... Todd's worst nightmare! Todd does not like eggs or cheese, so he usually doesn't like to go to breakfast places, but he does it for me. Awww, I know. So he only got some hash browns and guava juice. I got two eggs, spam (a Hawaiian favorite), and hash browns.
The inside of the restaurant was country-cute. Lots of kitschy chicken decorations. (Try saying that really fast, LOL.)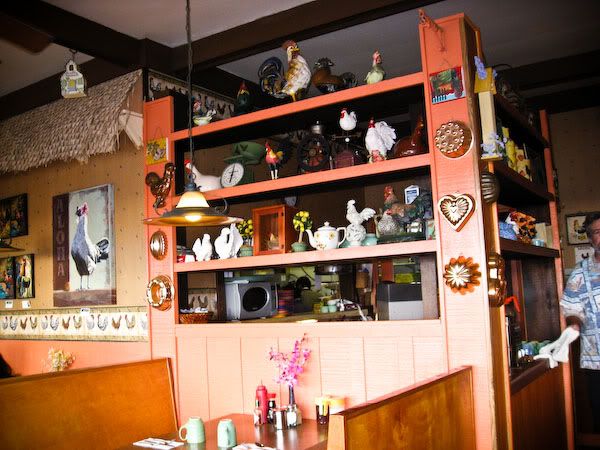 And lots of wild chickens running outside.
On the walk back, we stopped by Country Moon Rising Bakery and Todd got a little something extra for breakfast: a cinnamon roll.
We got some fish food and fed the koi pond at our resort again.
We went to see
Opaeka'a Falls
.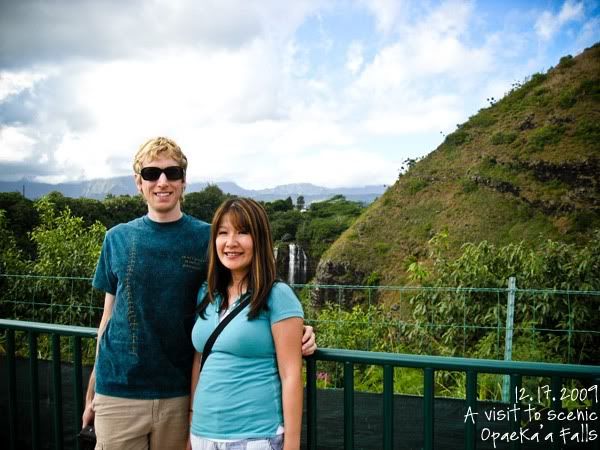 The viewpoint was on a higher elevation and from there, you can see all the way to the ocean too.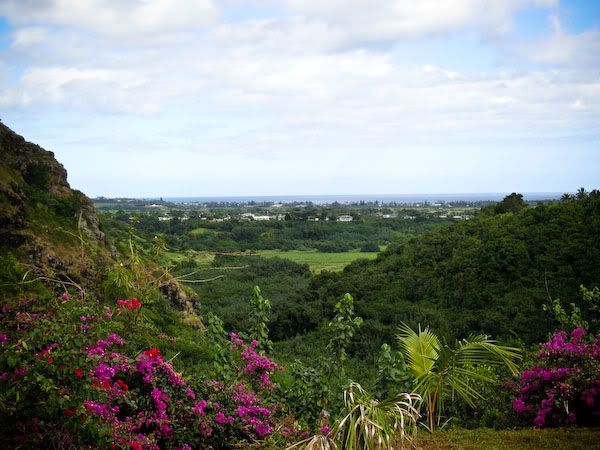 You can also see the Wailua River (where Todd waterskied on Tuesday).
We didn't really know where to go for lunch, so we went back to the Deli and Bread Connection again. I had a hot pastrami sandwich, and Todd had a club sandwich. While at the Kukui Shopping Center, we stopped into the Borders Bookstore there and hung out and read some magazines. Nearby, we found a fresh
malasada
stand.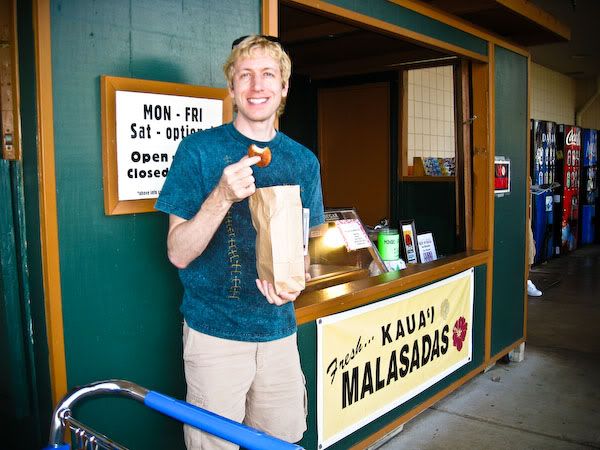 They're Portuguese fried dough coated with sugar. I think they taste like donuts. We've never had them before, so Todd was excited to try them.
We had a very laid-back day. For dinner, we wanted something light, so we went to
Pho Vy
and had some Vietnamese tofu summer rolls and chicken noodle soup. It hit the spot, after eating many richer foods during the day.
In the evening, we watched an old movie called "
Sneakers
" that Todd brought from home. It is a fun heist-caper type of movie. Thus ended Day 5 in Kauai.