Photo today:
I
made soap with Sally
back in early January. Now that it's been over a month, the soap is finally cured and ready for usage! The ones on the left have tangerine essential oil in them, so they're slightly fragrant and more yellowish. The ones on the right are plain. These are all-natural, I know every raw ingredient that went into them. (Coconut oil, palm oil, olive oil, lye, & tangerine essential oil.) Todd loves my homemade soaps and uses them all up! A few years ago I made a batch and packaged them up with cute little ingredient labels and gave them away for Christmas gifts. People seem to like them. The other day when Meera came over, she asked me to show her my blogging process. So I showed her how I process the photos, export them from Lightroom, upload them to Photobucket, and blog. She said, "Wow, it's an involved process! You don't watch TV anymore, do you?" LOL. It's true, I don't hardly watch TV anymore. Between Project 365, blogging, scrapping, running, and working, I don't really have too much time left for TV-watching. But I still watch Grey's Anatomy, Private Practice, and The Mentalist. Todd and I watch The Mentalist together, it's our new favorite show. But I DVR the other two shows and watch them while I run on the treadmill in the mornings. Each show is 40 minutes if I skip through all the commercials, so it's perfect for a morning run. I like that I get two things done for the time of one! Today I felt a little deflated, as if someone let some air out of my party balloon. It's OK though. Life is still good when I have these "downer" days. I think it's my body and mind's way to let me know it's time to take a break from my busy-ness. Todd made
Escarole, Three Bean, and Roasted Garlic Soup
for dinner tonight. Even I'm made this recipe by myself before, so you know it's easy!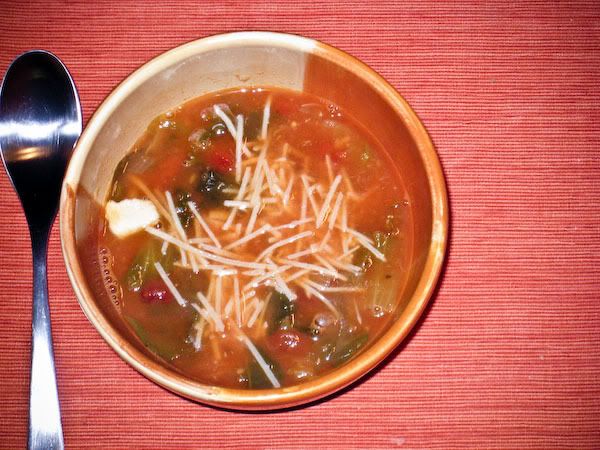 We saved a little bit of the roasted garlic and mixed it with warm butter and smeared it on some bread. Heavenly.