Photo today:
Today I had lunch with some work friends that I haven't seen in a while. I used to work with them, but I moved to a new department a few years ago. They still include me and I appreciate that very much. Over the last year I had worked some days at the office and some days from home. I gradually realized that I felt a little too isolated if I work too many days from home. I felt my social skills deteriorating, as well as my ability to deal with people. At the beginning of this year I decided that a work hermit's life is not for me, and that I need to be at the office at least 3 times a week to interact with people to feel more fulfilled with work. This change has brought increased work life satisfaction for me. Coincidentally, today I received a phone call from my work friend Patsy on the floor above me. I hadn't talked to her in a long time and she was so nice and thoughtful to call to see how I was doing. We also talked about our annual "March Birthday Girls' Night Out". There are several of us at work who have March birthdays, and we have a tradition every year to have a night out or a party, with just us girls. It should be fun and I'm looking forward to it! I finally had a chance to go over to
Bill's cube
today and introduce myself, and ask to try the cherry flavoring to add to my Coke!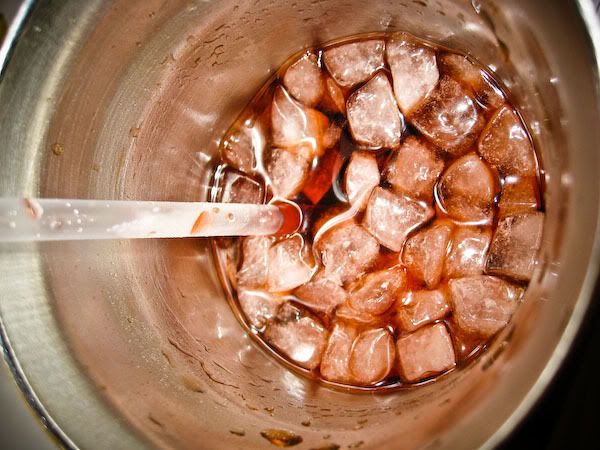 The cherry flavoring he found doesn't have added sugar, and it's very concentrated, so a few drops went a long way! In fact I had to go back and add a little more Coke because the flavor was quite strong. In the end I decided I like it, as an occasional treat. And Bill is a very nice guy. He did say though, that I was the ONLY person who took him up on the cherry flavor offer. Really? What happened to everyone else? Isn't life worth the occasional cherry flavor? :) Todd made
Spiced Tilapia with Roasted Pepper-Tomatillo Sauce
for dinner tonight.
It only took about half an hour to cook, and it was really good. I don't like fishy-fish, but this didn't smell or taste like fishy-fish at all. Quite pleasant in fact, especially with the pepper-tomatillo sauce. We didn't cook any rice or noodles with it tonight though. So we added some Korean kimchi as a side dish.