Photo today: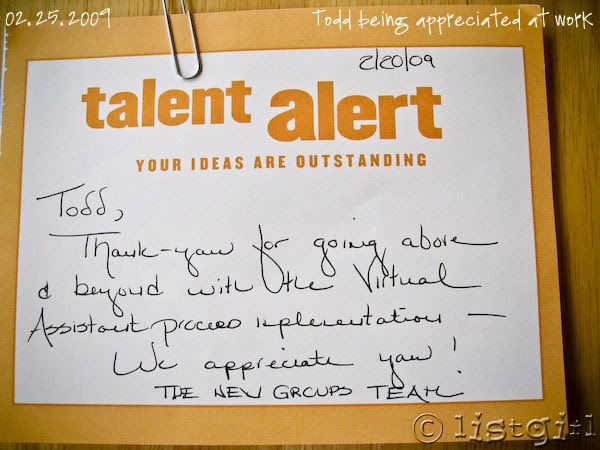 A few days ago, a team of people at Todd's work went by his cube and gave him a note of appreciation for the work he's done to help them. I'm so proud of him. And so overjoyed that other people appreciate him. Paper-clipped underneath that note were a BUNCH of little notes of appreciation from different people: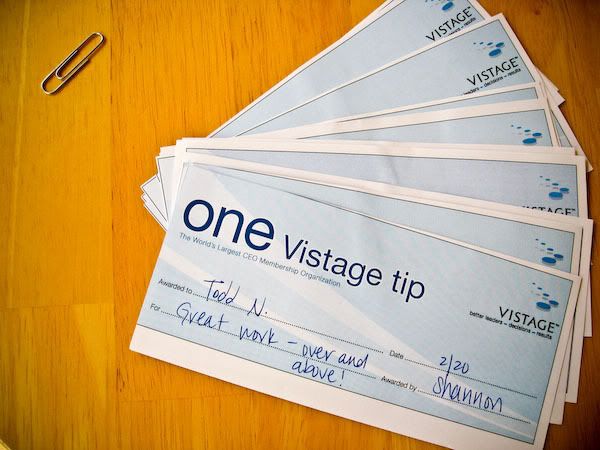 The cool part? You can exchange those little "tips" for coffee and treats at the coffee cart! I didn't get to talk about my husband Todd very much this past Valentine's Day, mainly because my mom passed away on Valentine's Day two years ago and it's still too fresh to "celebrate" that day. So I thought I would pay a belated tribute to him and embarrass, I mean, talk about him today. :o) (In the form of a list, of course.) Why I love and respect Todd:
He's the kindest person I know. I don't know how it's possible, but he's never said a mean word to me in the 18 years since I've known him.
He's so good to my family. He helps out my dad around the house. He was there for all of us when my mom got ill with cancer and died. He agreed to have my sister live with us for a year in the 1990's, when she returned from missionary work in Mexico.
He's kind to other people. He doesn't make fun of other people in order to make himself feel better or superior. He has a quiet assurance about himself.
He's enthusiastic about life.
He's my cheerleader, my champion, my encourager.
He loves the Lord.
He's an awesome piano player and musician. He's played in some rock bands the last few years, although his main love is jazz. He's literally my rock star.
He's super smart. He reads books on quantum physics for leisure. My eyes glaze over when he talks to me about it.
He loves learning & improving himself. Example: he wanted to get better at public speaking, so he joined Toastmasters. Just yesterday he made a technical speech about music theory and chord progression.
He's self-motivated and disciplined.
He's a great chef, as evidenced on this blog.
And he loves me. He loves ME! I don't know how I lucked into this. I think of it kind of like God's grace: I don't deserve something that good, but I'll accept it with humility. And I'll return the love the best I can.