One of Todd's best friends from junior high and high school, Joe, came to visit us today. He had been in town for a conference, so we picked him up around noonish downtown. Oh, and if you hadn't guessed, we flaked out on the 7 mile run with WCRR on Coronado Island this morning. Getting up at 6 AM and driving 40 minutes down to Coronado just so we could run in the cold and rain just didn't appeal to us. I guess we are fair-weather runners. Oh well, I never claimed to be a hardcore die-hard runner, LOL. Joe has an infectious sense of humor and loves to talk and chit chat about all kinds of stuff. Todd's sense of humor has definitely been influenced by Joe's. Joe had a hand in Todd's development into the fine person he is today. Todd met Joe in 7th grade, when Todd did not get very good grades. By the 8th grade though, Todd felt more confident in himself and to BE himself, influenced by Joe's friendship and self-assurance. Todd's grades shot up in 8th grade and he's done fine since then! :) In 9th grade, Joe decided that he was going to college at Harvard, so he worked hard, and sure enough, he got in. After graduating, Joe served a couple of years in the
Peace Corp
in the
Seychelle Islands
, off the east coast of Africa. Then he went to grad school at Univ Of North Carolina to get his MBA. A few years after that he started a software company called Bronto Software, and
he's the CEO
. Anyways, we picked Joe up around noon from his downtown hotel, where his conference was. We drove north on Harbor Drive and went to lunch at
Point Loma Seafoods
. We love this place because of its no-nonsense fresh seafood. There's no pretense of being at a fine restaurant, even though the food is superb. The prices are quite reasonable for being such fresh seafood and having so much variety. Oh and Rachael Ray ate there in one of her
"$40 a day" episodes about San Diego
on the Food Network.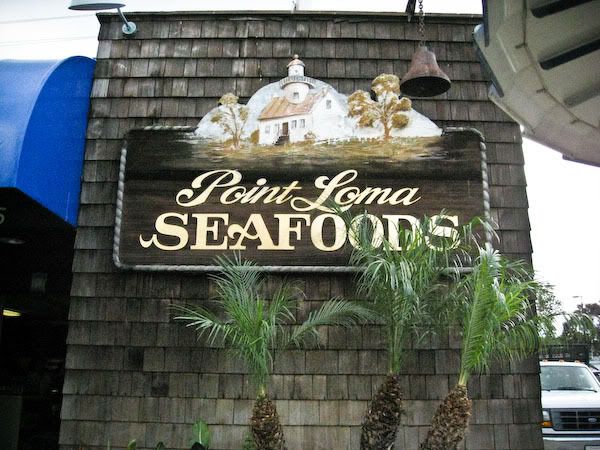 So you walk up to the counter and order your meal:
There's a lot of fresh varieties to choose from. A lot of their business is selling the raw seafood and the customers bring them home to cook them.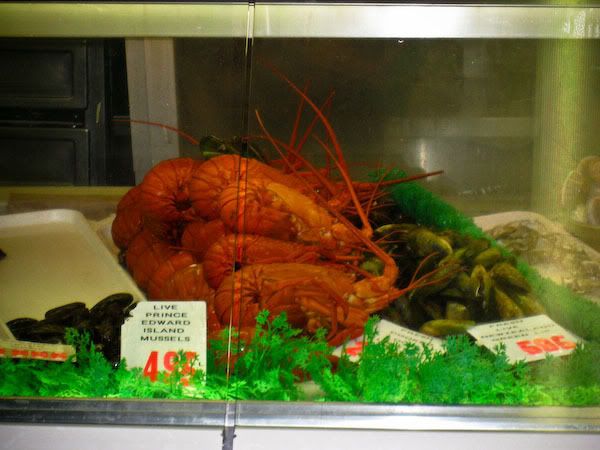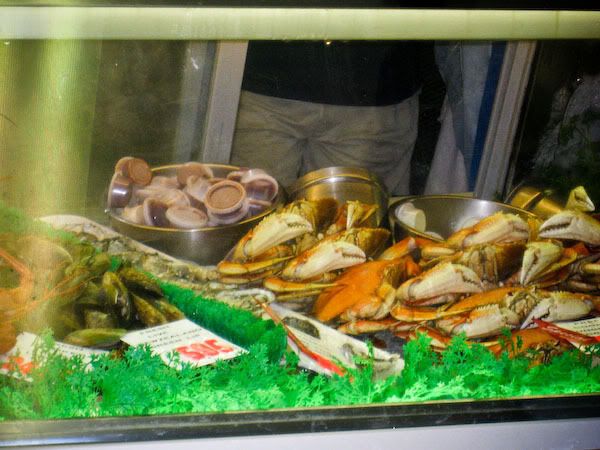 After you order and get your number, you walk outside and find a seat. It is right on the water so you have to watch out for seagulls trying to eat your food!
I got a calamari sandwich on sourdough, while the two boys got fresh halibut sandwiches.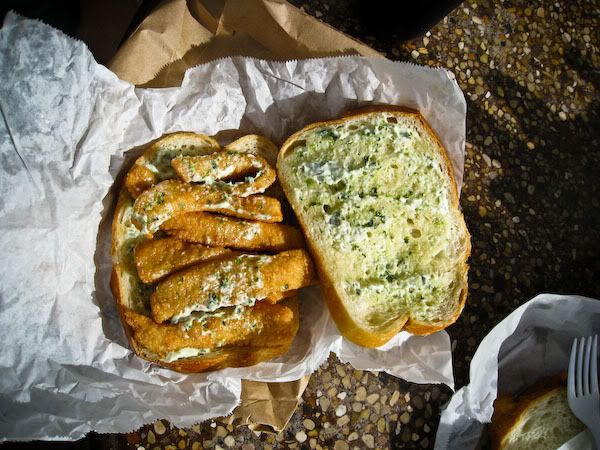 I think everyone was pretty happy with their choices!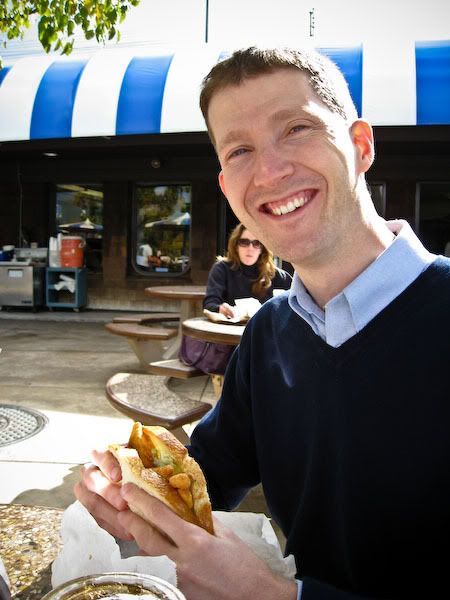 You can still see the storm clouds in the background: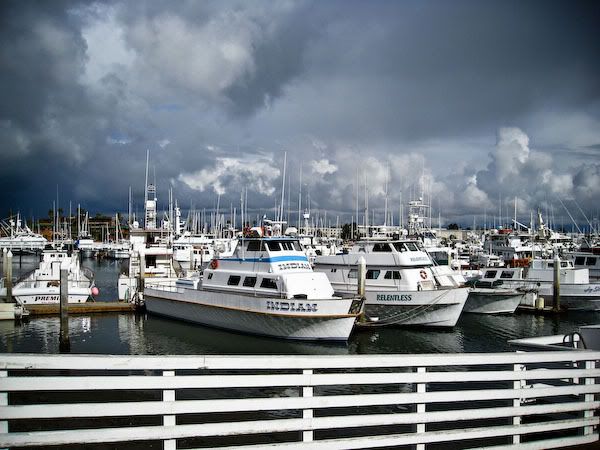 Joe and Todd: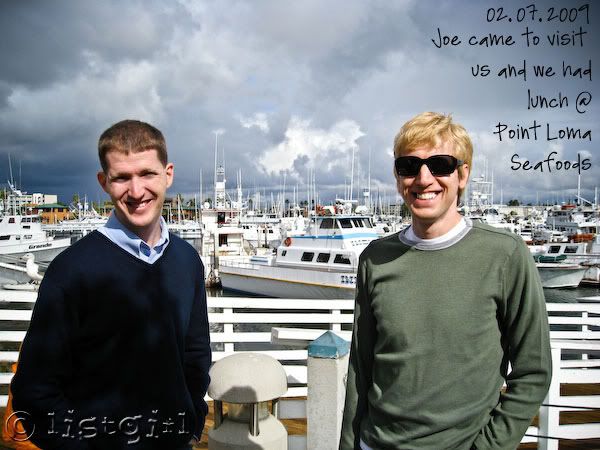 After lunch we drove down to
Seaport Village
, where Joe found some unicorn t-shirts and trinkets for his two little girls. They love unicorns! We also had some fudge and some Ben & Jerry's ice cream down there. Ah, the good life! We came home and played a lot of Wii games together. Joe tried out the Wii Fit and was dismayed at his Wii Fit age. Well, who isn't on their first try??? We also played a rousing game of Mario Kart. We made
Turkey and Potato Soup with Canadian Bacon
:
After dinner we went to
Yogurt World
for some tart yogurt dessert. Joe's never had tart yogurt before, but he liked it!