to love an electronic gadget this much? If it's wrong, I don't wanna be right! I bit the bullet and bought the
Garmin Forerunner 205
this week. Todd sorta encouraged me by saying stuff like, "I know you'd love it. You love numbers and stats". He's right, he he. I received it from Amazon yesterday, and less than 24 hours later, I was using it. I gotta say, everything is really intuitive and easy to use. I set it up so that it records laps every mile, automatically. I don't have to push a button or anything. It beeps at every mile, and I look down and see my time for that mile. So this morning I mapped out my route on
Gmap-Pedometer
online, for a 7 mile route, going out 3.5 miles from my house and then back. I studied the 3.5 mile turnaround point so I'd know approximately where it was. And to check it against my Garmin. Todd and I set out at the same time, but of course he was faster than me so we never ran side-by-side. What I didn't count on was how HILLY my route was. Going out was mostly downhill and I was making good time and so proud of myself. I ran by Santa Luz, a ritzy gated community of humongous houses on rolling hills. Very pretty.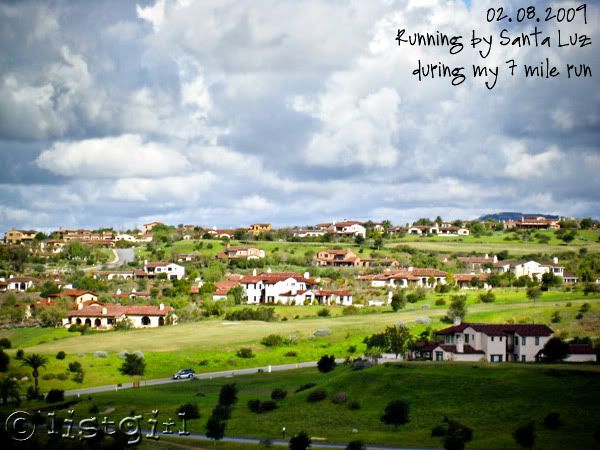 Hmm... I guess I was still walking too fast when I took this pic... seems kinda blurry to me. Oh well. When I got to the turnaround point, my Garmin said 3.52 miles, so it was very close to Gmap-Pedometer! Ok, lemme just say that when you're going downhill the hills don't look so huge. When I headed back, the hills looked so steep and HUGE to me! I had to stop for walk breaks a few times because I was so tired of running the hills. I guess I need more training in that area, LOL. I was SO happy when I made it up the last hill and turned around the bend towards my house. I think I ran that last 0.7 miles pretty darn fast, downhill. Probably not a good idea for my leg muscles, but I was ecstatic! My Garmin said my fastest pace was 8:07 per mile, and I have no doubt that was during the downhill run! I uploaded the data from my watch to the computer. Lookie at all the data points I got! :: happy dance ::
I'm not so thrilled with the avg speed and the total time of 1:20:58, but those hills really slowed me down. And burning 664 calories in one run is so totally awesome. Except I was really hungry for the rest of the day. And I had to descend and ascend almost 1,000 feet, which is really a lot in my humble opinion. Here's a graph:

You can see the inverse relationship between the elevation/grade and my speed, LOL. The green line is the elevation, the blue line is my speed in MPH. I can see I'm going to have a ton of fun with this little gadget. :) After a quick shower, it was time to take Joe to the airport. We picked up burritos from
El Zarape
, a fantastic Mexican place in North Park, on the way down to the airport. I couldn't have scarfed down my scallop burrito fast enough! I probably looked like a savage, chowing down on my food like I hadn't eaten in days. :o I got a really cool photo of the San Diego skyline from Harbor Drive, after dropping Joe off. We hardly ever get dramatic clouds like this.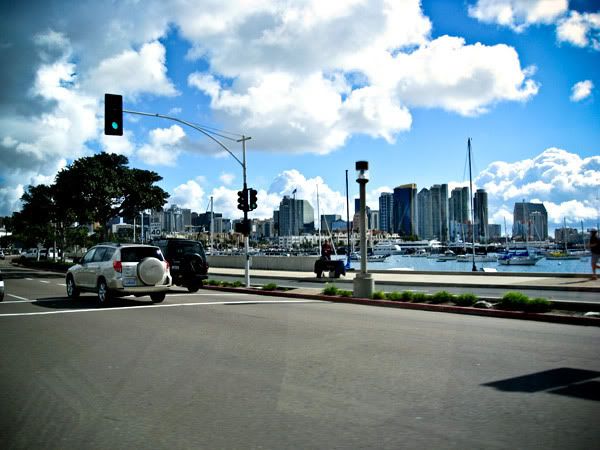 Todd installed a new garage door opener this afternoon.
Our old one broke and he got tired of parking his car outside in the rain. I know, we're so spoiled by the good weather here. :: hanging head ::