Today was one of those days where I am reminded how fortunate I am to live in San Diego. While people in some parts of the country were digging out of snowstorms, I was wearing a tank top hiking on some trails into Balboa Park. I don't take it for granted though. I am very grateful for this weather, even though my mortgage is three times as much as it was in Dayton, Ohio. There is always a trade-off, right? We woke up and watched our church service on the internet. Pastor Ray was super-excited about the Chargers again. He even wore a powder blue button-down shirt with a gold tie. After church, Todd cooked some
Pepper Beef
for lunch, a recipe from Cooking Light. Yum!
Then I got my supplies ready and headed down to Sally's house to make some homemade all-natural vegan soap. We use 24 oz olive oil, 17 oz coconut oil, and 44 oz palm oil. We had planned to go take a walk first because we knew the weather was going to be gorgeous, so we headed off down the trail just steps from Sally's house.
It was such a great day for a trail walk:
We chit chatted on the trail and before I knew it, we had reached
Balboa Park
. Before we lived here we didn't know, but Balboa Park is actually the largest urban cultural park in the United States, bigger than Central Park in NYC. We stopped to take some photos at the
Botanical Building
:
Check out the koi fish in the foreground: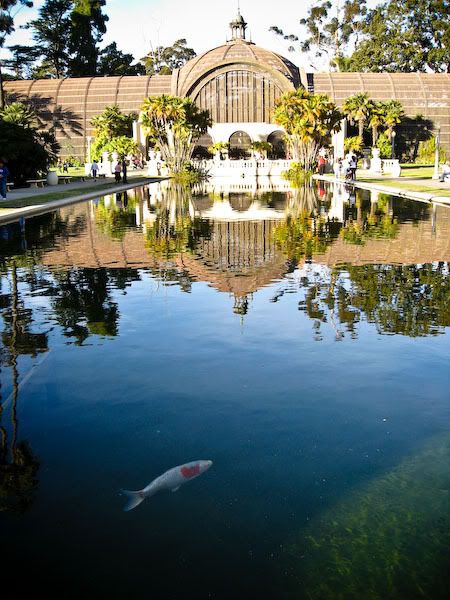 Sally striking a pose:
Me, in the middle of thinking that someone should pinch me that I live where this scene is possible in January:
Beautiful flowing fountain:
The
Museum of Man
and
Old Globe Theater
:
San Diego Museum of Art
:
Prado Restaurant
:
On the way back we found this really cool cactus plant:
And some other cool agave plants:
After getting back to Sally's, we measured out our ingredients and started melting the fats (olive, coconut, palm oils) in the pot:
We had prepared the lye solution ahead of time so that it has had a chance to cool down to around 98 degrees. When both the fat solution and the lye solution are around 98 degrees (this is hard to time just right), we mixed them together and it creates a chemical reaction to form soap. But pouring the lye is kinda dangerous, so we had to wear goggles. I went from normal domestic goddess:
to a total chemistry nerd: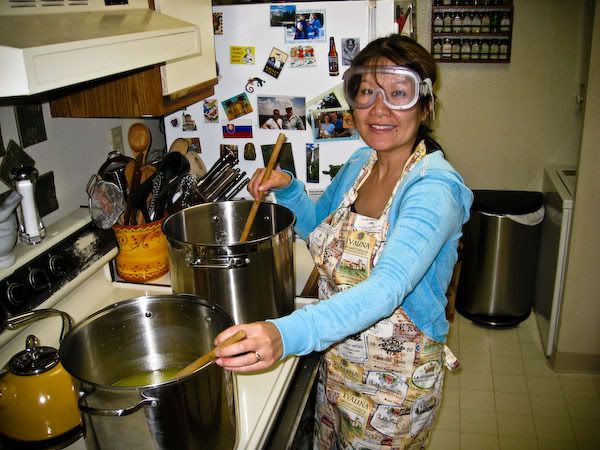 We had to stir the mixture for one hour and 20 minutes before it was thick enough to pour into the wooden soap molds.
While stirring, we watched the Golden Globes red carpet silliness. Brian came home from watching the Chargers game and brought some chicken and bean & cheese burritos for us. So after we got the soap into the molds and it was like after 8 PM already, we were starving and wolfed those down. While I was gone, Todd went rollerblading at Miramar Lake with his new Bont skates. He went to dinner at Chile Peppers, so he had Mexican food too! This weekend was so fantastic, I'm so sorry it's over. Oh, and the Chargers ended up losing to the Steelers, so their season has ended. I'm okay with it though, since I didn't even expect them to make it to the playoffs.