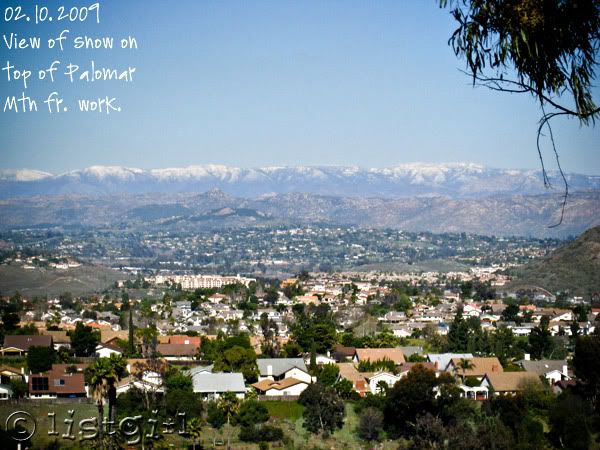 I went out to lunch at
Brett's BBQ
with Yuri, Sandra, Swati, John, and Jay at work today. It reminded me to take a photo of Palomar Mountain all covered in snow. I had seen it briefly when I was driving to work, but couldn't get my camera out fast enough before the view disappeared. See, we have snow here! It's just in higher elevations. And in February 2002, we actually went snowboarding one morning and surfing in the afternoon on the same day. Our adventure was featured in the
Nov/Dec 2002 issue of the AAA magazine "Westways"
. (See #4) The photo was really us, except that it was "re-staged" in September that year, LOL. AAA sent out a photographer to meet us at the beach so they could get a shot of the "eating burritos and watching the sunset" part of our story. The funny thing was that the photographer actually brought us burritos from Taco Bell, of all places. We didn't actually eat the "prop food".

(ETA: if you're having trouble getting into the Westway magazines site, use the zip code 90210 like my friend Christine did!) Dinner tonight was something new -
Spicy Sweet-and-Sour Chicken
:
We ate it with udon noodles and it was delicious! The flavor was very multi-faceted, which is always a good thing for the taste bud. I chopped up all the veggies and Todd made the sauce. Oh yea, be sure to come back tomorrow for a goodie!