Today's photo:
Today's nine mile training run with
WCRR
was supposed to be a trail run in the Los Penasquitos Canyons. But it was still too wet from the rains the last few days, so we took it to the roads. More HILLS for me! In fact, the most ups and downs yet. And I thought the last two weeks were hard. Ha! I got there bright and early at 6:45 AM. I chatted with Cathy, the woman I met a few weeks ago. Her pace is similar to mine, so she and I kept passing each other during the whole run. I must admit that I got kind of bored during this run. The scenery wasn't as pretty as running at the coast. I have not been using my iPod during the runs, because I didn't use any music players the last time I trained and ran a marathon. But this time around it seems different. The runs are getting longer and what could I possibly think about for hours at a time while I run? I think I'm bringing my iPod on my next long run. This was probably the best photo I got during the run. A slight view into the canyons.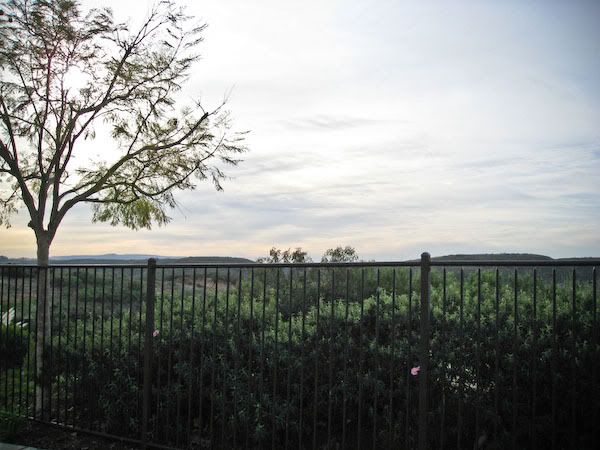 I finished the nine mile run with a time of 1:42:56, which averaged out to 11:19/mile. I was really happy with that, considering how hilly and up and down it was. And my pace was actually faster than the 11:31/mile for last week's eight mile run! Here's the info from my Garmin Forerunner:

I made an unpleasant discovery after the run. The inside of my upper right arm got pretty chaffed rubbing against my side. This has NEVER happened to me before! Has my arm gotten so flabby now that it can't help but rub against my side??? Are my arms the flabbiest ever?! I always wear performance tank tops while I run, but I'm going to wear a t-shirt next week so that I don't get chaffed. :( Perhaps it's time to do some strength training on the arms and tighten them up! After the run I went home and made myself an egg sandwich. I was hungry. I burned 863 calories by 9 AM. Todd was running a Toastmasters speech contest today, so he wasn't able to do the 9 mile run. After he came home around 1 PM, we headed to
Point Loma Seafoods
to meet Sally for lunch. They both acted like they were starving, and ate their whole sandwiches before I had a chance to eat even half of mine. :p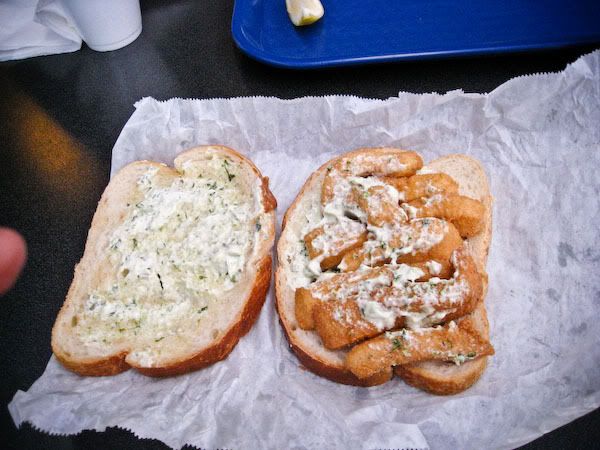 I love Point Loma Seafood. Such great seafood for such reasonable no-nonsense prices. After lunch we headed down to
Cabrillo National Monument
for some photos and to tour the place. This is only the second time we've been there since we moved to San Diego at the end of 1999. From CNM, you can see the whole San Diego harbor and skyline, as well as Coronado. On clear days you can see into Mexico as well. Today wasn't quite as clear, so we couldn't see that far. I took several photos but none of them turned out that well. I'm not really sure why. I took this panoramic photo using the stitch assistant function on my camera. This is actually a combination of seven shots.
Another photo of the view:
Sally took this photo of us.
We went inside an auditorium to watch a half hour film about Juan Rodrigues Cabrillo. When we came out, the weather had totally changed. The clouds rolled in and it got very windy and cold. So we decided it was time to go home! I crashed on the couch when we got home. I still feel tired from the run this morning.