Photo today: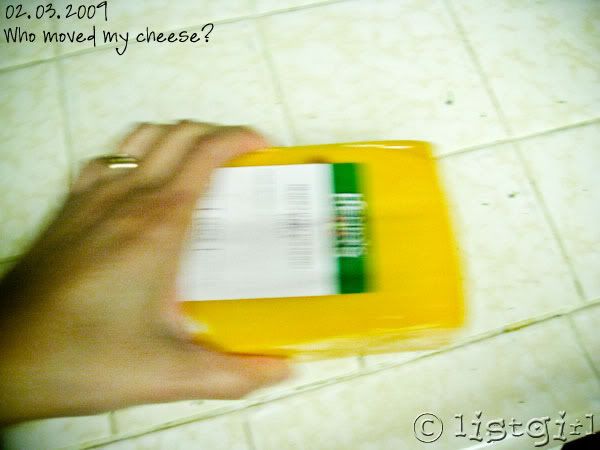 With all the remodeling talk lately, it hit me today that my house will be chaotic for a couple of months, and that it will be different afterwards. I know I will love it in the end, but I'm worried about people moving my cheese... Uncertainty makes me uneasy. Dealing with the constant change in my house will be... unsettling. I like my cheese to stay put. :) If you don't know what I'm talking about and think "What does cheese have to do with anything?", I'm referencing the classic self-help book "
Who Moved My Cheese?
", dealing with changes in your life. Sometimes when I have a worried or pensive look on my face, Todd will ask me, "Did someone move your cheese?"

Tonight my dad called just to wish Todd a happy birthday. It's still 2 days away but he told Todd he's sending him a card. This is really a break-through! I was so proud of my dad that I told him so. My dad sounded proud of himself too, hee hee. You gotta understand my dad to know how huge this is! He's a big idea guy, not little detail guy. When my mom was alive she was the one who kept track of everyone's birthdays and anniversaries and sent cards. My dad never paid any attention to it. He's just not a detail-oriented person. And over the years I've gotten used to him being the way he is. I don't resent him or anything, because he doesn't forget on purpose, it's just the way he is. And I love him for who he is. He has tremendous strengths in other areas that other people don't have. BUT tonight was really special! Not only did he remember Todd's upcoming birthday, but he took the time just to call and chit-chat, and he was full of joy. Definitely a moment to remember. Dinner tonight was
Buddha's Delight with Tofu, Broccoli, and Water Chestnuts
, except that Todd skipped the water chestnuts because he doesn't like them: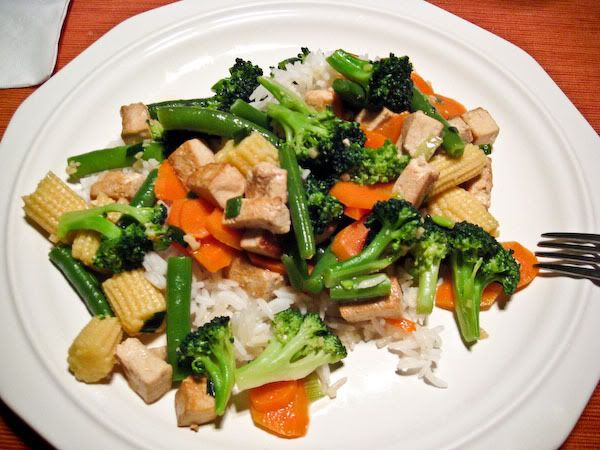 Very healthy yet delicious vegetarian dish!