Photo today: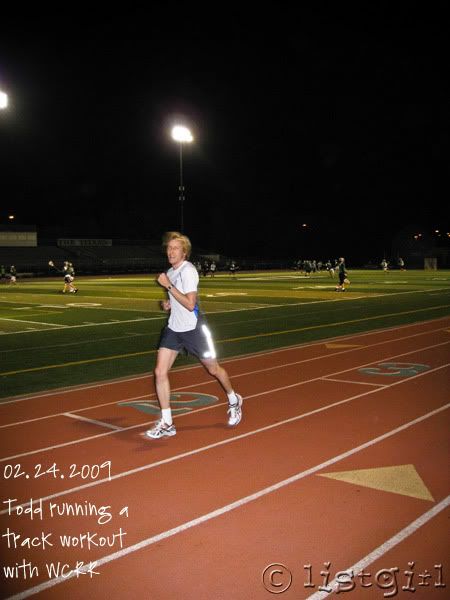 Tonight we did our first track workout with West Coast Road Runners. Ran a mile to warm-up. Then ran 10x30x30. Ten repeats of 30 seconds of hard running followed by 30 seconds of easy running. Coach Rick used a stopwatch and a whistle so we knew when the 30 seconds were up. We finished with another mile to cool down. Afterwards we did instructor-led stretching for 15 minutes. It was actually pretty fun. I met two nice women, Shelly and Linda, who ran about my pace. Change of topic... After getting three bids from contractors, we had a favorite one. We negotiated some money off yesterday and officially picked them for the kitchen and bathroom remodels. Today we sent off the deposit check in the mail. We're excited, but not without trepidation. I fully realize we're taking a risk in this economy. It feels weird and a little bad/guilty to be spending money right now, when my instinct is to hold on to it. Of course, thoughts of "What if we lose our jobs?" have entered into our minds. But if not now, then when? The conditions might not ever be perfect. And rather than being afraid, I want to be optimistic. I want to believe that the current economic situation in our country, and the world, will turn around. We've thought about this back and forth a lot. I think one of the things that pushed me into going forward with the remodeling was the
death of Chris & Kim
. I've been a cautious saver my whole adult life. Before I even see my paycheck, a large percentage goes into retirement accounts, of which I won't see the money until I'm 59.5 years old. I've lost 40 % of it during the last year anyway. What's my point? Chris & Kim died in their 30's, in a car crash that happened in a couple of seconds. There's just no telling what will happen tomorrow. So while we'll continue to save a couple of dollars for retirement, we're going to enjoy a new well-laid out and ergonomic kitchen where we can cook & entertain our friends and family. Yes, it is a leap of faith to go ahead with it, but I'm cautiously optimistic.