I woke up around 7:30 am and watched College Gameday in bed with Todd. It's my favorite fall Saturday morning ritual, and it was the last one of the year! Totally fun and luxurious. Then we went downstairs and started watching the bowl games. I made some cherry almond scones from the scone mix that Todd gave me for Christmas from World Market. It was awesome! I love that it's not too sweet.
Todd cleaned the house, took down the Christmas tree, and generally did a LOT of cleaning. I was on the treadmill for 30 minutes, which I really wanted to do to start out the year. I watched a bowl game while running. What could be better? I also did sit-ups and push-ups. Around 2:00 pm we went to AJ & Meera's house to watch the Rose Bowl. Meera made Mexican food: taco soup, taco meat, salad, spanish rice, guacamole, and enchiladas. All was yummy!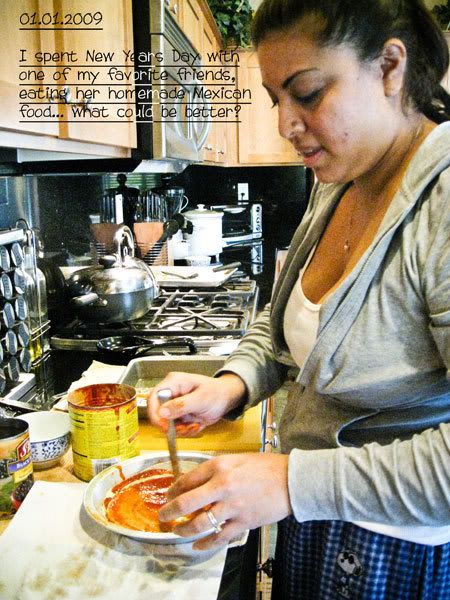 We got to meet a bunch of AJ's cousins. And WOW, Andon is running now!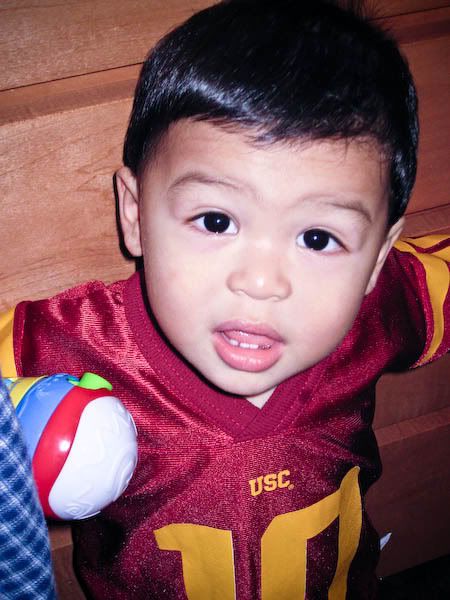 Todd watching the Rose Bowl:
AJ smiling for the camera:
Meera emailed me a couple of hours before we left to ask me to bring my video of my 2008 scrapbook pages so that she could see it. I was just excited that SOMEONE wanted to see it, LOL! So even though Meera subscribes to the RSS feed to
my gallery at My Scrapbook Art
so she's seen almost all my layouts already, she still liked my video. She also told me that she read my blog this morning. Based on her comments, I know she really read my blog and didn't just skim it. I'm so proud, sniff. So we left AJ & Meera's house around 5:00 pm with our tummies and our hearts full. A great way to start the year.