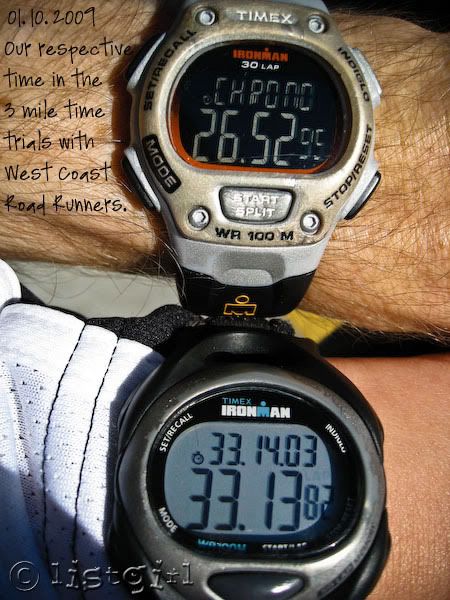 That's our respective time for the 3 mile time trials with
West Coast Road Runners
today. Yea, I'm the slow one, in case anyone's wondering. ;p
We had to set the alarm today to get up at 7:00 AM so that we would get to
Road Runner Sports
at 8:00 AM for the orientation for the Spring season with WCRR. A ton of people showed up.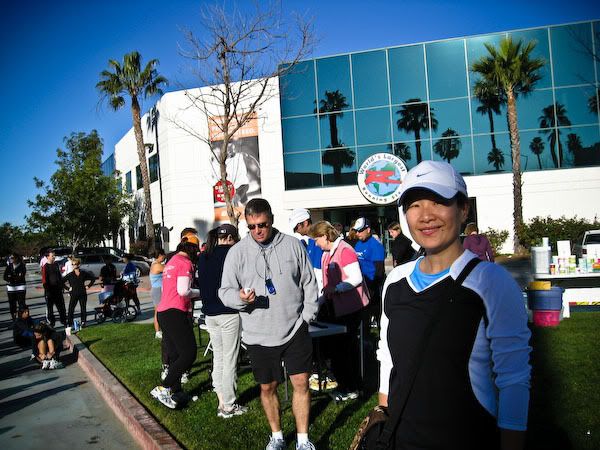 The first 50 minutes were just registration, introduction and inspirational talk, and raffle drawings. Then we ran the 3 miles for the time trials so that they could put us into our proper training group for our pace. I know I have been running a lot slower in the last few months due to gaining weight, so this wasn't a surprise. I hope to get my pace a little faster in the shorter distances. If I actually finish the
RnR Marathon
averaging 12 minute miles, I'll be pretty happy. Today is the first step towards being fit and slimmer again! And possibly running a 26.2 mile marathon again. I'm cautiously optimistic. After running the 3 miles and browsing through the RRS store, we headed down the street to Shanghai City for brunch/lunch. On Saturdays from 10 AM to 3 PM, they serve a traditional Northern China breakfast. We actually haven't been in years, so we were excited to go today. Todd with some hot soybean milk (it's sweet). You dip the fried dough into it and it's yummy!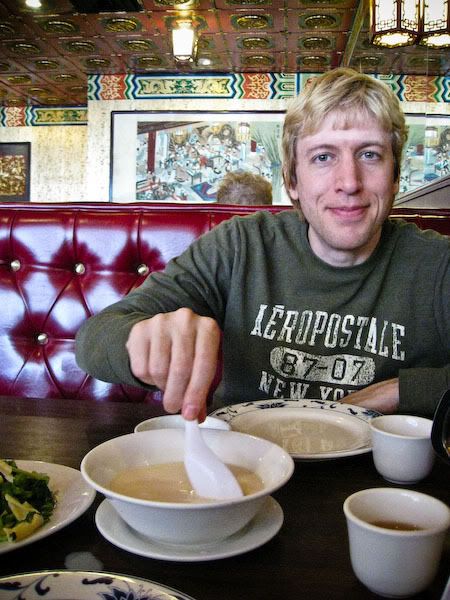 We also had green onion pancakes: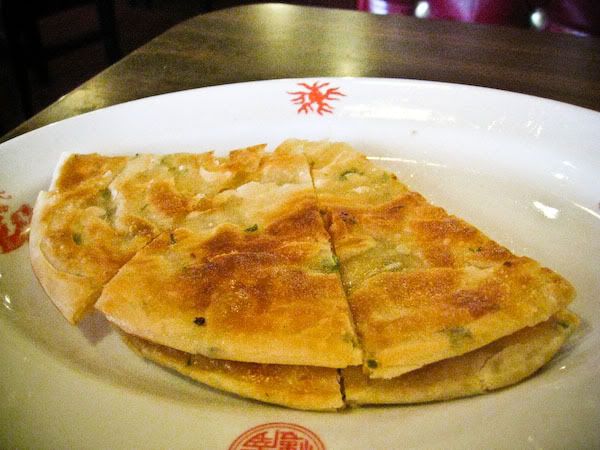 Shanghai style dumplings: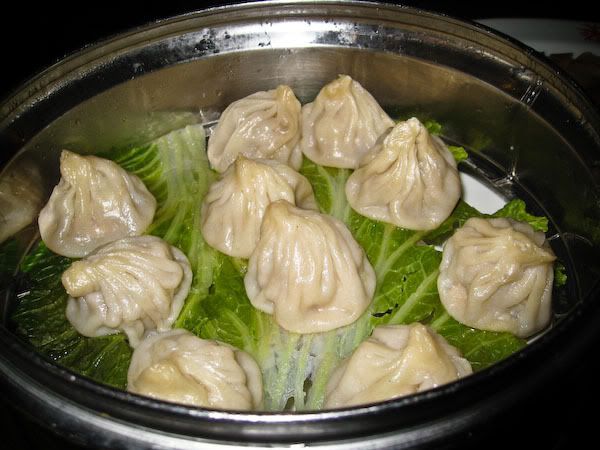 Mustard greens with edamame & soybean cheese: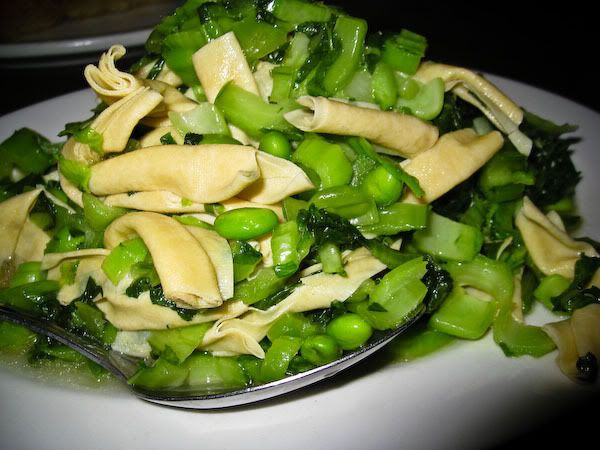 After lunch we headed to Henry's in University City for some produce: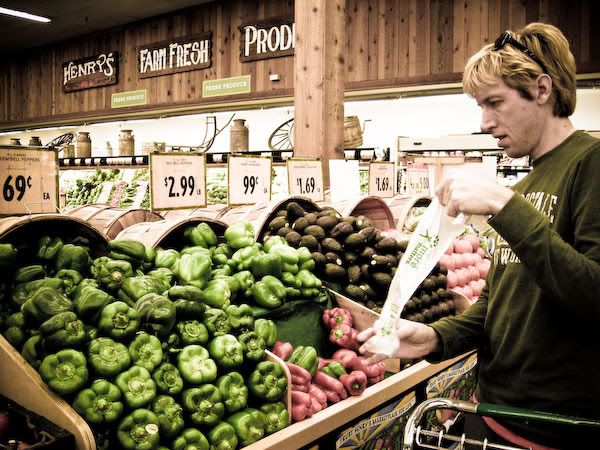 The
Santa Ana winds
started blowing last night, so we knew it would be warmer and very clear today: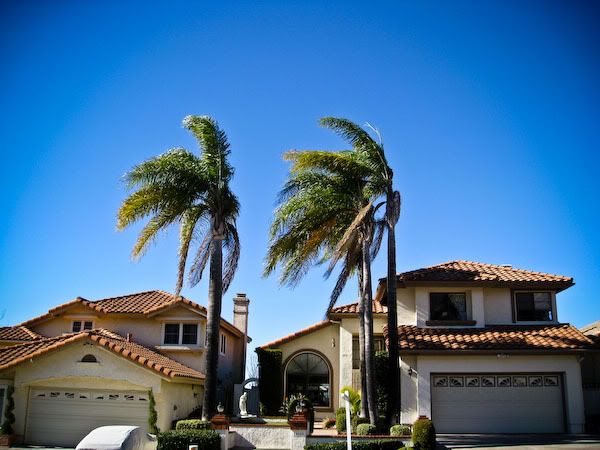 Check out the palm trees across the street from our house being blown by the Santa Ana winds. The gardeners came and trimmed the dead leaves off of our palm trees.
The reason this is significant is because they haven't been doing their job and I had to write them a letter this week requesting better service. For the last few months they've just been cutting the grass and not trimming trees or bushes. So I'm happy that they got my letter and did well with the yardwork today. My new Olympus Stylus 1030SW came today!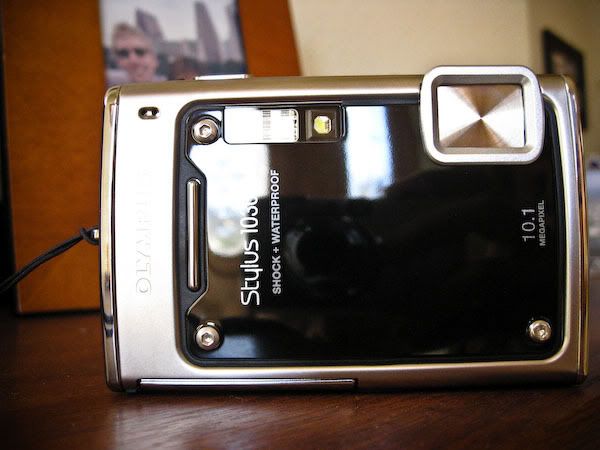 I wanted a shockproof and waterproof camera to take on my long runs. Plus this would be good for our next vacation. Todd made a salad tonight with fresh tilapia that we got from Henry's. Yum!
We're supposed to watch "The Dark Knight" (Batman) tonight on blue-ray DVD, but I wonder if I'll be too scared? I'm a weenie when it comes to even slightly dark or scary movies.