**Download link no longer available**
There are 31 spaces in there for photos, not including the little bits that are too small for photos. You don't have to use it for Project 365 - you can use it for any type of themed layout for January. Or you can just use it for anything you want to scrap about that starts with a "J"! Just replace the "anuary" with something else. If you're doing a book for Project 365, it could make a nice page divider between months. :)
Today's photos: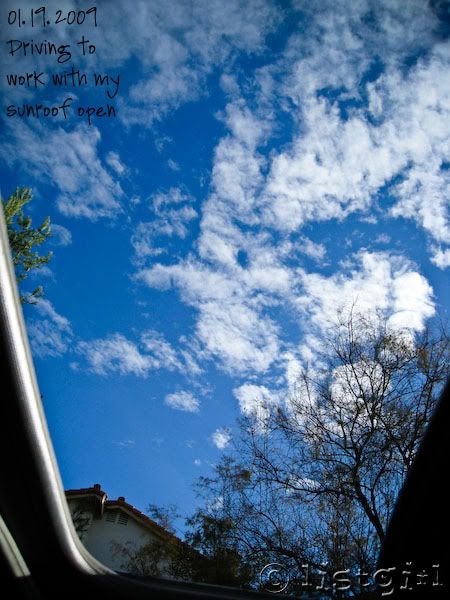 I drove to work with my sunroof open, enjoying the fresh air and the wind blowing my hair around. I was jammin' to Madonna's
Hard Candy
album. Regardless of how you feel about Madonna as a person, you can't deny the head-bobbability of her songs. Well, *I* can't deny it anyways. ;p So I was bobbing my head along, and going to work, when I just felt THANKFUL to have a job to go to. In this economy to have a job is really a blessing. To have a job I like, doing things I like, with people I like, and get paid well for it, is just phenomenal. I felt much gratitude.
Then to top it off, I was leaving work and look what I saw from the parking lot:
Get serious! One of the most spectacular multi-colored sunsets I've ever seen. The layers of cotton candy clouds with purple and pink colors, then the bright orange of the setting sun. WOW!
I just got home from work and Todd had to work late tonight, so he's bringing me tacos from Rubios for dinner. My stomach is growling now...
I received the Fabulous Blog Award today from
Tracy
(5Angels) in New Zealand! I'm so honored to receive it. But since I've already passed the award on last week, I will take some time and think of other people to pass the award to in the next few days. If you want to see my 5 addictions and whom I've passed the award to, see this
previous post
.