After some process improvement of the Friday night gathering of running supplies, our Saturday morning training runs with WCRR went well and without a hitch. We got up earlier and got to Mission Bay HS earlier than the scheduled time. Boy it was gray and slightly rainy this morning! But the temperature was perfect for running, somewhere in the 50's. Todd and I split up into our respective pace groups, and my group got to start before his group. I'm loving these staggered starts for the different pace groups! Basically, the slower you are, the earlier you start, so that everyone finishes around the same time. It worked out perfectly at the end, when Todd caught up with me and we ran the last 200 yards together and finished at exactly the same time! Me, running south in the middle of the pack on the boardwalk at Mission Beach.
It was so gray that I thought the sepia tinted photo looked more artistic than the actual colors in the photo, LOL. Looking north towards Crystal Pier: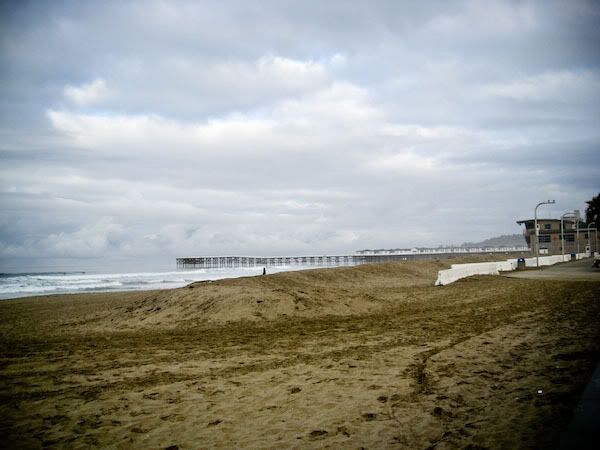 About 2/3 of the way through the run, I saw the sun starting to peek through the clouds and shine over the water.
I met a nice woman named Cathy who was about my pace. We chatted for a little bit. She ran the Rock N Roll Marathon last year without any training and finished in under 7 hours. This year she's training, LOL. I can't say that I've never known anyone to run/walk 26.2 miles without training. After the run, Coach Dan conducted a seminar about hydration. I guess I need to hydrate more because I found out that the dull headaches that I experience after long runs is due to dehydration. He also said something about if you're red in the face afterwards you're dehydrated. But I'm ALWAYS red in the face after running! Even when I only run like 2 miles. Then he said if you lose a lot of salt you may want to eat some pretzels and such the night before. That's me too! After my long runs my face is crusted with white salt. So now you can imagine how attractive I am after long runs. Sweaty, red-faced, and salt-crusted.