ser⋅en⋅dip⋅i⋅tous

[

ser-

uh

n-

dip

-i-t

uh

s

]
–adjective
1.
come upon or found by accident; fortuitous:

serendipitous scientific discoveries.
| | |
| --- | --- |
| 2. | of, pertaining to, or suggesting serendipity. |
3.
good; beneficial; favorable:

serendipitous weather for our vacation.
I came upon this scene while leaving work today:
It was just the right time of day when you can still see the incredible blue sky juxtaposed against the orange setting of the sun. Just perfect. I had another serendipitous happy moment today. I received a message from one of my CT teammates at
Little Dreamer Designs
, who asked me how I made my "
2008 Year In Review
" layout. She had seen it
featured today
at Janet Phillips' brand-new very cool site "
The Daily Digi
". I hadn't gone over there today yet, so I had no idea! So I went over there and saw my layout, along with many truly inspiring year-in-review layouts. I was so excited! I think I might have squealed, but I tried to contain myself because I was at work. :p The other thing I'm stoked about is that I'm making a lot of progress on cleaning off my messy desk. I plan to find a home for all my things so that I have an organizing system that I can keep up with.
Liz
pointed me to the
Flylady
website today and she has quite a system to keep a house organized and clean. I won't go THAT far, but there definitely are some tips that I can use. I had thai food today for lunch with Yuri, and it was so delicious! I limited myself to eating only around 70% of my meal and took the rest back to the work refrigerator. I had Hot Basil Fried Rice: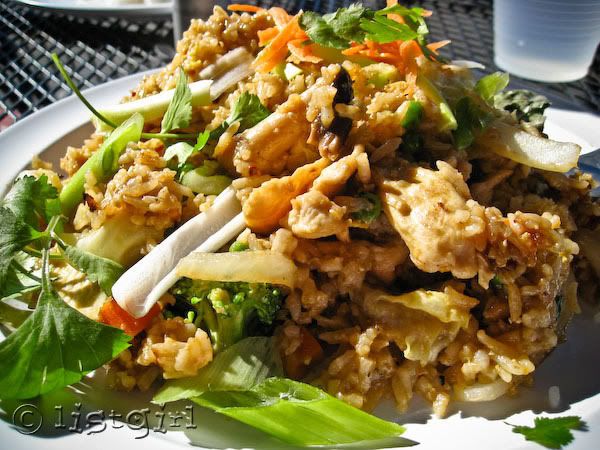 Todd made Pesto Pasta with Chicken tonight and it was delicious. I never tire of that dish.