Photo today: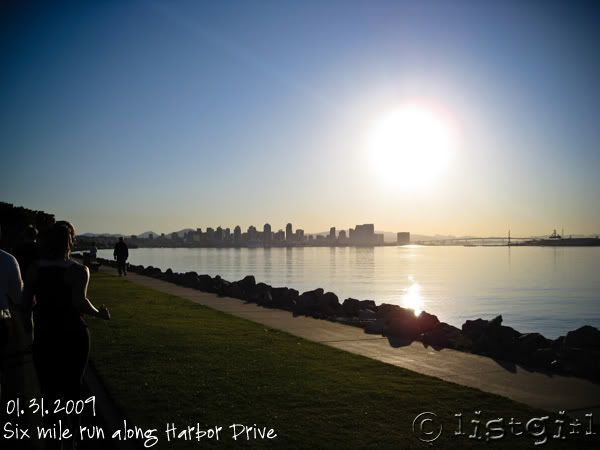 This was at the start of our 6 mile run with West Coast Road Runners today. The sun was just rising above the San Diego skyline. We ran from Tom Hamm's Lighthouse at the end of Harbor Island down to Anthony's Fish Grotto by the Star of India, then turned around and went back. Total of 6 miles and I did it in 1:05:09. Under 11 minutes per mile! That's a better pace than last week's 5 mile run. Very exciting! I felt pretty strong during the whole run. The last quarter mile I felt my achilles start to tighten up. After the run I stretched it out and it feels fine now. Todd has found his groove with his pace group of 4 people. They are exactly the same pace and ran together the whole way. I wish I found a couple of people like that. With a mile left I passed this women and heard her talking to another woman that she was having a hard time finding someone who ran her exact pace as well. She had been following me but I pulled away from her in the last mile. Some scenes from the run:
The
Star of India
is the world's oldest active ship, permanently docked in San Diego Bay, but she still sails from time to time: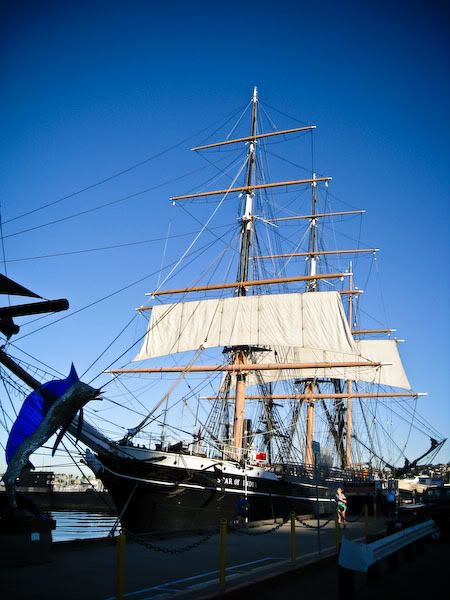 I stopped to take this photo because I thought it was a great scene:
After the run we had a seminar on finding the right running shoes with a guy from Road Runner Sports. I need to go and get my feet and running form analyzed to make sure I'm in the right type of shoe. My left calf and shin sometimes hurts, but never my right. I wish I had two right legs. If I did I could probably run a marathon, no problem! After that, Todd & I went to a cafe in
Little Italy
called Caffe Italia (name is self-explanatory, LOL) and ate some breakfast: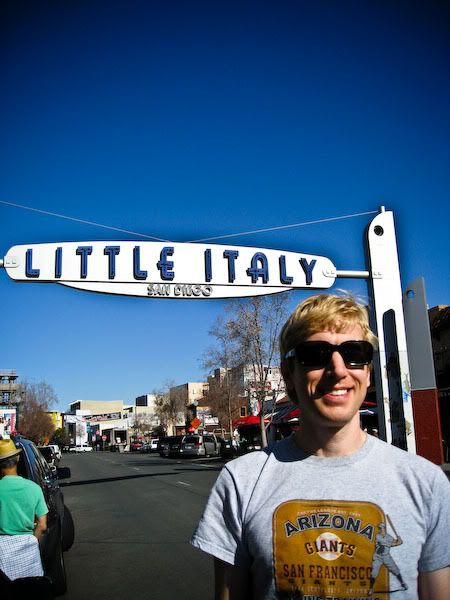 We got back to our parking meter a few minutes after it expired, really relieved to find that we hadn't gotten a ticket yet! We drove up to Morena Blvd and went to
Standards of Excellence
to check out some kitchen appliances, since this place was recommended by one of the remodelers we're considering. We spent a while in there looking at gas range cooktops, but nobody came to help us. Which was just as well, since we were not ready to make a choice anyways. Just looking! Then we drove south on Morena Blvd to San Diego Kitchen & Bath's showroom, only to find it still closed at 11:00 AM. We took it as a sign that it was lunch time, ha ha. Drove down to North Park and had lunch at
Mama's Lebanese Bakery
. This is one of Todd's most favorite eateries, but we don't usually get to go down there because it's far, and because of their limited hours of operations.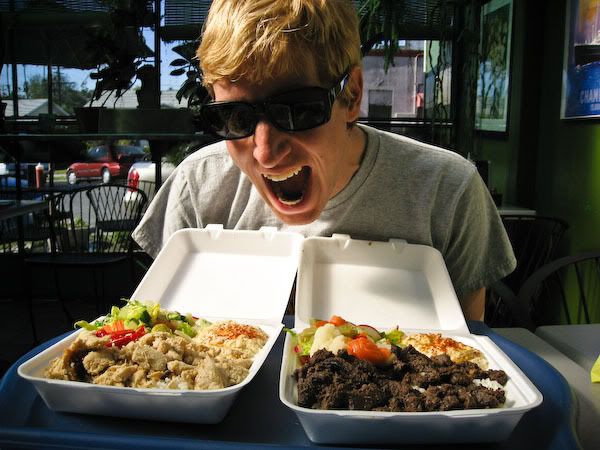 After lunch we went home and showered and immediately turned around and drove back down to Mission Valley to
Mission San Diego
. After living here for 9 years, we've never actually been there! It's California's first mission and first church, established in 1769.
We met Sally there for a "Photo Date". I bought the book "
Photo Secrets San Diego
" by Andrew Hudson (who happens to live in my neighborhood) from Amazon. In the book he describes all the scenic places in and around San Diego to take photos, and he gives advice on what time of the year and what time of the day to go for the best shots, plus camera setting tips! When we first arrived around 3:30 PM it was still a little too bright outside to take good photos, so we went inside the church to look around. The front: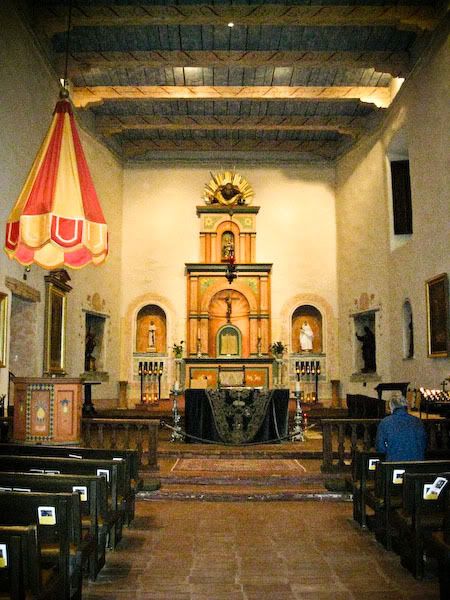 The back: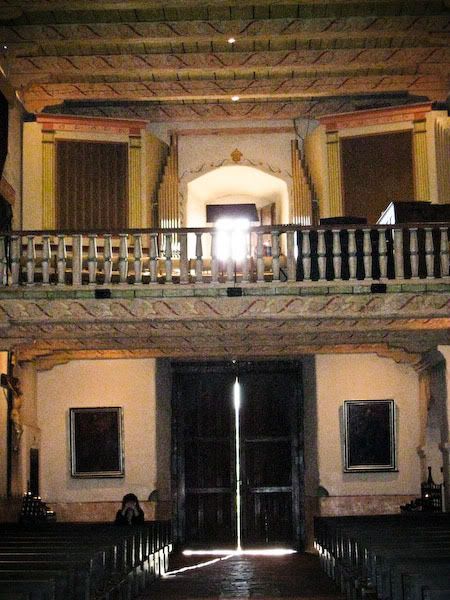 I thought it was very cool how the sunlight was coming in the window and the back door. Then we went inside the garden: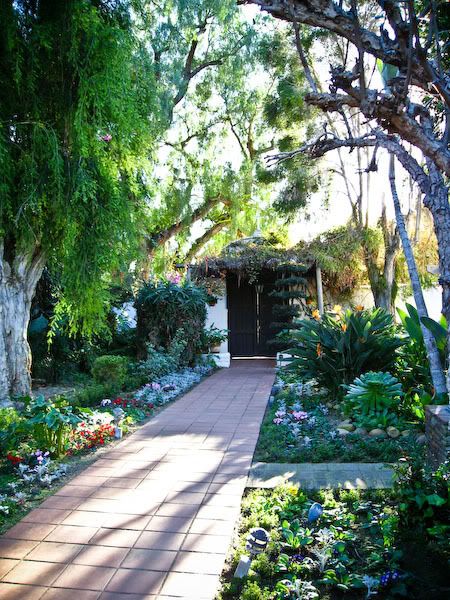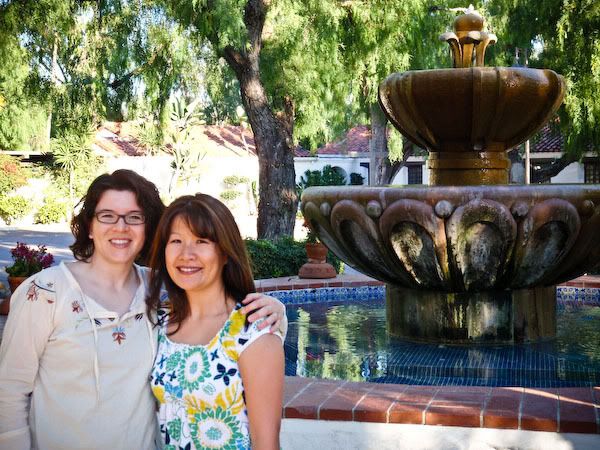 Finally the "
magic hour
" arrived: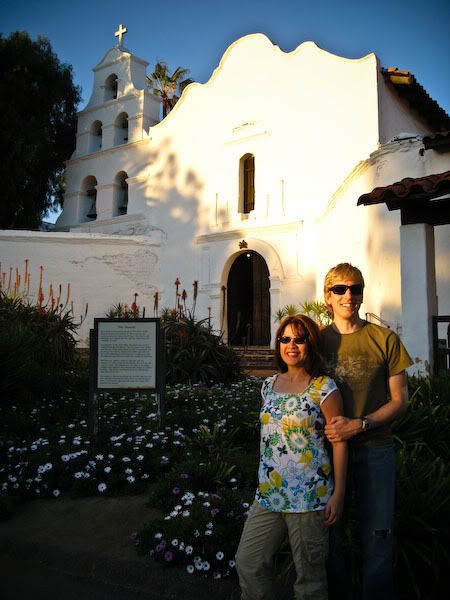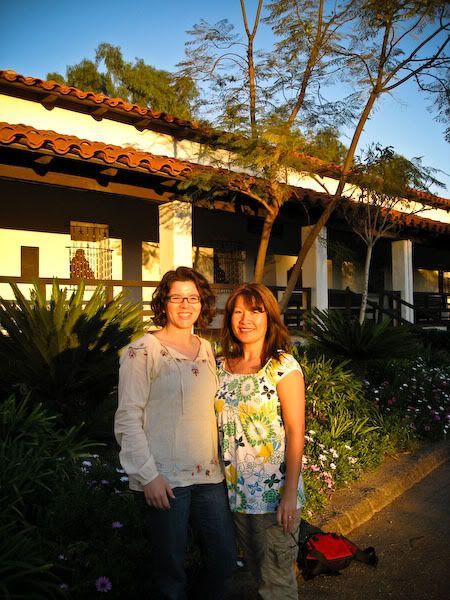 After the photo date we decided we were all hungry and drove back down to Hillcrest near Sally's neighborhood and had dinner @
Baja Betty's
, a place that we always liked at the Taste of Hillcrest but never had a full meal there before. It really did not disappoint! We all loved our meals, and believe me, we are pretty picky about Mexican food around here, being on the border and all. Todd had a Coochie Coochie Carnitas plate (and he ate it all):
Sally had a burrito as big as her head, of which she only ate half:
I had a combo plate of fish taco, chicken enchilada with red sauce, and rice and black beans. I came home with leftovers!
What a day! I'm exhausted from the run and the fun. Until tomorrow!