Many new readers to my blog have commented on my positive outlook on life. I really wasn't born this way, actually. My natural instinct is to be a worry-wort. And obviously my life isn't perfect, nobody's is. I went through a lot of personal crisis the past few years. In 2005 my husband Todd developed a rare disorder called
Spontaneous Intracranial Hypotension
(SIH). It's a condition where a patient gets postural headaches due to a leak of the Cerebrospinal Fluid (CSF) in the spinal membrane. The only way to relieve it was to lie down. So Todd basically laid down for two months and I tried my best to work from home and took care of him. We didn't know when/if he would get better. The treatments were trial and error, but finally one type of steroids helped him get better gradually. About a month after Todd got better and was working again, he was laid off from his job. Granted, they closed down an entire office and we had known it would happen, but it was still not pleasant when it happened right after the SIH. A short few months later, in June 2006, my beloved mom was diagnosed with uterine cancer. It was Stage IV already when they discovered it, but we were still hopeful. I took time off and went with her to every single chemo treatment. I spent a lot of good quality time with her just talking and sharing. We grew even closer and that made it THAT much harder when the Lord took her home on Valentine's Day 2007. Seeing someone you love suffer from and die of cancer is one of the most agonizing things you can experience in life. When my mom died I forgot how to breathe. I was subconsciously angry at God for allowing this to happen, even though intellectually I knew that heaven is unimaginably better than here. After my mom died, I tried very hard to put my life back together and tried to be "normal". Then one week in May 2007 I was very stressed out at work. One of my coworkers went on a 2-week vacation and I had to cover for him during a very busy time. One morning I was running on the treadmill and worrying about all that I had to do for work, when suddenly my heart was racing (more than the normal exercising heartrate), my chest felt tight, I felt dizzy and had difficulty breathing. I thought I had a heart attack. Turned out I had a
panic attack
triggered by all the physical and emotional stress I had experienced from my mom's illness and losing her. I went to the doctor right away and was put on the drug Paxil for anxiety. Paxil made me a lot less anxious, but I almost felt like I didn't CARE as much about things anymore. I was lethargic and my usual enthusiasm and passion for life was suppressed quite a bit. I knew in the long run it wasn't how I wanted to be. So after a year on Paxil, I worked with my doctor to get weaned off the drug. Even weaning off was hard when I experienced headaches, moody swings, and body zaps. Finally in July 2008 I felt NORMAL again. What a blessing it is to just feel normal! Why am I telling you this? Because I wasn't born a happy person. My life wasn't/isn't all sunshine and puppies. Being happy is a choice I have to make EVERY.SINGLE.DAY. Yes, some days it's easy to be happy. Some days not. But I choose to dwell on the good things in life and document those, because it makes me happy to go back and read my memories of the good things. It makes me thankful to be where I am now. Even the hard experiences in life are there so that we truly recognize it when LIFE IS GOOD. I love one of Todd's t-shirts that says, "Without rain, there aren't any rainbows." And always choose happiness, if you can. Life is a bit short to dwell on the unhappy things. Today's photo:
Peppermint
gave me this sock monkey calendar for Christmas. I had casually mentioned to her once how much I love sock monkeys. She filed it in her brain and surprised me with this gift. Peppermint is the first friend I've ever made on the internet. Good thing she's not a weirdo! She makes me laugh, she makes me cry (in a good way), and she charges me money for it. (Ha ha, just kidding. Even though she says she should.) Last but not least,
Digi Dare #117
is up! Make sure you check it out at the
Digi Dares site
. All participants who make a layout and link us up will receive a 30% off coupon for Kristin Cronin-Barrow!
Here's my layout for the Dare.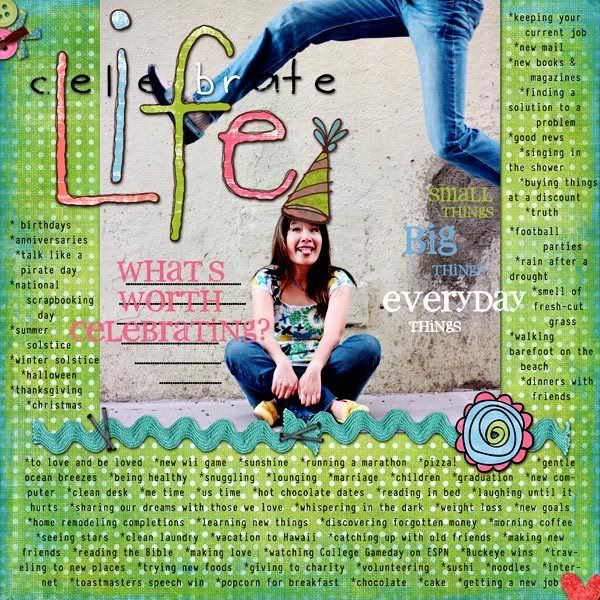 Full credits
here
.