A couple of weeks ago I decided to start printing my scrap pages 8x8, so I looked for 8x8 albums. (See that post
here
.) I decided on the
American Crafts 8x8 D-ring cloth album
and ordered it. My layouts have arrived, and so has the album. Wanna know what I think of the album?
In one word: DISAPPOINTED.
Nowhere in the album description anywhere online did it say that the 8x8 cloth album only comes with 2-rings instead of 3-rings. Why does it make a difference? The 2 rings are set very close together, towards the center of the album. Look what happens when I hold up the album filled with 49 layouts?
Yep, the pages flop down. :(
The top-loading page protectors are not sturdy enough. That coupled with the close-set 2-rings make the pages flop around when you stand it up or carry it around, or even just browse through the album.
And obviously, if you love to make 2-pagers, you can see how far apart your two pages are in this D-ring album. I think I could have dealt with that, if not for the floppiness of the pages.
Another thumbs down - because of the D-ring, the album is really thick!
It is a good 2 1/2 inches in the spine, so you'd have to make plenty of room for your album on your bookshelf.
Here's what 49 pages look like in the album, from the bottom.
So yes, I made a bad choice for me. I thought D-ring albums would be great for re-arranging, but this one really disappointed me. Does anyone out there know of any other 8x8 D-ring albums that comes with 3-rings and more sturdy page protectors? If all D-ring albums are like this, I am going back to post-bound albums. I'll just refrain from re-arranging my pages very often!
Luckily, along with the D-ring album, I also made a Shutterfly book and that arrived this week as well.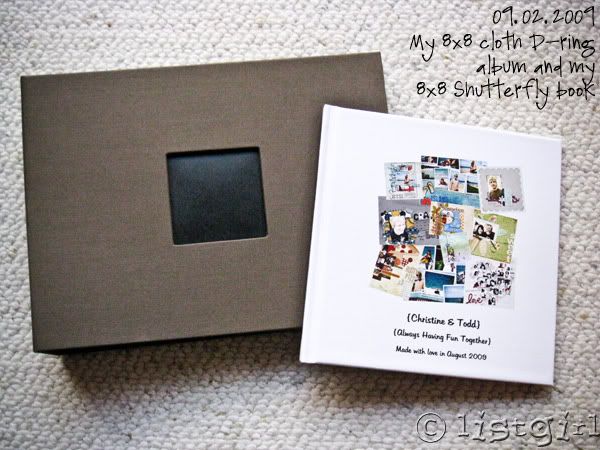 I've made Shutterfly books before, and I do resize the pages to accommodate for bleed and trim. What I've never done before is put a 2-page spread in the book. When I resized the pages, I purposefully overlapped the left and right pages a little bit in the middle, so that the part lost in the gutter of the 2-page spread would be the part that's overlapped and I wouldn't lose as much content in the gutter.
Here's what it looked like in photoshop when I prepped the 2-pager for print. See the overlap in the middle?
Here's what my printed book looks like.
Overall I'm pretty happy with it. The colors turned out a little darker than I expected. I'm not sure if it's my monitor's problem or Shutterfly's problem. I know I checked the box at Shutterfly to not mess with the colors on my pages, so I'm not sure what's wrong with it. I know that the individual pages I printed at ScrapbookPictures.com came out resembling what I see on my computer screen a lot better.
So that's the summary of my album and book experience. If you have any questions or suggestions, please leave a comment.
ETA: My friend Jennifer Wilson at
Simple Scrapper
also posted about the same issue today! Feel free to check out her post
here
. :)
10/06/2009 update: Lyndsey from American Crafts found my review. She contacted me and told me that American Crafts will be introducing 8x8 3-ring D-ring albums! She offered to send me one when it is released. She also has sent me a 12x12 post-bound album in the meantime, for the trouble I had with my 8x8 2-ring D-ring album. That is some pretty nifty web-searching and customer service!