Well, sorta. I'll explain later! Today I woke up to Todd's voice saying, "you sure slept a lot". Without even opening my eyes, I said, "No I didn't." Then I opened my eyes and looked at my alarm clock, and it said "10:01". I can't remember the last time I slept until 10am! In my defense, I didn't go to bed until I finally finished Jodi Picoult's "
Nineteen Minutes
" at 2am. I gave it a three out of five stars on Goodreads. I didn't love it, but she also wrote it very well and showed the suffering of everyone involved in a school shooting. Since I got up so late, I just skipped breakfast and went straight to lunch, heh heh. Todd and I drove to Del Mark to go to
En Fuego
for lunch. They have good chips and salsa there, it's actually flavorful and spicy!
We were actually outside, but the tarp they used overhead was yellow, so every photo had this horrible yellow cast. I already corrected it somewhat in Lightroom, otherwise it was horrid. Todd had grilled mahi tacos.
I had seafood tamales.
The food actually was very good. We haven't been there in a while. The location though, can't be beat. Just down the street from Seagrove Park in Del Mar, where the view of the turquoise waters was beautiful.
Since it's Labor Day weekend, it was super-crowded! These people probably showed up way early in the morning in order to secure a prime ocean-viewing spot for their tents.
After that, we went home and showered and got ready. Today was my best friend's wedding! Well, sort of. Meera and AJ are celebrating their 10th wedding anniversary by renewing their vows in front of family and close friends, because they eloped by themselves 10 years ago.
They got to take off their wedding rings and put them back on again!
About 10 minutes before the ceremony started, Pastor Dan motioned for Todd and said that AJ & Meera asked Todd to give a prayer & blessing for them. Heh heh, on short notice. I told Todd that his Toastmaster skills got called into play!
The Kiss.
Pastor Dan pronounced Meera and AJ "still married"!
We went next door for the reception. Meera's bouquet was beautiful.
And of course there was cake.
Meera & me.
AJ & Todd.
All of us.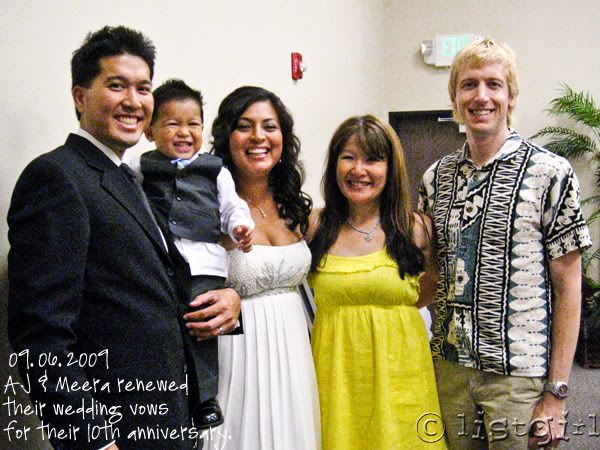 We were so blessed to see our best friends renew their vows and love for each other in front of their family and friends. We met Meera & AJ when they showed up at the home fellowship that we were leading at our house in 2002. The Lord has blessed them through good times and difficult times. We're truly blessed to call them friends.