I've said before that one of my favorite shows is the Travel Channel's "
Man vs. Food
". They had an episode where Adam Richman tried to eat a 30 inch pizza at
Pizzeria Luigi
in San Diego. Todd and I have gone to the Pizzeria Luigi in North Park, but we wanted to visit the original famous one. So Todd deemed that today was the day.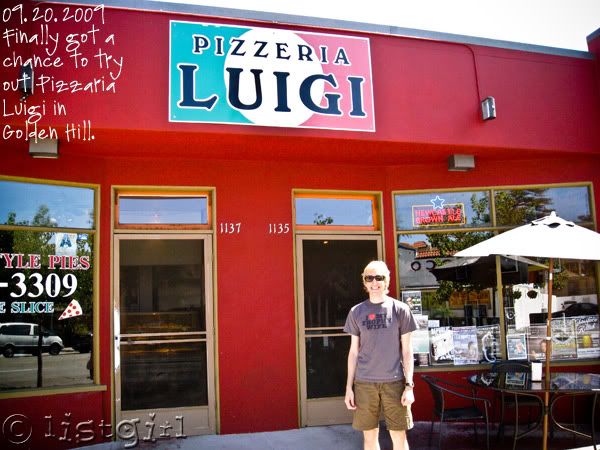 This Luigi's in Golden Hill is right south of Balboa Park, with nice views of large trees in the neighborhood.
And very close to downtown.
Todd insisted that we had to try the pizza here to make sure it is "okay for everyone else". Well, far be it for me to interfere with the charitable service.
I think it's safe to say that the pizza is more than okay. Todd especially liked the thin, not-too-chewy crust.
After pizza, we drove to
San Diego Desserts
in Lemon Grove. We had purchased a Groupon for $5 a while ago, which was good for $15 worth of food/desserts at San Diego Desserts.
We got a caramel chocolate bomb and a carrot cake, as well as a rooibos chai tea. Even though they were both good, it was too much dessert for us and we had to leave some behind. The service was very good though. We have another Groupon so we will be back.
For dinner tonight Todd made a vegetarian soup,
Grilled Corn and Potato Chowder
.
Unfortunately, we didn't really like it for the amount of work it takes. The chowder was strangely sweet due to the corn, without adding any sugar into the soup. Not a winner! This breaks a winning streak of 3-4 new recipes that we've tried lately that we really liked.
I made my Project 365 weekly pages for weeks 35 & 36. I had done pages up to week 22 and never caught up. I decided to just do the most recent weeks instead. I can go back and catch up later.