This morning we met up with our running club at Mission Bay High School at 6:45am again, just like last week. The schedule called for seven miles again, for those of us training for half marathons or not racing.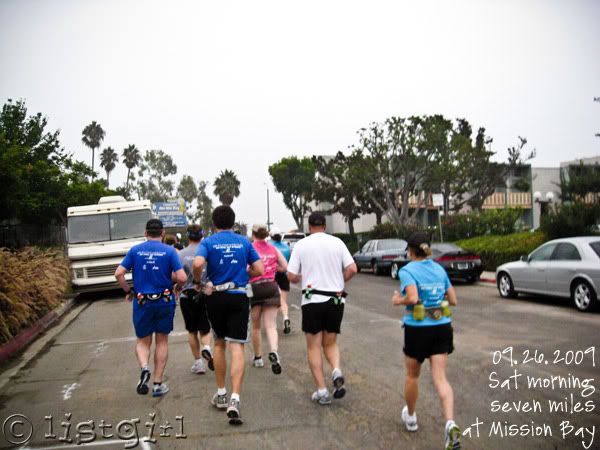 It was very foggy this morning.
The group was very small, so I didn't find anyone who ran my same pace to run with. I ran alone. It kind of defeats the purpose of running with a running club, but if I didn't meet up with them, I doubt I would have gotten up at 5:30am on a Saturday to run seven miles. Running alone doesn't really bother me, unless I thought the route was confusing and I would get lost. Todd ran the same route, but with his pace group. Plus he ran only four miles, so he turned around at two miles. He did well and had very minimal pain.
I ran on a nice trail by Sea World.
Some early morning kayakers.
Miles: 7.01
Time: 1:17:28
Avg time/mile: 11:03
Calories burned: 696
Todd took me to McDonalds on the way home and I got a sausage McMuffin with egg, but no cheese. I was really hungry. Todd doesn't like McDonald's breakfast food, so we stopped by our neighborhood bagel shop to get him a bagel, then next door to Starbucks for a Pumpkin Spiced Latte. Todd loves this drink, even though he's not a big fan of coffee. He's pretty excited that this seasonal drink is back in the fall..
We cleaned up, watched some football, and ate a homemade pesto caesar salad with grilled chicken for lunch. Then I felt tired from my run this morning still, so I took a nap on the couch while we watched college football. Our Buckeyes beat Illinois 30-0! This is now two weeks in a row that we shut out our opponent, which hasn't happened since 1996! (We beat Toledo last week 38-0.) I love our fall Saturday football rituals.
We had to go to Target and also grocery shopping in the evening, so we decided to try out an Italian restaurant called Cin Cin in the same plaza as Target. We had purchased a Restaurant.com coupon for Cin Cin for $1. The coupon was for $25 off purchases of $35 and over.
Todd had a pizza.
I had linguini with clams.
We got out of there paying $16, including a small dessert, taxes, and tip. Gotta love these Restaurant.com coupons!