Here's the October freebie template for those doing Project 365, or for those who like to use it for any other types of layouts.
**Download link no longer available**
Here's a layout I did with it. I used the "O" to make a layout about all the Ohio State football games we've been to the last few years. I had been looking forward to "O"ctober just so I can make this and use it for this purpose, LOL.
Click
here
for full credits.
Now for the news! I have decided to open up my own little blog store to sell some of my templates and digi-scrapping tools. All the monthly templates from this year will remain freebies until at least the end of the year. But I have so many other ideas for layout templates and other fun tools, and those will go into my store. I'm busy working behind the scenes to create products and get the store ready to open.
If you are interested in receiving store news (including the grand-opening), coupons, new product announcements, and freebies, please sign up for my newsletter
HERE
. :)
Also, I would like to get your input into the first three products I'm putting into the store! Some of you have written/commented that you would like certain other letters of the alphabets besides the ones for each month of the year. Here is your chance to speak up! Please leave a comment in this post about
which letter you would like to see made into a template
. You can vote until
October 23rd
. After that I will close the voting and total up the votes. The top three vote-getter letters will be made into templates and go into my store for the grand-opening. AND everyone who voted for the first-place letter will receive it for free! So leave a comment with a letter of your choice! And don't forget to
sign up
for the Listgirl Designs newsletter!
ETA: voting has now closed!
Okay, now I'll talk about my day. Guess what happened to me today? I had a root canal on my #10 tooth (one of the upper front ones). I went to the dentist for my regular 6-month cleaning/checkup yesterday. I told him that I had this little uncomfortable area above my lip and I thought it was related to a tooth. It didn't hurt or anything like that, but it just felt abnormal and sensitive. Well, they took an x-ray and found that the root was infected. :( No cavities, but an infected root. So today I went back and got a root canal. To be fair, my dentist is GREAT and I felt no pain except for the pinch of the initial novacaine shot. And I got to watch a wolverine devour some other animal on "Planet Earth" while getting my root canal. But still, an unplanned root canal is never fun.
But you know what IS fun? The
Silhouette SD
digital cutter machine. I got one off of eBay and started playing with it. The machine will take what we design in Photoshop and cut the shapes out! It also comes with 50 shapes, plus you can download any shape template at their online store for $1.99. I made this card in 10 minutes today.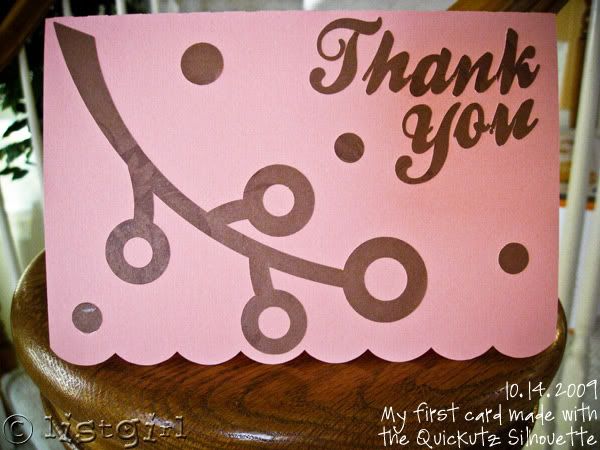 It's nothing spectacular, but it's my first try at using the machine and it was totally fun watching it cut out the shapes. It will take some practice but I can't wait to use it to make holiday cards and stuffs!
That is all for today. Thanks so much for making it through this long post! Don't forget to sign up for the Listgirl Designs newsletter
here
!
PS - if you subscribed to the newsletter, please check your spam folder for the confirmation email containing the link to confirm your subscription. You aren't actually subscribed until you click on the email link to confirm. Thanks!