Todd and I went running this morning, not with our running club because that's too early, but by ourselves.
It was overcast for the first couple of miles, so I was doing pretty good. However, the last three miles proved problematic. The sun came out, which my body does not like when running. And somehow I got a side-stitch on the left side of my tummy. And I ran out of energy even though I had some cereal for breakfast. All that combined into a grueling last half of my five-mile run. :( But you know what? Not all workouts will feel good every time while you're doing it. The big "win" today was definitely just to persevere and finish. And try to analyze what went wrong. Was it diet/nutrition over the last days? Was it lack of being hydrated properly? Was it time of day? Weather conditions? My guess is my lack of sleep lately.
Todd ran four miles today, without pain! He will give you an update on his injuries on his next "Tuesdays With Todd" post. I saw him around the 1.8 mile mark, on his way back.
The sun had come out fully by about 10:40am, when I saw this pretty scene of people fishing.
Miles: 5.01
Time: 56:57
Avg time/mile: 11:23 (argh)
Calories burned: 491
In the afternoon we watched our Ohio State Buckeyes beat up on the Wisconsin Badgers 31-13. Since it was football Saturday, Todd made a double-batch of popcorn.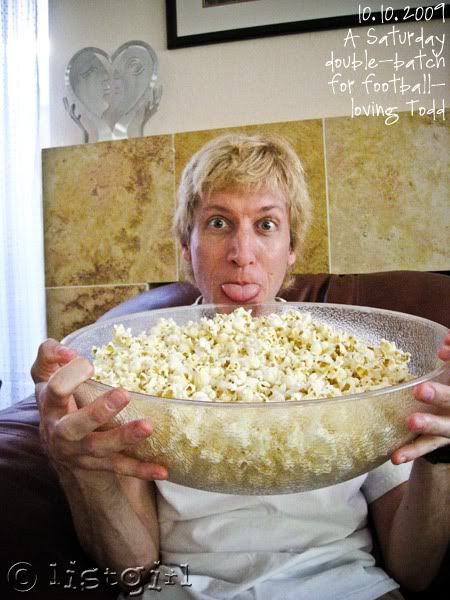 About four years ago, after years of observing Todd, I told him that he looked like a savage when he ate popcorn. Cookie Monster on Sesame Street comes to mind. He loves popcorn like the Cookie Monster loves cookies. He laughed so hard when I told him. So now I affectionately call him "Savaje" (Spanish for "savage") when he eats popcorn and kernels get everywhere.