Today we got up and watched ESPN Gameday while working out at Todd's parents house. It was really nice with a view of the woods in the back. Plus of course Gameday!
We were really excited to watch the Ohio State vs Purdue game, because we thought it would be an "easy win". Plus, Todd got to eat one of his favorite pizzas that he can't get in CA, Donato's "Founders Favorite". It seems every time we go back to Ohio, we eat Donatos pizza!
Todd and his sister Amy hanging out on the couch during the game.
Something certainly was funny... Todd caught a candid shot of us.
Todd's mom Sylvia and Blake, engrossed in their coloring book.
I walked around the woodsy backyard and took some fall photos, which I don't get to see in San Diego.
Having some fun with the macro mode on my camera.
To our astonishment, the Buckeyes lost to the Purdue Boilermakers. We told Todd's dad Tim that the last couple of times we've watched an Ohio State game with him, they've lost. Maybe he's the jinx!
Todd's parents took us all out to dinner at Pad Thai Restaurant. It had Thai cuisine as well as Chinese. Todd ordered the hot basil chicken dish and told them he wanted a spicy-ness of 6 (out of 10), because this was Ohio, so how spicy could it be?
Good call on Todd's part. He still didn't taste anything spicy. :p
Some more shots from dinner. I think Todd's family think I'm weird taking photos during dinner. But maybe they'll thank me later because of the beautiful family memories captured? Hee hee.
After dinner we went to Stricklands, which is a "frozen custard" dessert place. It tasted like soft serve ice cream to me. But it was really good!
After Stricklands, we went to Best Buy to hang out and check out the latest cool gadgets and toys. I managed to get this shot of Todd and his family playing Rock Band Beatles.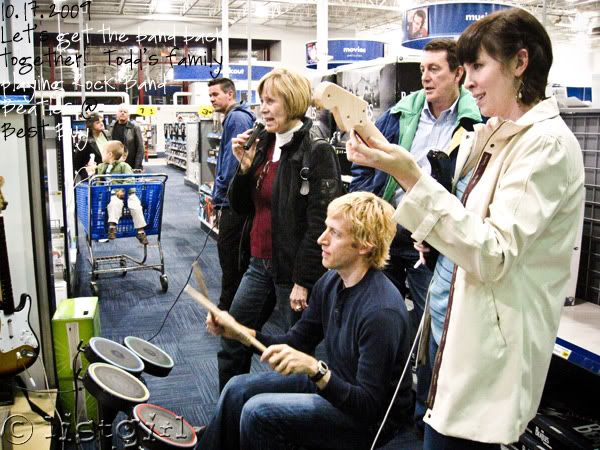 Todd and his parents used to play in a family band together, where they played at parties, weddings, etc. So is this like getting the band back together??
When we got home, Tim built a cozy fire in the fireplace, and tempted us with homemade hot chocolate that looked like this.
I really shouldn't have had any, but who could resist?
We watched "Prairie Home Companion" and drank our hot chocolate by the fire. It was a perfect fall day in Ohio. Well, nearly perfect. The Buckeyes should have won!