I've received some questions about what camera I use, and also if I process my photos before uploading to my blog. So I decided today was a good day to show you what I use and what I do.
Most of my photos are taken with this Canon SD850 IS.
It is really small and fits into my purse/pocket. This is the only way I could do Project 365. It's important to me that I have a small, all-purpose camera that I can use every day to capture the moments. Would I like to have a DSLR? Of course. But it's pricey, and I can't bring it everywhere with me. So that is on the list for "someday". I am a firm believer that you do not need to have a DSLR to take great photos. Really great photographers can make disposable or cell phone camera photos look fantastic. Also, the best camera for me is the one that I use the most often, so that's my little Canon.
I do process my photos in Lightroom before posting to my blog. Lightroom makes it incredibly easy. I set it up so that when my photos are imported into Lightroom, they are automatically run through an
Auto Fix preset
(free) by Matt Kloskowski at
Lightroom Killer Tips
. On photos with good color and exposure, I don't really need to do anything else. For certain corrections, I will play with the Lightroom development sliders to make the photo pop. I will show you a couple of examples.
This foliage photo is SOOC (straight out of camera) with no processing.
This is after a few quick tweeks in Lightroom.
So what did I do to it? Here's a comparison of the sliders in Lightroom.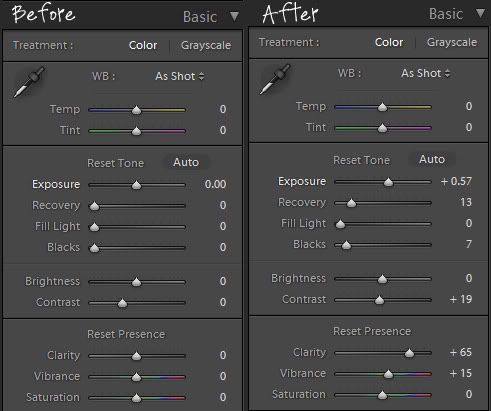 When photos come into Lightroom, all the sliders are set to zero, which means no adjustments. Since I set up my photo import to automatically run Matt K's Auto-Fix preset, the sliders move. Then if I want further adjustments, I slide the Exposure button or the Contrast button a little bit. Sometimes I play with the Recovery, Fill Light, and Blacks buttons too.
This photo of Todd is SOOC.
With a few adjustments in Lightroom.
Even more handsome than before! :p
And here are the settings for the before and after.
Not everyone likes to sharpen their photos this much. So use the contrast slider at your discretion.
Sometimes a photo will require some color / white balance adjustments due to lighting. This was the SOOC photo of my camera at the beginning of the post.
Notice the yellow hues? When I take photos in my kitchen, such as photos of all the food we cook, the lighting casts a yellow hue on all the photos. Looking at the sliders, can you see the adjustment for white balance?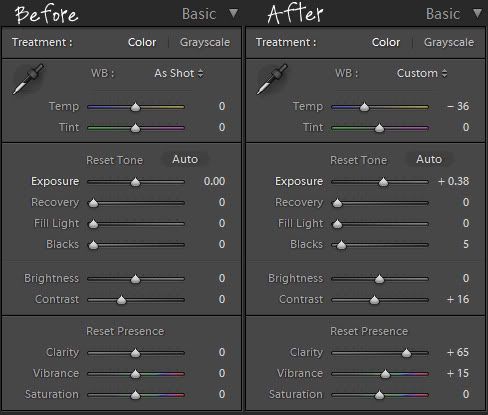 I moved the Temperature slider towards the blue a little bit, in order to get rid of the yellow hues in the photo. And since any photos I take in the kitchen end up like this, I made myself a preset called "Kitchen Lighting Correction", which automatically adjusts the white balance to take out the yellow lighting.
In summary, processing photos in Lightroom is a quick way to sharpen up the photo and make the colors pop a little more. I love it and use it everyday. It saves me a ton of time, since I am processing photos everyday for Project 365. Now you know all my photo processing secrets! :)