I love it on Saturday mornings when the Ohio State Buckeyes play at 9am Pacific time. We just sort of lazily roll out of bed, watch some ESPN Gameday, and then the Buckeye game. There is nothing like Buckeye football and Todd's huge bowl of popcorn first thing in the morning! And some chocolate on my chin. I WOKE UP with some chocolate on my chin. I swear I washed my face last night, so how could I have chocolate on my chin? No, I don't keep chocolate in my bed. I am starting to wonder if I sleep-eat???
Thank goodness Terrelle Pryor (the sophomore quarterback of the team) did better today. Last week was dismal. The Buckeyes beat the Minnesota Golden Gophers 38-7. We also beat the Wisconsin Badgers a few weeks ago. And of course the heated rivalry with the Michigan Wolverines resume in four weeks. Anyone know why the Big Ten Conference is full of rodents???
After football, I worked all afternoon on templates and products for my soon-to-be-opening store. After 4pm, we headed to Best Buy to look for a new computer keyboard for my desktop. I had a Logitec wireless keyboard for a few years, and it recently started not working sporatically. My attempt to get help from Todd via IM looked like this:
me: i cleaned up a key board only to find out it's not USB
me: I foud two no------usb keyboads
me: i'm dspirte
me: can you epme/
Todd: I call you
Translation:
me: I cleaned up a keyboard only to find out it's not USB
me: I found two non-usb keyboards
me: I'm desperate
me: can you help me?
Todd: I call you
So yea, I really needed a new keyboard, but I couldn't find another usb keyboard at home, and I didn't have a PS/2 adapter for the non-USB keyboards I found. We didn't fall in love with any of the keyboards at Best Buy, plus they seemed to be more overpriced compared to some other stores and especially online. We left there empty-handed.
After Best Buy, we went to Barnes & Noble across the street, because Todd got a coupon for a free cookie and a free hot chocolate. Yes, it's true. We could be lured by food. I looked at the magazines while Todd procured the free goodies. When I found him, he was holding a GIGANTO chocolate chip cookie. We had assumed the free cookie would be tiny, but it was huge, probably like five inches across! The hot chocolate was delicious too, I wonder what kind they used?
After the goodie break, we went to Miramar Lake to run. This week I ran twice on the treadmill and went to gym class once. I like running outside much better though. When we got to Miramar Lake, Todd discovered that he got chocolate from the chocolate chip cookie all over his shorts.
Hmm... so we both inadvertently got chocolate all over ourselves today. Mine is still a mystery.
It was sort of hot, so we waited a little longer to start running. Turned out that Miramar Lake closes at 6:30pm now, which meant that I didn't have enough time to run the five miles all the way around. So I only ran four miles. The sun set steadily as I ran. I saw some incredibly pretty sights, so I stopped for some pictures.
Some hot air balloons in the distance.
The moon came out.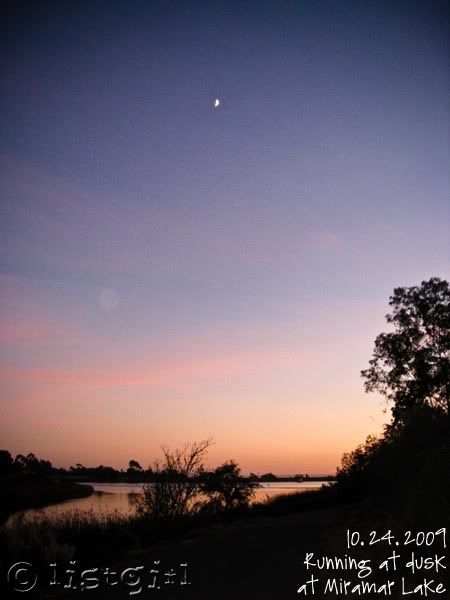 By the time I finished my four miles, it was almost dark.
Distance: 4.01 miles
Time: 43:10
Avg time per mile: 10:46
Calories burned: 396
Running must really clear the mind, because Todd suddenly remembered where he put our spare USB keyboard while he was running. He plugged it into the PS3 in the family room. Yay, I have a keyboard that works!
After our run, we went to Chile Peppers for some great Mexican food. Then I worked the rest of the night on stuff for my store.