Today's photos are courtesy of Todd. I worked all day on work stuff and then my getting-the-store-ready stuff, so I didn't do much else exciting, LOL. Thank goodness Todd covered for me and took some pics, plus he handed the camera to someone else, who took photos for him too.
Todd's coworker Jay is leaving the company, so they had a happy hour for him tonight after work.
The views and atmosphere seemed gorgeous. I'm kinda jealous that Todd got to go to this type of event! :p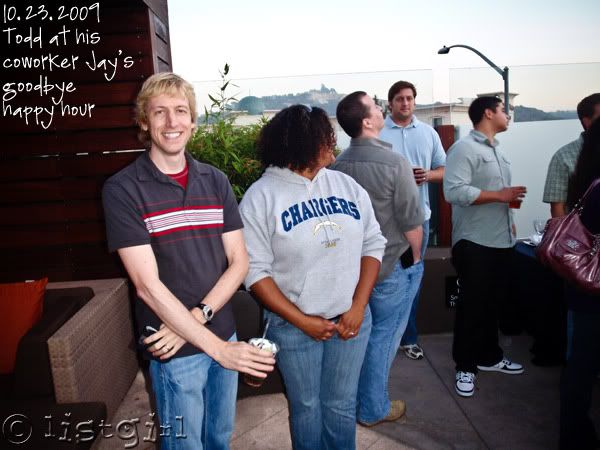 Todd the social butterfly.
The Man-of-the-Hour Jay. Looks like he got some gifts.
I waited patiently at home for Todd to bring some dinner home. Turns out he went to Brett's BBQ. We shared a sandwich and some sweet potato fries. Todd loves that place. A LOT. While waiting for his take-out food, Todd saw a band playing next door.
This was it for today. I will be a much more interesting person when I finish the work for my store opening, LOL. If I haven't commented on your blog as much, that is the reason why. I hope to be back to reading and commenting on your blogs soon. You know who you are.