Or... 19, as he likes to joke! :)
Yesterday my sweet husband had a birthday! He's one year away from a major birthday. And from my title and hint, you can guess how old, right?
He was so excited because he got a bunch of birthday wishes from his friends on Facebook, plus ecards from AJ and Meera and Peppermint and Tom. Peppermint sent three because she's enthusiastic like that.
While he was at the
movie "Avatar" with his friend Robert on Monday
, I took the opportunity to make my super-secret, super-cool, superstar birthday card for him.
I made it with my Silhouette digital cutting machine and used different colors of cardstock. I contemplated using patterned papers but couldn't figure out one that looked good, so it was all-cardstock, all the time. :p The recipient shouted with glee when he found it on his pillow.
We headed down to the Hillcrest area around 5:15pm. It already started to rain, but the traffic wasn't too bad yet. We had to make it down there before 6pm, because that's when Todd's favorite bakery
Bread & Cie
closes. And what's at Todd's favorite bakery? The best brownies in San Diego. We purchased two brownies but saved them until today, because we were going to dinner!
You can see that the brownies were thoroughly enjoyed this morning.
Back to last night... I took Todd out to dinner at
Ortegas Mexican Bistro
in Hillcrest. We don't go there very often (maybe once a year) but Todd really likes it. They have these steak tacos that Todd loves.
I had the Kobe Beef Bistek, but not in taco form.
We asked our waiter to take a photo of us together. I'm the one in the muppet pelt.
Dinner ended with Triple Chocolate Cheesecake!
We thought it would be chocolate overkill, but it really wasn't. It was super-delicious and worth the extra six miles we have to run to burn it off.
After dinner, the night was still young. So what WOULD a middle-aged young-at-heart couple go do on a birthday Friday night? You can find out what happened the rest of the night on
Todd's blog
!
I wanted to show you a new series of layouts that I'm doing this year. It will be a monthly layout showing the highlights of the month.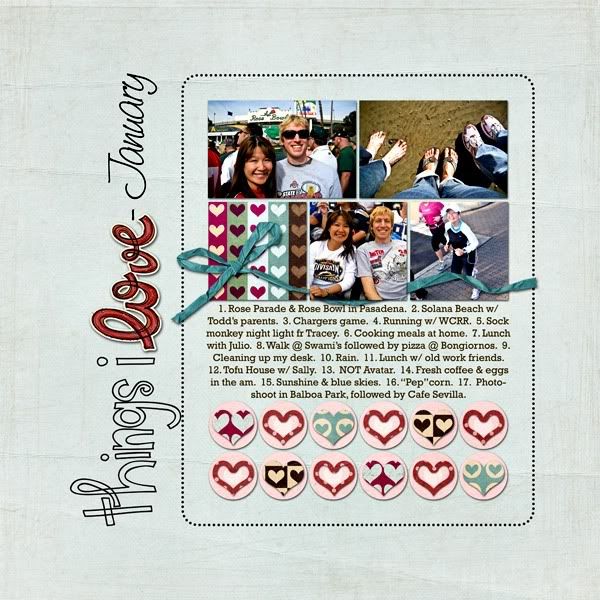 I used the *new* Designs by Lili BYOC items at The Lilypad:
I Heart You Papers
,
Let's Make a List 2
, and
Twisted Paper Strips
. You can find the full credits
here
. Template set will be coming soon in a special benefit kit!