Wow, I came here to post and in my dashboard it says this is my 680th post on this blog. I can't believe I have that many posts. Of course, 365 of them are from 2009, when I did Project 365. I haven't backed up the old bloggy in a couple of months. I should do that! I often tell people that if I don't have photos of it, then it didn't happen. I wonder if it's the same with blogging... years from now, if it's not on the blog, it didn't happen, LOL.
I love Peppermint's cat Mo. Probably because he reminds me of my kitty Pepe, who went to kitty heaven in 2005. Pepe was orange too. Pepe had some cute habits that Todd and I still talk about to this day.
When I saw Darer Erin's digi dare for this week, I knew what I wanted to do with it. And I needed some good cat photos. So I begged Peppermint for some of Mo. I think this is my third page that I've made of Mo now. It helps that Peppermint takes super-awesome cat photos.
To see the Dare and lots of example layouts and inspiration, go to the Digi Dare blog post
here
.
Erin's (chickypow) Dare:
If you couldn't be a human....
Have you ever looked at an animal or plant and thought "what I wouldn't give to be that! They sure have it easy!" This week I want you to let us know what YOU would be if you couldn't be a human being (it can be animate or inanimate) and why! Be as goofy or serious as you want as long as you be creative!
Dare Flairs:
You must have a photo of the thing or animal that you would like to be.
Have some journaling telling us why that is what you'd be.
Use some sort of speech bubble and make your photo say a line or two!
Finally, I want to see a centered design. You can use as much as the page as you like but the center must be the focal point!
Here's my layout for the Dare.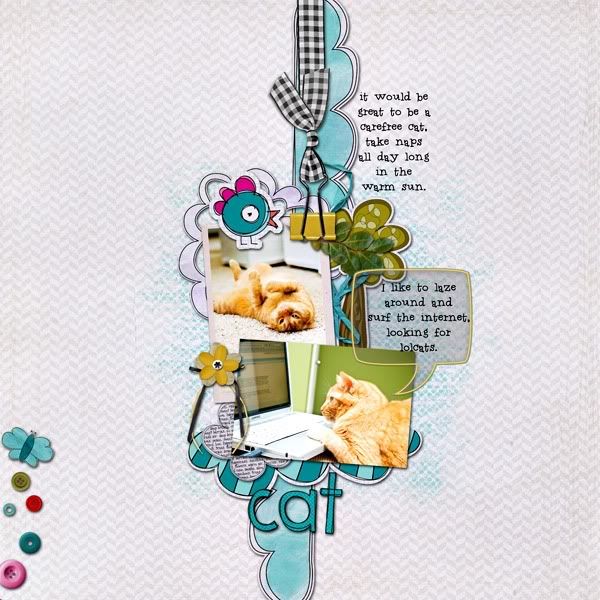 Credits:
Waiting for Spring
by Designs by Lili, Emily Merritt, and Amy Sumrall @ The Lilypad (*new* and 20% off through Sunday).
Just Bee by BZB Designs @ Funky Playground Designs.
Really fun dare! Come join us and submit your layout by next Thursday night at 10pm Eastern time by linking your layout in the
Dare blog post
at the Dare site.. By the way, did you know that if you are selected the random winner, you get two $10 GC from two random Darer designers that week? That means you could win a $10 GC to my store at Little Dreamer Designs. Yea, come play!