I don't have any new products coming out tomorrow at my
Listgirl Designs
store or my
Little Dreamer Designs store
, because I was away this past weekend and did not have time to design. However, I'd like to show you a very worthwhile project that I took part in, a kit called "
Love: Unconditional
".
For $5, you get this beautiful kit
along with word art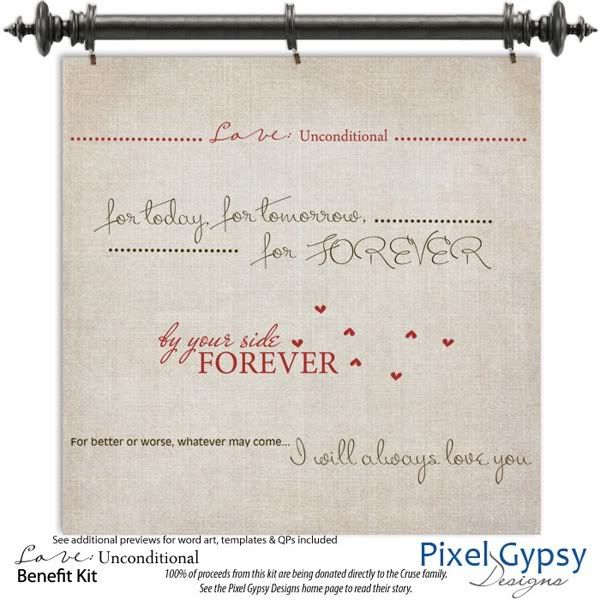 quick pages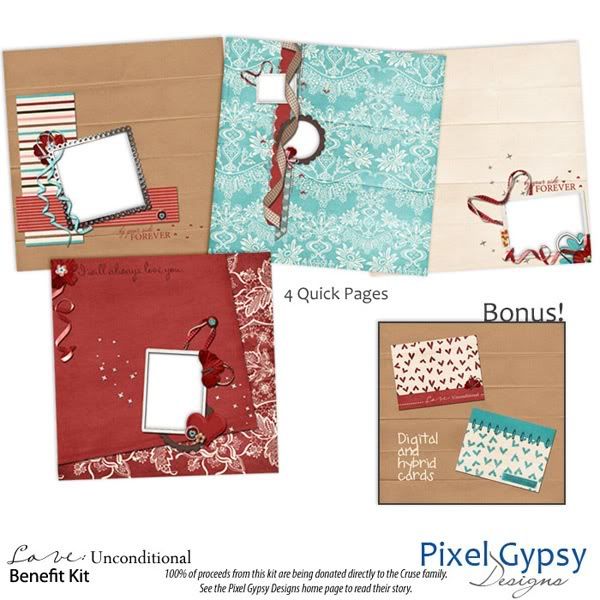 and these templates (four of which were designed by me)
Before I go any further to show you the templates and my layouts, I just want to tell you the story of how this kit came about. I had been a part of the Pixel Gypsy Designs creative team from Feb 2008 until Sept 2009, when I stepped down. The girls there are amazing people. I made friends with them and it was a place where I could go and everybody knew my name and they were always glad that I came (like the show "Cheers"). Sherrie Piegdon, the owner of PGD, sent each of us Gypsy Girls a custom-made bracelet as a gift for Christmas 2008. Whenever one of us was hurting or having a hard time; in the hospital or lost someone in our family, my Pixel Gypsy friends were always there. We would secretly get together some money from each of us and send flowers to hospitals where one of us was. We sent flowers twice, when two of the girls' fathers passed away. It was that kind of caring community of scrappy women that I was proud to be a part of.
So, when Cari Cruse(one of the designers at PGD) told us about the neurological difficulties that her husband Jim started experiencing last August, we all were concerned for him. To date, he still hasn't received a diagnosis, so he has not been able to receive social security disability, even though he has not been able to work as a Sheriff Deputy. You can read Cari and Jim's story
here
, and see a video
here
.
When Sherrie asked us in secret who would like to participate in a collaboration kit to benefit Cari and Jim Cruse, how could I say no? Pixel Gypsy Designs has been my internet scrapping family. Every penny generated from the sale of
Love: Unconditional
will go directly to Jim and Cari to help them in this time of need.
By looking at the previews above, I think that just the kit would be worth the $5, let alone the word art, the templates, and the quick pages come with it too! This kit is only for sale in the month of February 2010, so please pick it up now if you want it, before you forget and it's March 1st.
Here is a closer look at the templates that I designed for the kit.
Template 1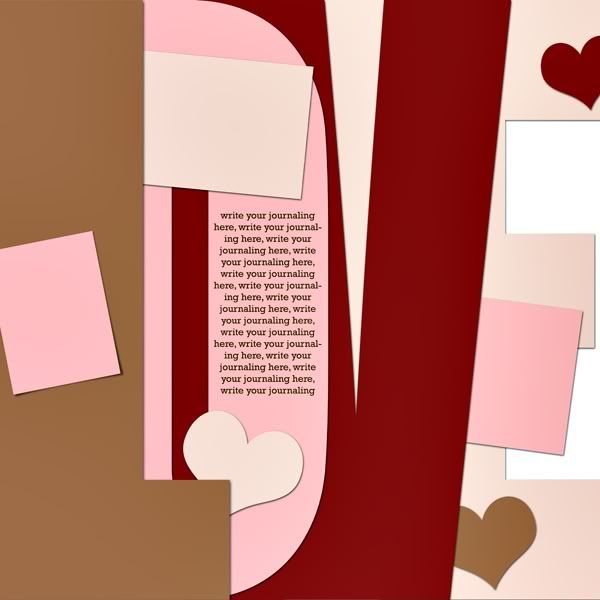 My layout using the template and the kit.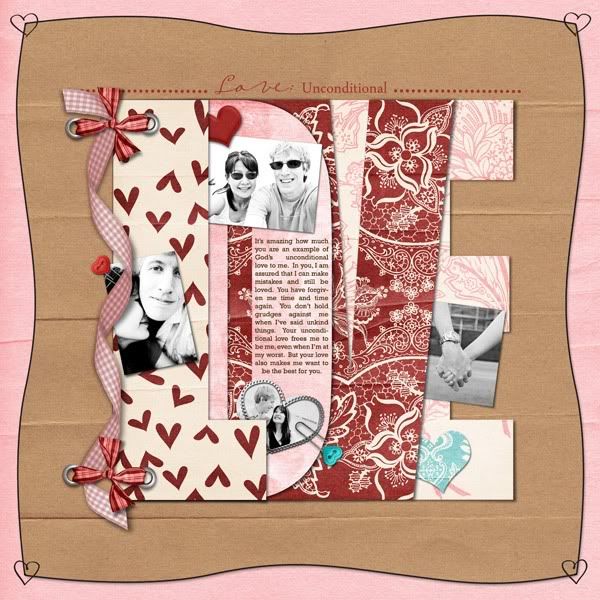 Template 2
My layout using the template and the kit, plus my
Krafty Hearty Alphabet
.
Template 3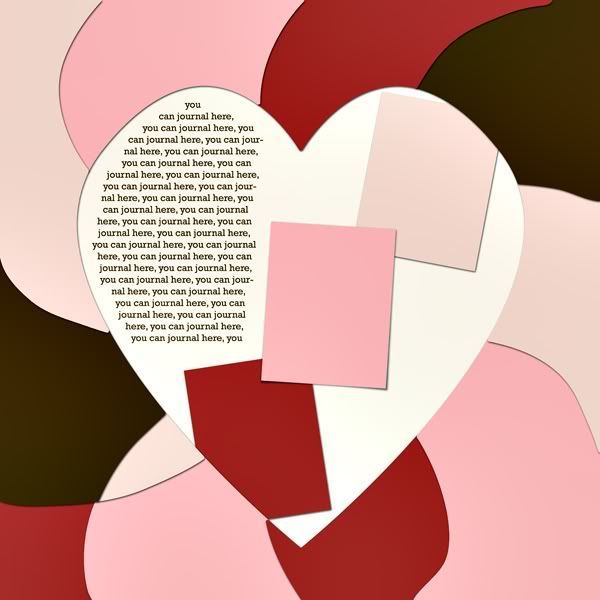 My layout using the template and Peppermint's
Unconditionally
kit at Catscrap.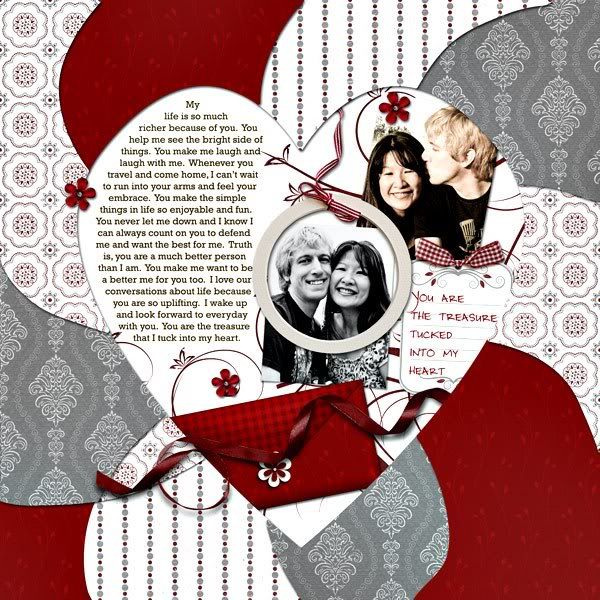 Template 4
My layout using the template and
Designs by Lili
's items at The Lilypad.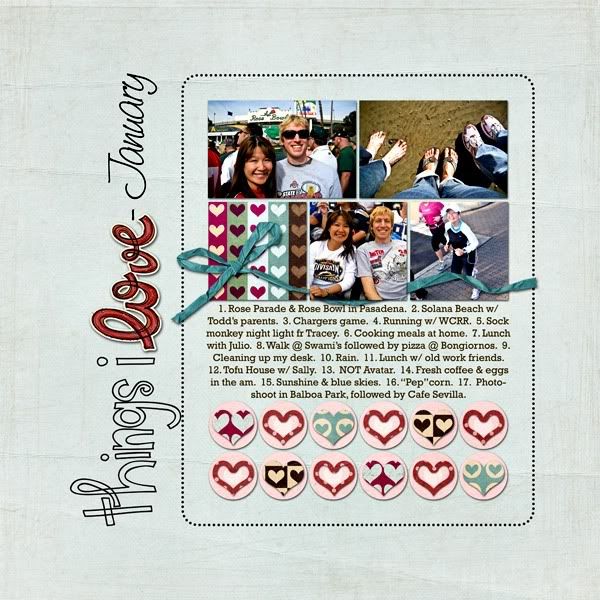 And while you're shopping at
Pixel Gypsy Designs
, they are also having a storewide 50% off sale until the doors close on March 1st. Yes, sadly, Pixel Gypsy Designs is closing its doors. So if you see other items that you like, you can pick those up for 50% off at the same time as the
Love: Unconditional
benefit kit.
Thanks for reading through this and for buying the benefit kit! It means so much to me personally and to the girls at PGD.