The day after Thanksgiving, we were invited to join our neighbors Fred and Annie on a trip to a meerkat reserve in Morongo Valley (near Palm Springs). Opportunities like this don't come along every day so we readily agreed. We left at 10 AM and it took 2.5 hours to get there. The drive was long, but we laughed at all the people suffering through long black friday retail lines. We arrived early so we stopped for lunch at the
Morongo Valley Cafe
. Their menu had both food descriptions and a history of the valley; it was hilarious. For instance, we learned that a day without hamburgers is like a day without sunshine. They also had a really old NCR cash register on display.
I had a hamburger & french fries while Todd had club sandwich & french fries. After lunch, we headed over to the
Fellow Earthlings Wildlife Center
. This special meerkat reservation is the only private one in the western hemisphere.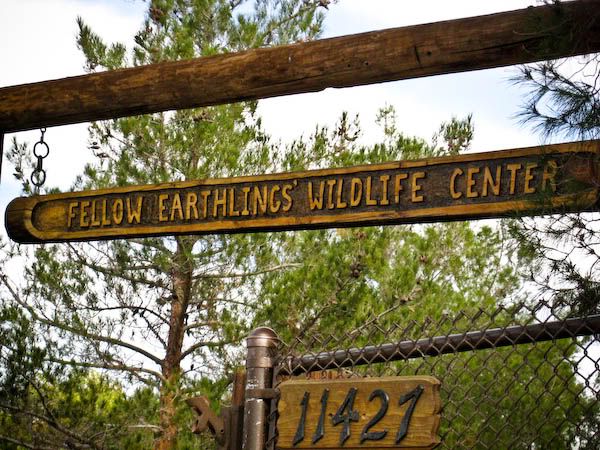 Because of the popularity of the show
"Meerkat Manor"
, lots of people have discovered Fellow Earthlings via the
Animal Planet website
. As a result, it can take months to get a tour. Fred and Annie waited over one year. At exactly 1:30 PM, the founder
Pam Bennett-Wallberg
herself opened the gate for us and let us in. Pam is the
publicity spokesperson
for Meerkat Manor on Animal Planet. She's run this meerkat reserve for 21 years. She was part of the
Cambridge Kalahari Meerkat Project
in the Kalahari Desert in South Africa. She's the foremost expert in meerkats in North America. The first visible feature was the new privacy fences surrounding the property. Pam explained that people had started trying to peer in at the meerkats with binoculars and it gave her the willies as well. The compound had their own solar power, refrigeration and water well. In the event of a power outage, they would be able to survive for some time on their own. After that we went into the cabin to sign some forms and learn what we should expect on our visit. We also played with the house cats and dogs. Pam gathered the meerkats' snacks (live mealworms) and put them into cups. The meerkats recognize those cups! Before we even went into the enclosures to visit them, the meerkats were pacing and making noises because they were excited to see us and for their snacks. All 7 meerkats used to live together, but after a while they couldn't get along anymore, so they had to build separate enclosures for the different groups. The first enclosure had two older meerkats (Remi & Suri). We weren't allowed to pet them or pick them up, but they crawled up our legs to get their snacks.
They couldn't see very well, but they were enthusiastic about the mealworms. They also liked to lay around together in their bed under the heat lamp. So cute!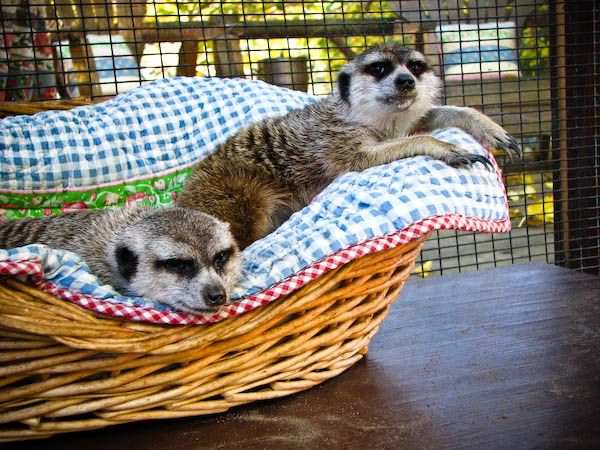 The next enclosure had two meerkats (Kendi & Rafiki) and this time we were allowed to pick them up and pet them.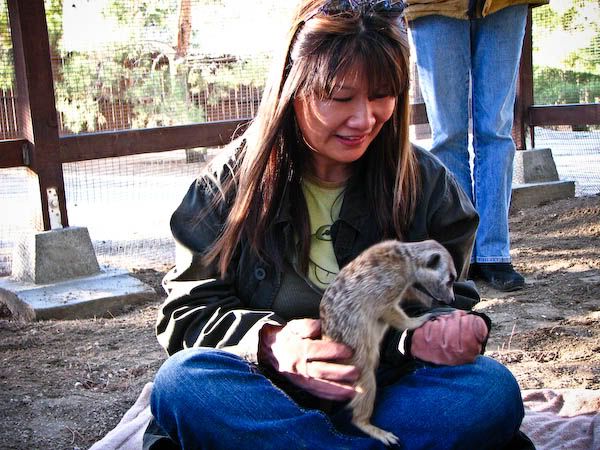 Some meerkats like to get the mealworms from our closed fists, while others like to get the worms on our flat palms. We're not sure why. Best guess is that some meerkats haven't been able to figure out how to peel our fingers back. They were very noisy and they bumped hips and barked when they got too close to each other with the food. The free-for-all instincts must be hard to crack. They ate very noisily with loud crunching sounds. Annie & Fred and us took turns feeding and holding them and taking photos of each other. Our last encounter was with the third group of 3 of them (Jengo, Nalo, & Bara). They were very playful and ate up their snacks quickly too.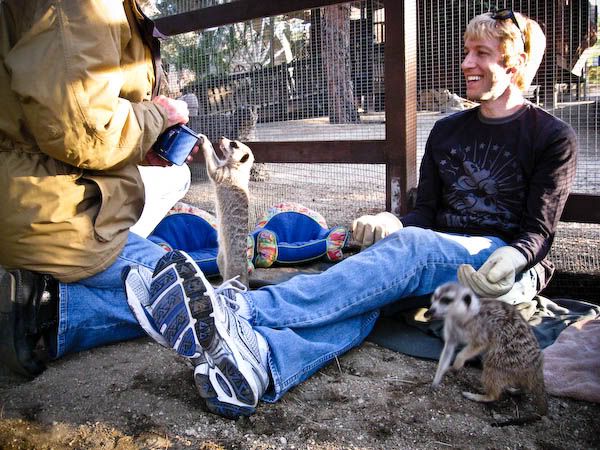 Then afterwards they were playing with toys and threatening the meerkats in the other enclosure with war dances.
We finished the day listening to Pam's meerkat stories. They've done TV commercials and photo shoots. You can see several commercials for Telus on YouTube. We took a photo with Pam Bennett-Wallberg:
Finally, we had to leave. Annie was not happy and tried to figure out how to stay longer. After driving, dinner and gas, we got home around 8 PM. We loved the meerkat visit and we learned a lot about meerkats. It sure was a unique experience!