considering that we've been in sub-freezing temps! We were visiting my sister Joyce and her family from Saturday to yesterday in Dallas, TX. Saturday was fine, about the same temps as San Diego, so there wasn't a huge transition. Sunday was downright balmy. We wore our t-shirts around in the 70 degree temperature. Then Sunday night the temperatures suddenly dropped. I mean, Monday was so cold! When we were going out to lunch and Joyce opened the garage door, there was freezing rain outside! Todd and I had to borrow coats, because we don't own any, let alone travel with them. We gave all our coats away when we moved to San Diego. Our flight home yesterday got delayed by a couple of hours due to the weather in Dallas. When we finally boarded our plane, it made it to the edge of the runway, then it suddenly stopped and the engines were shut off. Captain said we were stopping for 10 minutes of de-icing. I saw the truck pull up and spray the wings with tons of that de-icing stuff. Some people scowled, but I personally would rather fly with non-iced wings that worked! I loved seeing Joyce & Alex and the kids. But a sad & unexpected thing happened on Sunday morning. Alex's dad passed away very unexpectedly. He had been having some health issues and was in the hospital to get checked out, but no one ever expected him to pass away so suddenly. We were all saddened, but especially Alex of course. Plus it was such a shock. So, a lot of our Sunday was spent re-arranging schedules, with Alex trying to find flights to Cleveland to be with his family. Alex ended up leaving on Monday morning. Joyce & the kids left today for Cleveland, because Joyce had to finish up some things for work first. I felt very sad for them. Joyce and I lost our mom last year and now Alex has lost his dad. I felt like we shouldn't be losing our parents yet when we're only in our 30's. It seems that should happen later. On Sat night Joyce & Alex took us to their couples Bible study Christmas get-together. It was a potluck and Joyce made chicken enchiladas and cheesy potato casserole. The food was good, and they were a fun bunch, even though we didn't know anyone there and felt weird in the beginning. We had a fun time eating and playing games. I'm glad that J&A have all these friends from church that they can rely on and build each other up. I miss that. We used to be in a small group Bible study, but the group got defunct after some couples started having kids and stopped coming. We joined another group but that group got disbanded too. Since then we haven't found any other groups to join. After we found out the news about Alex's dad on Sunday, we got some pizza from Little Ceasar's for lunch. Then Joyce and us and the kids went to Super Target to get some gifts for the kids' teachers. I had never been to a Super Target before! I wish there was one by us. Joyce spent a lot of money on getting the kids' teachers and therapists and other kids gifts. When we were kids we didn't give our teachers gifts at all. But I hear that this is the trend now. While at Super Target, I found the Target brand of Peppermint Bark, so I had to give it a try. It actually is very good. Quite comparable to the Williams-Sonoma one, but at half the price. They also have raspberry bark and cookies & cream bark. Then Sunday night Joyce made some lean pork chops for dinner. We made a gingerbread house and helped the kids decorate it.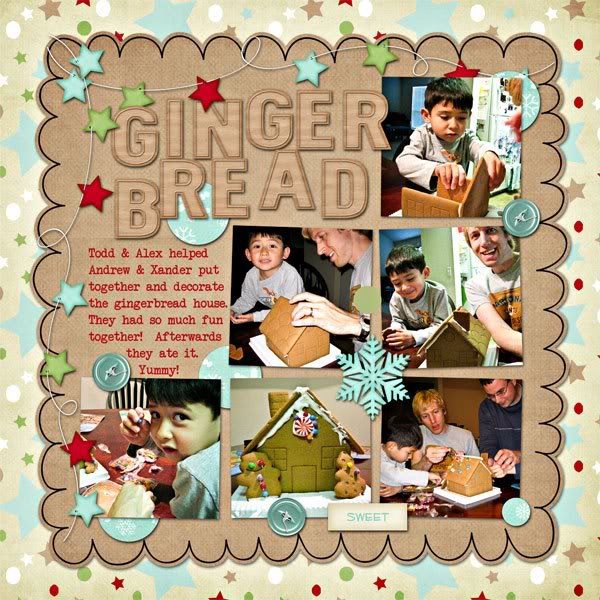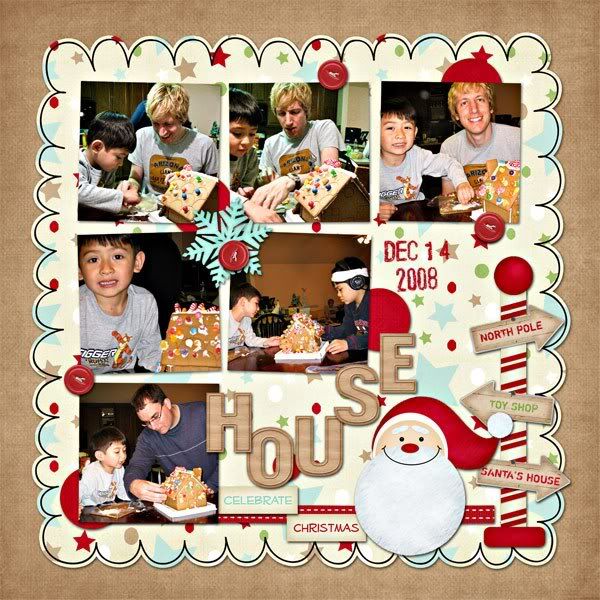 Make It Easy - Set III template by Designs by Lili @ Scrap Artist (coming soon!) Jingle Baby & Cozy Kitchen (alpha) by Kristin Cronin-Barrow & Meghan Mullens @ Sweet Shoppe Designs. It's A Date by Zoe Pearn @ Sweet Shoppe Designs (coming soon!) Font is Another Typewriter
On Monday morning Alex left for Cleveland, and the kids went to school, so Todd & I and Joyce went to Chili's for lunch. Joyce had to work some from home too. We had some sandwiches for dinner so that nobody had to cook. Early on Tuesday morning, Joyce found out that the boys' schools were closed due to the icy weather. She had planned to go to work for a few hours. So Todd & I took care of the boys while she went to work. It wasn't too hard since she had already packed lunches for them. We played games and fed them lunch. Xander has a current fascination with spilling liquid on purpose. I found him all wet at one point, after we didn't see him dump a cup of water all over himself. He is 6 1/2 years old, but he's autistic and non-verbal. I think he's a sly one though! He knew his parents weren't around and tried to take advantage by making mischief. I had Andrew (the 4 1/2 year old) help me find some clothes for Xander to change into. After that all cups and liquids were put away or up high, where he couldn't reach. That little rascal! The flight back was uneventful, except for the delay initially. I loved seeing my sister and her family, but I was also glad to be home.