Well, I wish, but not really!
The latest issue of the newsletter for Digiscrappers Brasil has an interview with yours truly in it.
I answered the questions in English and they translated it into Portuguese. They printed it in both languages side-by-side. Here's a screenshot of the first page:
Pretty neat huh? I'm really excited about it. :) So what else did I do today? When I woke up I got the idea in my head to take all my 2008 layouts and put together a slideshow with music with them. I hadn't counted before today how many layouts I've done in 2008 so far... but it's 267 and counting! So I used the Windows Movie Maker that came with Windows Vista and made a simple slideshow. I've never used the program before, but it was pretty easy. With each layout showing for 5 seconds, the video is a little over 22 minutes so far. I'm guessing no one will have the patience to watch it except for me, LOL. I'll be including a couple more pages I'll be creating before the year is over. So far I've picked these songs for the slideshow:
"The Story" by Brandi Carlile (this song makes me cry every time I listen to it) "The Way I Am" by Ingrid Michaelson "Forever" by Chris Brown "Lucky" by Jason Mraz and Colbie Caillat "Say" by John Mayer "Viva La Vida" by Coldplay "I'm Yours" by Jason Mraz "Better Together" by Jack Johnson When I woke up this morning it was only 42 degrees! Well, yea, it's cold for San Diegans with thin blood! But later in the morning it started to warm up, so Todd and I decided to go to the beach at Encinitas for a walk. We ate first at Beach City Cafe, then walked about 2.4 miles on the beach. It was low-tide and very sunny, yet crisp. I loved it! By the time we got back around 3 PM it had warmed up to 59 degrees, so yes, I know I have nothing to complain about. I took a few photos but they're still on my camera unprocessed, so I'll be back to post them later. I hate how weekend days go by so fast! Ok, here are some photos: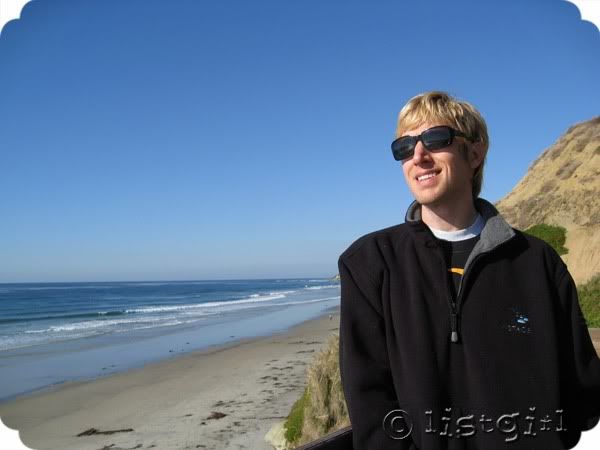 Todd on the stairs leading down to the beach.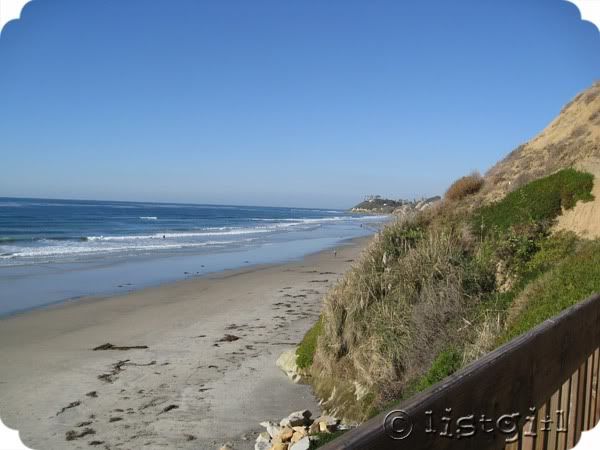 Looking north...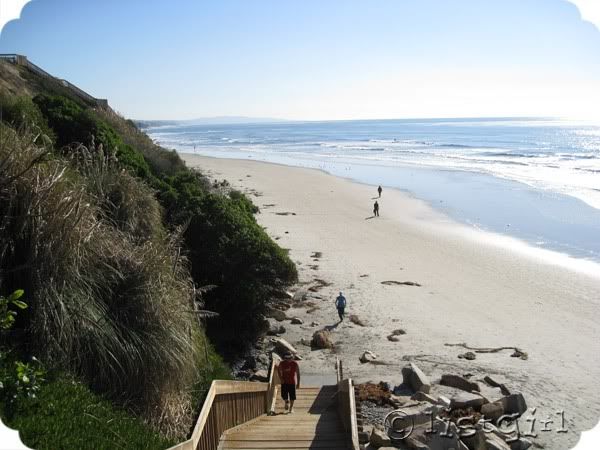 Looking south...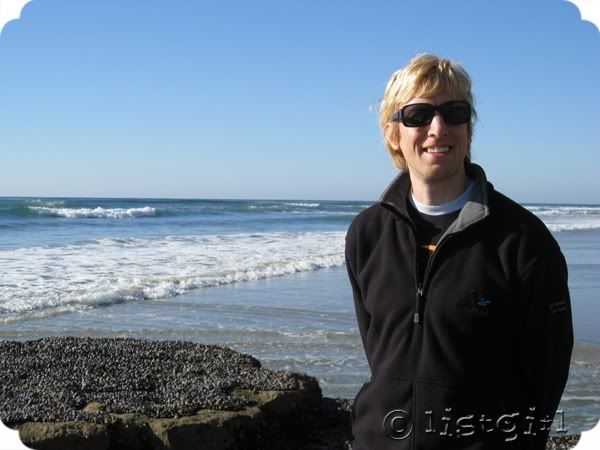 It was low tide, so we were able to walk across some rocks that are normally covered by water.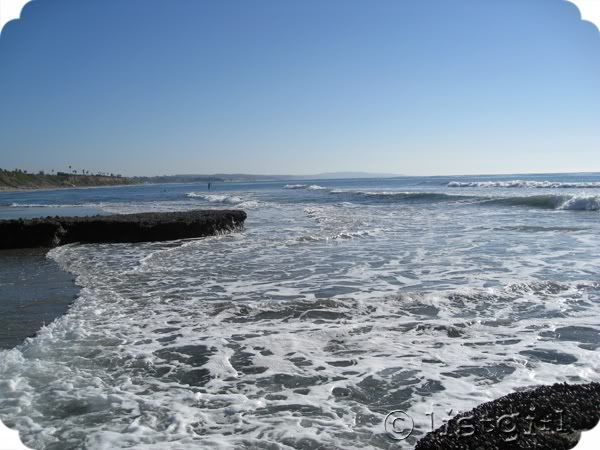 I thought this was so pretty, with the white foam...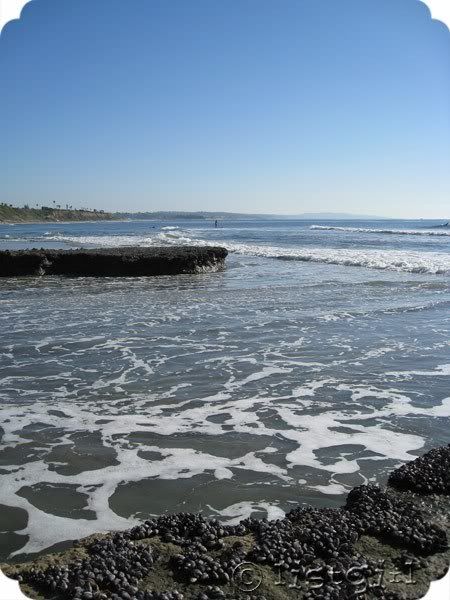 So pretty that I took a vertical pic too.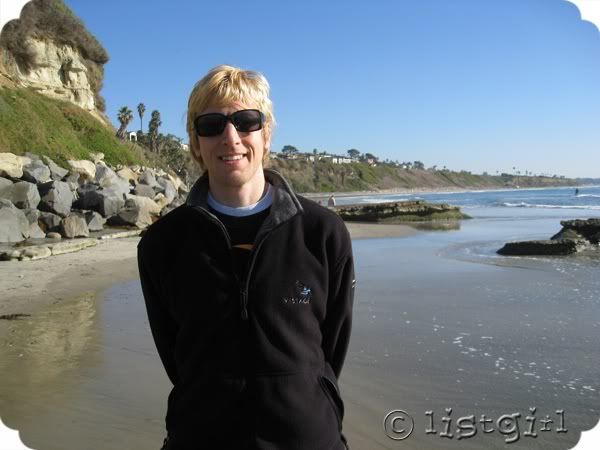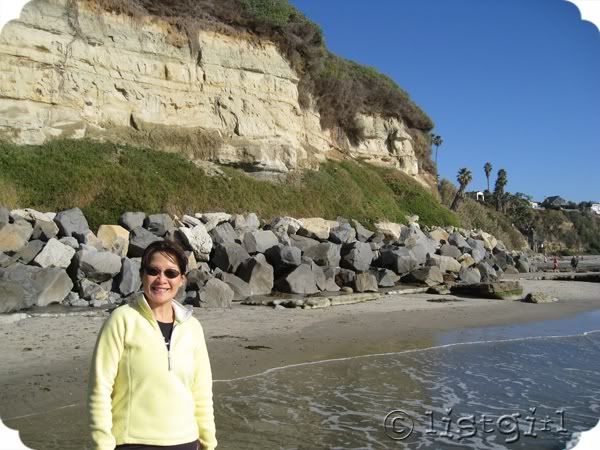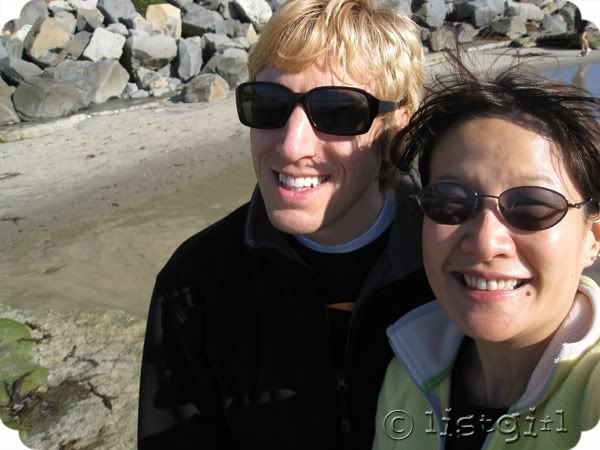 We forgot our tripod, so we had to settle for the long-arm photo. :)
What a pretty day at the beach!