Since this Christmas was just me and Todd, I booked a 4-star hotel for a very reasonable price on Priceline. So on Friday, we were set to check-in to the
Hilton La Jolla Torrey Pines
. I worked on a scrap page in the morning. Then we went to lunch @
China Fun
in Carmel Mountain Ranch. Hmm, I just realized I had Chinese food for lunch two days in a row. But, I AM Chinese, so I guess that's okay. And I like it. Anyways, after China Fun we walked across the parking lot to Borders. Because I needed some life inspiration. I love picking up new magazines at Borders, because invariably, that's where I get some new inspiration for my life. So I picked up the latest issues of
Runners World
,
Knit 1
, and
Shop Smart
(by Consumer Reports, but targeted towards women).
Runners World - I wanted to feel inspired to run again. I haven't felt inspired for a long time and haven't had a running goal in a while. I started training for the AFC Half Marathon in April last year but got derailed when I had a panic attack while running in May. Since then I haven't followed a training program or signed up for a race. I've run a marathon before but ironically have never run a half marathon, and I'm thinking 2009 is the year for me to do this. I love picking up this magazine because the articles and ads inspire me to re-commit myself to my running regimen. I also have a tendency to romaticize the idea of running at the beach with the wind in my face, running for a long time with good pace and running pain-free. But sometimes I step outside and my shins hurt, or I don't feel like I have the stamina. So I need a lot of re-invigoration and re-affirmation of why I love to run. So I'm thinking of joining a running group this year to help me with my goals. My friend Anne is part of a group, so I might check that out. I have a few days to research the local training groups before they start out in January.
Knit 1 - I used to be an avid knitter and made all kinds of scarves and ponchos and purses. But that was a few years ago and I'm so out of it now. I have a collection of yarn just sitting in my craft room. I guess I feel like getting back into it, so I thought picking up this magazine would help with that. But the knits in here are way too complicated for me. Plus, if I had to pick up one other hard-core activity this year (digi-scrapping already being one of them), I would do the running over knitting, since that will go towards my weight-loss goal too. I really need to shed the 12-15 lbs that I've put on over the last two years.
Shop Smart - well, I love a good bargain and love the read about ways to get a good bargain! I try to never pay full-price and have been pretty successful at saving money. So picking this mag up inspires me to keep it up, plus learn new ways to save money on things.
So I packed these magazines up into my backpack, along with my overnight stuff, and we headed over to the Hilton. I've gotta say, I'm less than impressed. First of all, I don't know what the standard practice is for hotels who accept Priceline, but we got the crappiest room of the house. It's like they said, "they paid lower and more reasonable rooms through Priceline, so let's just stick them in the worst-view room possible." The hotel was nearly empty, so there was no reason to stick us in a room with almost no view. I guess they don't want us back! Secondly, we parked in their garage and there were no signs whatsoever about how much parking they charge, so we assumed it was free. No such luck. They asked us at check-in if we parked our car, and we said yes. So guess how much it is for parking for one day at the Hilton La Jolla Torrey Pines? $20 buckaroos. Ouch! Have you ever noticed that the more pricey the hotel is, the less they give you for free? Wireless internet is free at the Holiday Inn Express, but not at the Hilton! Not only did they not even have wireless internet in the rooms (only wired), but they also charge an arm and a leg to use it. No thanks. Oh, for room service, they charge an extra 21% + $3 on top of what you order, plus taxes and fees. Double ouch! So while the bathroom was large and nice, the bed was fluffier than economy hotels, and there was a bigger flat panel TV, I still felt a little jipped. After checking in, we went out to dinner at
Il Fornaio in Del Mar
. We had a really nice leisurely dinner there, with good service. First we shared a caesar-like salad (Insalata del Fornaio):
Then Todd's meal of pasta, sausages,and tomato cream sauce showed up and he was excited:
My scallop risotto with asparagus: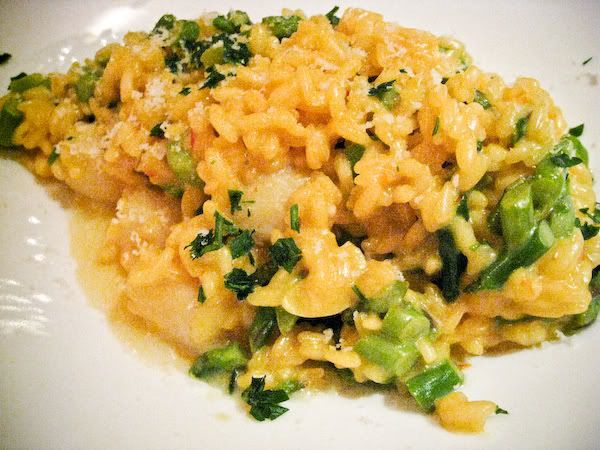 And for dessert, crepes filled with apples and grappa infused pastry cream; vanilla gelato and caramel sauce :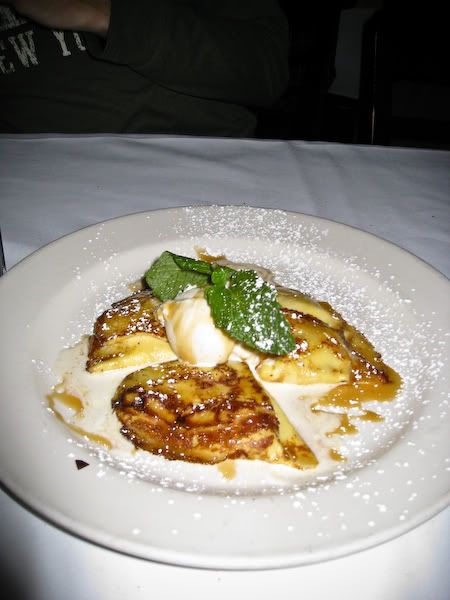 After dinner we picked up a couple of snacks and cokes at the nearby Harvest Market and went back to the hotel. We watched lots of football (bowl games) and Dog Whisperer on the National Geographic channel. It was a fun and relaxing evening. The next day (Sat) we woke up and it was super-sunny out! Yay! We watched "Flip This House" on A&E (which I've never watched before) while showering and getting ready to check out. We were leisurely and checked out around 11 am. We went to the pool area with the ocean view and took a few photos: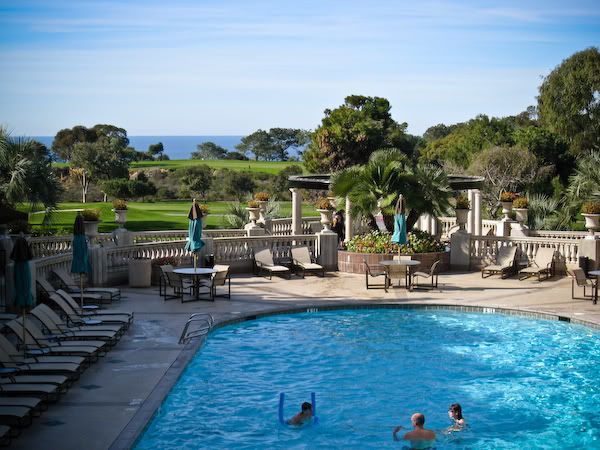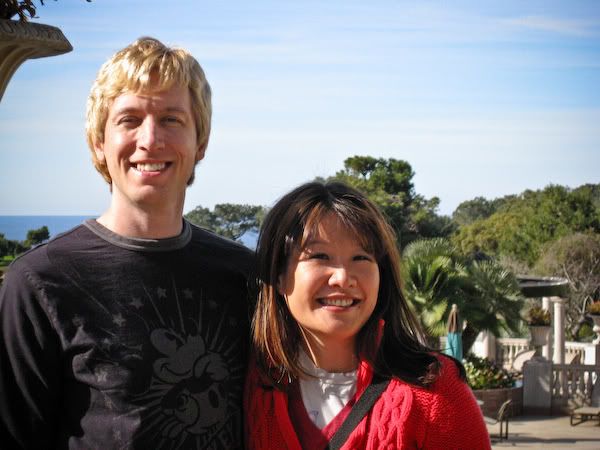 Then we left the Hilton and went over to a Starbucks in La Jolla to get a chai latte and some pastries for breakfast. We ate these because we were planning on going to the
Hotel Del Coronado
's outdoor ice skating rink and
skate with an ocean view
. And the matinee session was from 11 am - 1 pm, so we would be eating a later lunch. But when we got there, we discovered that the skating rink was a lot smaller than we thought it would be, and it was already PACKED with people. You could hardly skate at all! We decided to forego it since it was gonna cost us $20 each to walk/skate around in a small circle. But there really was an ocean view from the skating rink and we took some photos. Maybe we'll go on a weekday next time so it's less crowded. Todd in front of the famous landmark dome: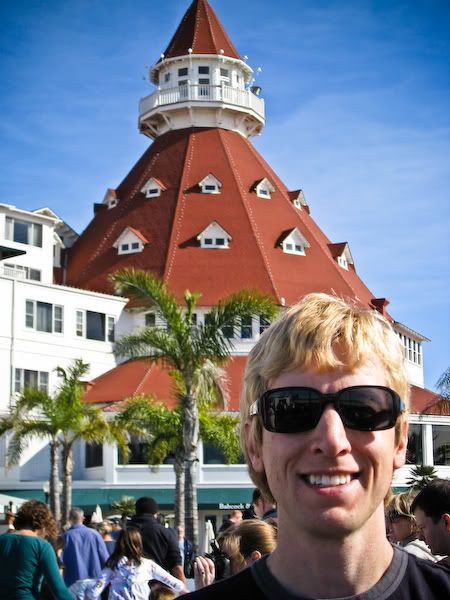 Skating rink: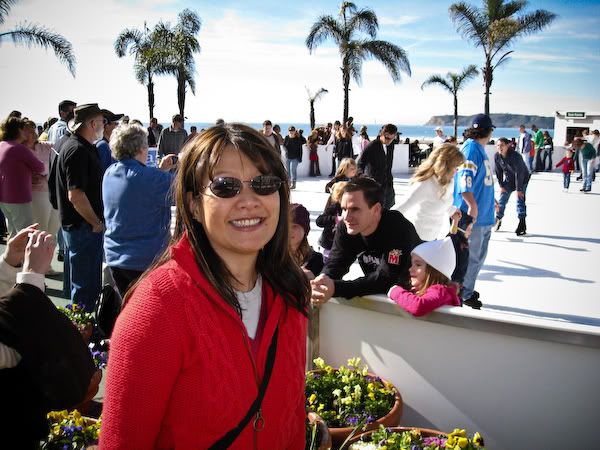 Other views of the hotel: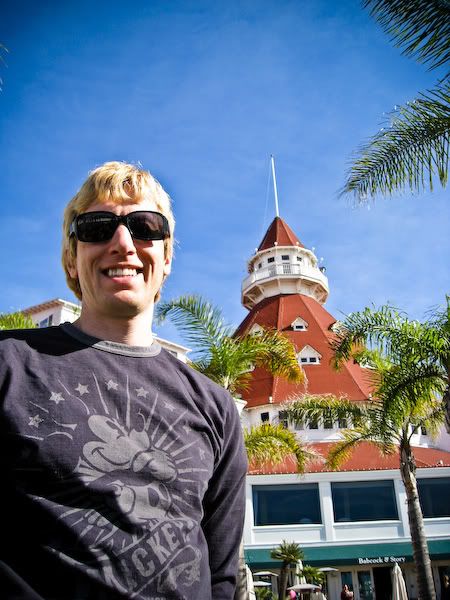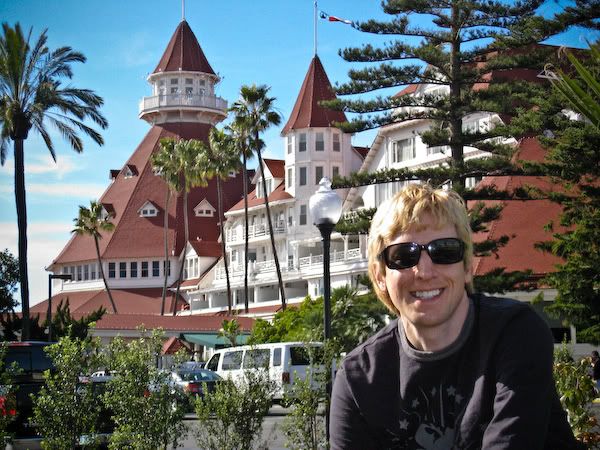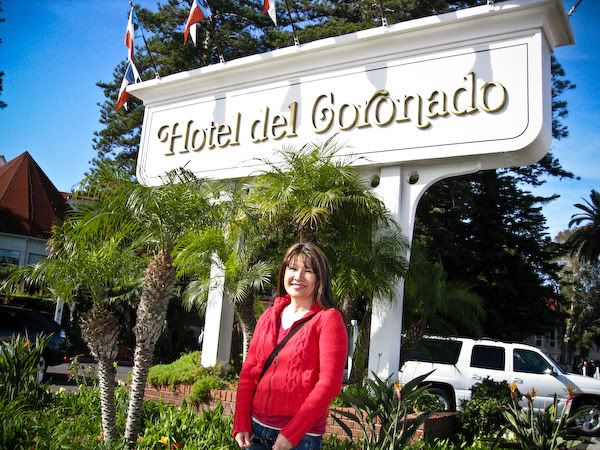 Even without the ice skating, it was a really terrific day to visit the Hotel Del Coronado and experience the holiday decorations there. We walked up Orange Avenue and ate lunch at the
Burger Lounge
, which was reviewed in San Diego Magazine as one of the best burgers in SD. We had never been there, but the burger really was very good there. They use grass-fed free-range cattle from Kansas. We shared everything, including a burger:
chicken fingers
french fries/onion rings: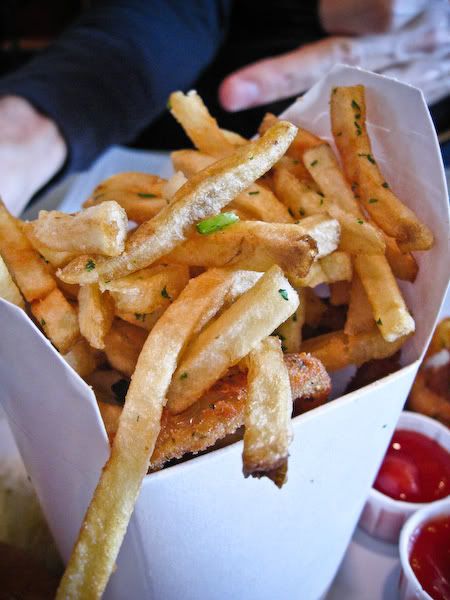 and a bottle of root beer:
After lunch we walked back to the car and drove home. I felt so full and warm that I dozed off in the car. Todd made a chicken stew for dinner. Then we watched our first ever blue-ray movie, "
Wall-E
', on our brand-new Playstation 3 that Santa brought us. Then I read my Runner's World magazine until I fell asleep, dreaming of running a marathon again.