Whenever I say that, it reminds me of the line in one of my favorite movies, "
Better Off Dead
", when Ricky's mom thought Monique the French exchange student didn't speak any English... so funny! If you haven't seen the movie, I highly recommend it. Or any movie starring John Cusack & directed by Savage Steve Holland from the 80's. Tuesday was the last day of the week that I went into the office, so I brought these treats with me to give to some of my friends at work. I used stuff from "
Jingle Baby
" by Kristin Cronin-Barrow & Meghan Mullens and made up some treat bag toppers. I made the design mostly white so I can save some ink on my printer at home. (Yes, I R smartie!) They turned out pretty cute, if I do say so myself.
Some of my co-workers even thought I made the chocolate myself, but I'm not THAT domestic. Them are peppermint bark, raspberry bark, & caramel chocolate from Williams-Sonoma and Target, and Peppermint Joe Joe's from Trader Joe's. I decided that I just could not live with myself eating a few tins of these delicious but fattening candies, so I gave most of them away. On the actual day of Christmas on Thursday, Todd and I pulled a "
Christmas Story
" and had Chinese food for lunch. We called around and found out that
China Max
was open, so off we went to have some dim sum, dumplings, and General Tso's Chicken. I googled around about the tradition of Chinese food on Christmas Day, and found out that it started out with Jewish people. Most of them don't celebrate Christmas, so they eat out at Chinese places because some of them are open on Christmas, and the tradition continued. Well, I'm not Jewish, but I am Chinese, so I like this tradition just fine!
Todd eating General Tso's Chicken
Some shrimp & chives dumplings... yum yum! After lunch I pulled out the tripod and decided that we needed a photo of us in front of our REAL tree...
Sally and her family invited us over to their place for Christmas dinner, since it was just me and Todd. We got there around 4:15, and hung out and ate appetizers. They put out a nice spread of cheese and crackers. They also made homemade apple cider and mulled wine on the stove. We chatted with Sally, Brian, Sally's mom Zora, and Brian's parents Susan and Terry while everyone helped with dinner.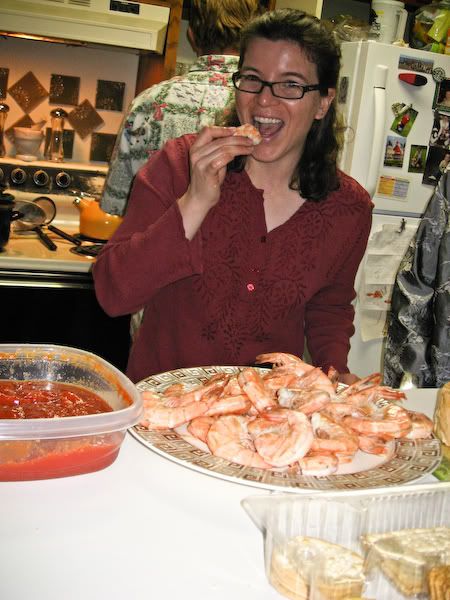 I was pretty darn excited when they put out the peel & eat shrimp and cocktail sauce! Looked like Sally was excited too.
Sally & Zora getting their grub... Dinner was a greens salad:
Marinaded green beans and beet: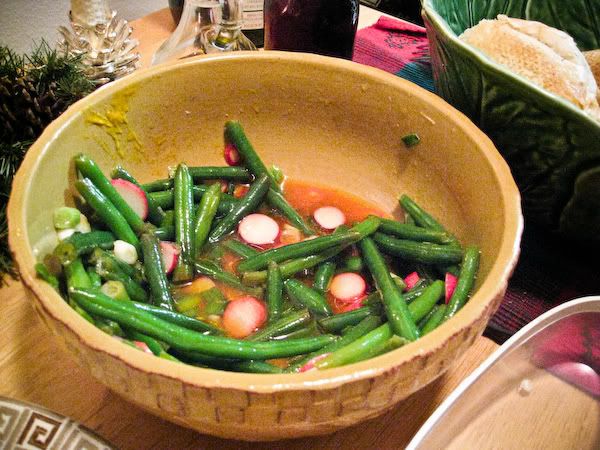 Along with bread, mashed potatoes, and roast beef:
Sally also made a pumpkin cheesecake for dessert, but I forgot to take a pic. After dinner we opened up gifts. We were not expecting any gifts but Sally & Susan gave us stuffs! Todd with the loot before opening...
Sally opening a giftcard from Susan & Terry:
Todd opening gifts:
We got some cool teas, homemade soap & fruit preserves, little candles, a knitted stocking made by Susan, some candy...
We gave Sally & Brian s gift package of teas, biscotti, cookies, chocolate, etc.
Sally gave me THREE 12x12 scrapbook page frames! Yahoo!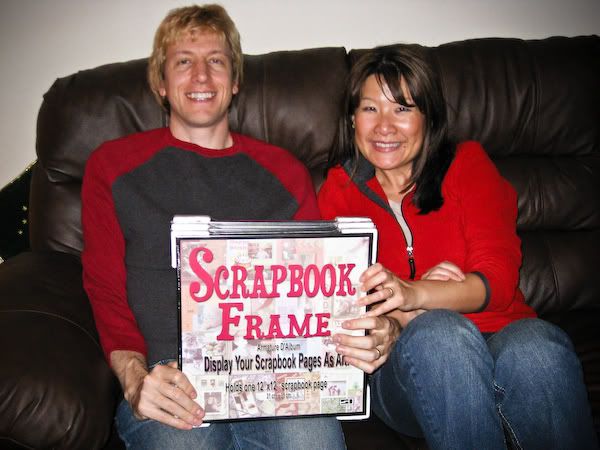 Then we watched "
National Lampoon's Christmas Vacation
" with Chevy Chase. Brian ordered it Pay Per View, because he used to love it. However, he admitted later that it wasn't as funny as he remembered it. I personally like "
Elf
" way better, but that's just me. We had a great time with everyone and went home full and happy, and full of Christmas spirit.