About 10 days before Christmas, on a whim, we decided to spend our Christmas long weekend at Disneyland. Why not? Disneyland is a magical place. Disneyland is all decorated to the tilt in holiday stuff. It seemed like the perfect idea. So we purchased 2-day park-hopper passes, got reservations at the Crowne Plaza Anaheim, and we were all set! So this morning around 10:30, we packed up and left for Disneyland. There was a lot less traffic going through Orange County than we had expected. I got really hungry, so we stopped off at Carl's Jr. for a hamburger. It was the strangest Carl's Jr ever. Located in a strip mall with no drive-thru! We got to Anaheim and checked into the Crowne Plaza around 12:30 PM. We rested a little and took the 1:05 shuttle to
Disney's California Adventure Park
. Upon arrival, we were greeted with a holiday-decorated miniature scale of the Golden Gate Bridge.
We went to the Hollywood Studios backlot first and went into the Hyperion Theater to see the Aladdin Musical Spectacular. The production value was high. The set design and costumes were great, and the singing was good. It was like seeing a 45 minute Broadway production.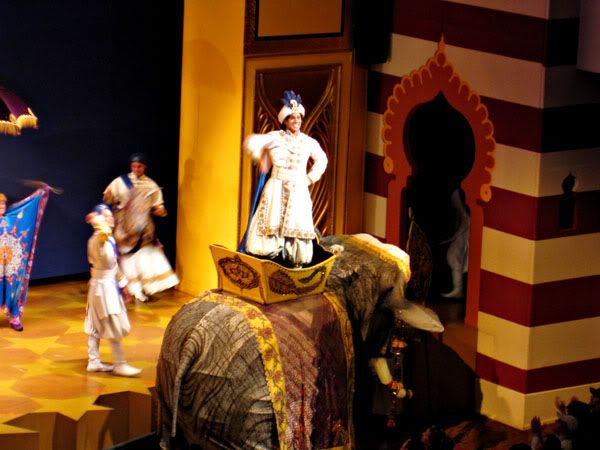 Here's Todd in front of the Hollywood Tower of Terror ride. It was too scary for us to ride it.
After Aladdin, we went to the MuppetVision 3D show. I've always loved Kermit so I really enjoyed the show. With the provided 3D glasses, it was as if objects were flying around in 3D.
Yes, it's true. While some of you were spending your Christmas holidays in rain, freezing sleet, and snow, I was wearing a tank top at Disneyland.
In the courtyard between attractions, they put on musical productions. I've never seen this, but I've heard that High School Musical is all the rage these days.
We stopped by "A Bug's Life" section to check out the fun oversized decorations.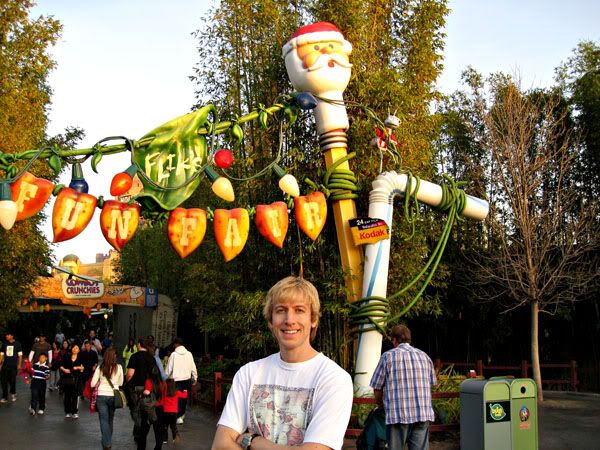 The best ride of the day was "Soarin' Over California". You fly over famous California scenes and landmarks in a simulated hang-glider. It was spectacular!
After that we headed over to Paradise Pier to check out the rides and attractions there. It was nearing sunset and the scene was aglow in gorgeousness.
We saw this huge tree all decorated for Christmas. It was so pretty!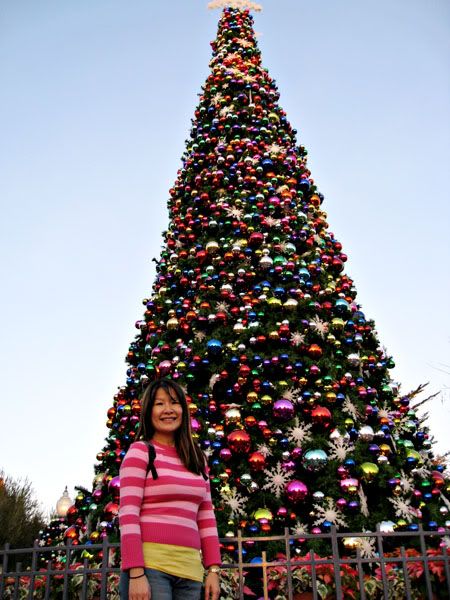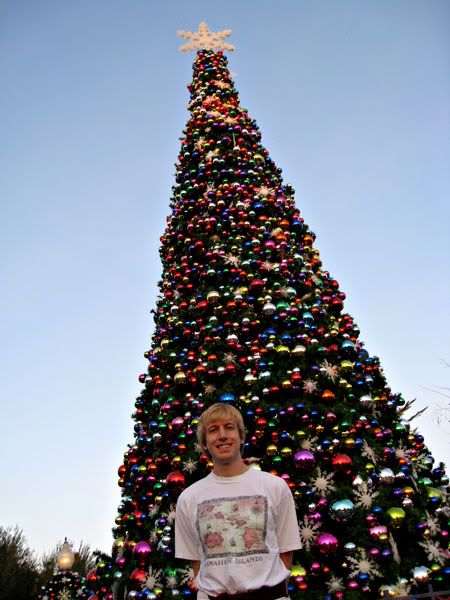 I caught a few pictures that I found to be exeptionally beautiful due to the sunset lighting. The Sun Wheel is one:
The Paradise Pier restaurant is the other:
I love the reflection off the water!
Unfortunately, we made the bad decision of going on the California Screamin', a high-speed rollercoaster. I did not enjoy it at all, as it made me dizzy right before dinner!
We had to wait a little while after the dizziness of the roller coaster, so we went on a tour of the Mission Tortilla Factory, where they gave us free FRESH tortillas, and the Boudin Bakery Tour, where we got fresh sourdough bread!
After the tours, we left California Adventure and went to Downtown Disney, where our search for dinner began. We finally settled on Jazz Kitchen, some New Orleans style cajun food, and ate Gumbo-Ya-Ya, Red Beans & Rice, and some Bread Pudding for dessert. The food was okay, but the dessert was great!
After dinner, we went to the Lego store. We found some life-sized Darth Vader and R2D2 from Star Wars, made out of Legos!
We also visited a store called Basin, where we got some gingerbread soaps, lavendar bath fizzies, and an almond bar shampoo. Everything smelled SO good. I could stand in there and sniff around all day!
After the long exciting day, we took the shuttle back to our hotel and relaxed while watching Sunday night football. What a great day! :)